SOS Children's Villages Expands in Haiti
Image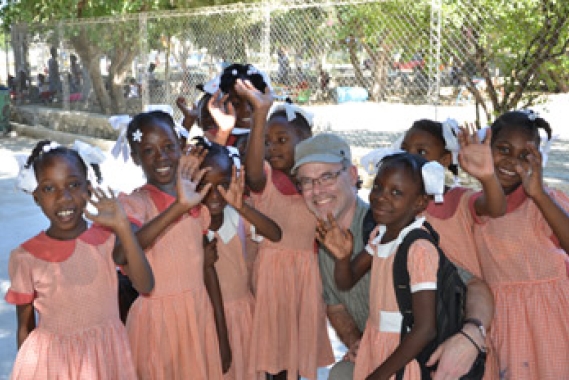 *This story was published in the April 2015 edition of The OSCAR
In a country with over 430,000 orphans, SOS Children's Villages has opened a new Village in Haiti to provide loving homes to children affected by the devastating earthquake that struck five years ago.
SOS Children's Villages is an international charity that provides orpahend and abaonded children with loving homes, medical care and access to education. The new Village in Les Cayes, Haiti, will support 105 children. It opened on Jan. 10, 2015, two days before the fifth anniversay of the earthquake.
Old Ottawa South resident and president of SOS Children's Villages Canada, Boyd McBride, was in Haiti for the Village opening. He explained that the new Village means SOS Children's Villages has capacity to reach more families at risk, and perhaps help prevent child abandonment in Haiti.
 "SOS Children's Villages has been in Haiti for over 35 years now, and we are playing a major part in the reconstruction by focusing on its best asset: its children. Our Villages takes in children who have truly lost everything, and the opening of Les Cayes means more children affected by the earthquake will have their childhood back," said McBride. 
Following the earthquake, SOS Children's Villages looked after more than 700 children, and served more than 20,000 hot meals a day to the community. At the time, there were only two SOS Villages in Haiti, which were too small to accomadate the surplus of children. SOS rented and constructed ttemporary homes in Port-au-Prince and in Les Cayes, to shelter the children until the new Village was completed.
"Our hope and focus at the time, was to reunite as many children with their biological families, which is a major area of our work after major disaster," explained McBride.
Whenever possible, children were reunited with to their families of origin, although unfortunately, some would never see their parents again. Of the 700 children who arrived at SOS Children's Villages in Santo, there were 106 children were orphaned and were without parental care.
Following the earthquake SOS Children's Villages redoubled our efforts. Nowhere is a child better placed than with their biological family, but in the absence of that each child needs a family, a family home," said McBride.
The SOS model is focused on family-based care. In each Village, women are recruited locally to meet the specific needs of children living in that country, and are trained extensively to ensure they are capable of raising an SOS family long-term.
Cloreine is one of the SOS mothers who has dedicated her life to raise orphaned and abanoned children. She and her SOS family will be  moving into the Village in Les Cayes.
"It makes me so happy to see this new village and school in Haiti, where there are so many problems. SOS provides the children a joy of life, and that's something valuable and good for Haiti.
In addition to the three Villages, SOS Children's Villages has undertaken series of construction, reconstruction and renovation projects in Haiti. The organization has made significant investment in the country's educational system, with the construction or renovation of eight schools. About community centres
"Our efforts are supporting as many children as we can," said McBride.  "We are building and running schools, we are supporting community owned schools with training for teachers, and the result is over 7,000 children are receiving the education that Canadians would be proud to know that they are providing."
– 30 –
Samantha Halyk
Communications Assistant
SOS Children's Villages Ottawa
[email protected]
613-232-3309 ext. 535