SOS Schools reopen in Liberia as the spread of Ebola declines
Friday, February 20, 2015
Image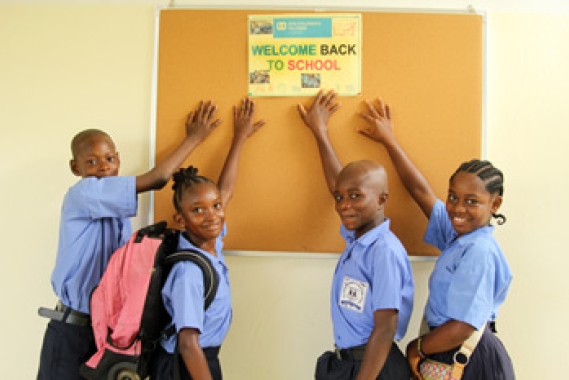 Closure lasted six months in effort to stem spread of deadly disease
SOS Children's Villages welcomed back hundreds of students to its primary school and kindergarten in Monrovia, Liberia, after nearly six months since the state ordered all schools to close in an effort to contain the spread of Ebola.
At the SOS School in Monrovia, 400 students and 25 teachers return on Monday as the school reopened its doors. Children appeared on campus in the early hours of the morning, looking excited and accompanied by their parents, demonstrating their commitment to study.
In July 2014, Liberia's president, Ellen Johnson, ordered all schools to close their doors to contain the Ebola epidemic. According to the World Health Organization, the spread of Ebola is starting to decline. In the first week of February, Liberia had only three new confirmed cases, down from five in the last week of January.
"I am happy to be back in school this morning and grateful to be among those still alive. I am happy that I can see some of my friends and teachers again on this campus, although we are still waiting for some people we have not yet seen" said Claris, a grade 10 student at the SOS School.
Although students could not shake hands or hug each other, an atmosphere of friendliness reigned on campus as they all shared lengthy group conversations with friends, with smiles and laughter on their faces.
"I am happy to be back but we need to double up our efforts as we observe all the preventive measures, in order to keep the campus healthy and clean," said physics teacher Milton Padmore.
The first day of school was dedicated to the orientation of teachers and students on preventive measures against Ebola. A delegation from the SOS Medical Centre led an Ebola awareness campaign on various school campuses, sensitising children on preemptive measures.
"We know that there are still a few cases of Ebola in the country and that is why we established a very high health standard on our SOS school campuses and a very effective emergency team or an active Ebola response team. We are ready to run this academic year, despite the health crisis in the country," stated Quendi Appleton, head of the emergency team on the SOS School campus.
At the entrance into school campuses, personnel equipped with thermometers took pupils' temperatures, while taps and buckets with chlorinated water were available for them to wash their hands. Only schools that had received Ebola preventive materials from the Ministry of Education reopened on Monday and others are expected to resume on March 2, 2015.