We wanted to give other children the same opportunities that our children had
Q&A with an SOS Child Sponsor 
Allen & Rosemary Veasey have been SOS child sponsors for over a decade. During a trip to Jamaica in 2018, the couple decided to visit an SOS Village and meet one of their sponsored children, Betty*. We sat down with Allen to talk about his visit, and his experience as a child sponsor. 
What made you decide to become a child sponsor with SOS Children's Villages?
We have three grown daughters, all of them married with families of their own. We wanted to help less fortunate children have the same, happy childhood that our children had. And we did our research, and knew that we could trust SOS Children's Villages to put our donations to good use. 
You sponsor two girls – Betty in Jamaica, and Nelle in Zambia. Was there any particular reason you chose these two countries for your sponsorship?
My wife and I wanted to have some sort of connection with the places we chose. Earlier in my career, I spent three months working in Zambia. So when we decided to sponsor a child, I knew I wanted to help a child from that country. It was such a fulfilling experience, we soon decided to sponsor another child. We selected Jamaica because we genuinely love the country, and travel there often.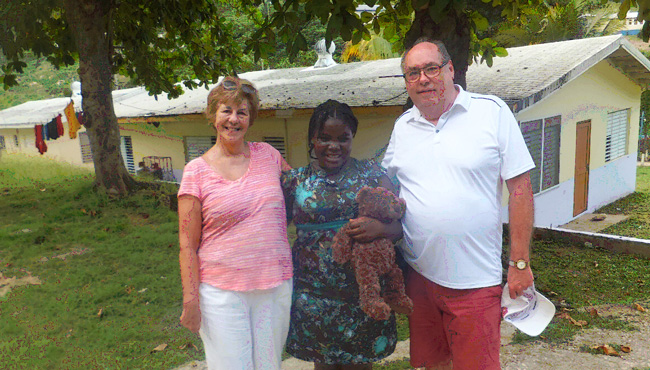 What made you decide to visit the SOS Village in Jamaica?
We always talked about how much we'd like to visit a Village someday. Naturally we wanted to meet the child we were sponsoring, but we were also curious to see how our donations were spent. When we booked a vacation to Jamaica in 2018, we realized we were only a short cab ride away from the SOS Village where Betty lived. So I immediately reached out to SOS Children's Villages to set up a visit. 
What was your first impression upon arriving at the Village?
We were absolutely blown away. I'll admit I was a bit worried that it might look and feel more like an institution than a home. But that wasn't the case at all. Everyone was warm, welcoming, and happy to see us. It was just like visiting a family at home here in Canada.
How did it feel to meet Betty in person?
We had a wonderful visit. We spoke with her SOS mother for a while and met her brothers and sisters, as well as other SOS families in the community. Betty was so proud to show us around. 
What would you say to someone thinking about making a donation to SOS Children's Villages?
I can tell you first-hand that your donations will be put to good use. SOS children are not only given a home, but a mother who loves them and a whole community that supports them. You'll be giving children a caring, enriched environment to grow and learn. 
*Names and location have been changed to protect the privacy of the children.