Thursday, November 3, 2016
Image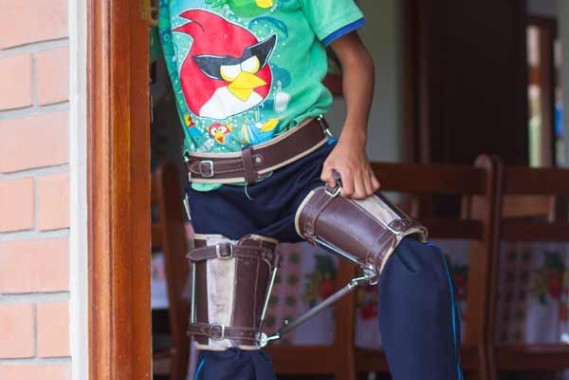 With his little fingers typing the table and illustrating the scene, Gabriel tells his tale: "First, the thief is on the loose. In here you have a bank [pointing to a spot on the table].  He is close to it… he walks, walks... and boom! He robs the bank and runs away! But then, the police appear and catch him. They handcuff the burglar and take him to prison. Then, the journalists come and take the pictures."
11-year-old Gabriel longs to be a police officer, the kind that arrests bank robbers as in his story. But, today, the only dream Gabriel holds on to is that he may run and play sports again soon. "Sometimes I sit by the window and watch the boys play basketball, soccer and volleyball. And I imagine myself playing with them," he says longingly.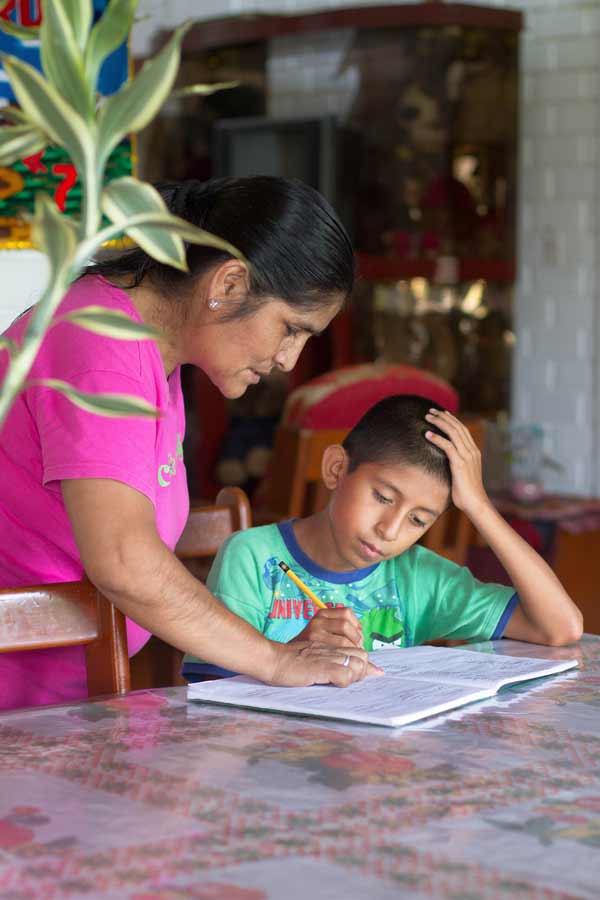 Mamá Mercuria helps Gabriel with his home schooling to make sure that he doesn't fall behind.
It was during a soccer match that Gabriel felt a sharp pain in his joints. After several medical appointments, the boy was diagnosed with Legg–Calvé– Perthes disease, a condition that affects the hips. For almost a year now Gabriel has been using leg splints, a treatment that limits his movements and makes him walk legs astride, "as a cowboy in the old Wild West movies" says Gabriel.
Gabriel's SOS family are hopefully that he will soon able to recover and get back to his old and energetic life. His next medical appointment is coming up soon. Mamá Mercuria, the SOS mother who has been taking care of him ever since he was 6 years old, hopes doctors will tell her that her son can walk without the leg splints again.
Making the most of it
Gabriel hasn't been able to go to school for months as the doctors said that he needed to maintain absolute rest. Nevertheless, Antonio Gallegos, the SOS Village director, made sure that he could keep studying from home. Every day, during the mornings and after lunch, Gabriel sits at the table with his books, and studies. SOS Children's Villages Pachacamac also provides Gabriel with a private tutor who comes and helps him with his learning, so that he doesn't fall behind in school. And his SOS mother makes sure that he remains active, "it is not because my boy can't go to school that he is allowed to lay down and watch TV all day, she insists with a smile.
Despite everything he has been through, Gabriel is cheerful and optimistic. He shows a great deal of maturity in dealing with his current situation. Resilient, the boy maintains that he is all right and that all he has to do is to sit carefully and not run. "It has been several months, but I'm doing ok. I would love to ride my bicycle, because when you ride fast, you feel the wind on your face. This is what I love the most".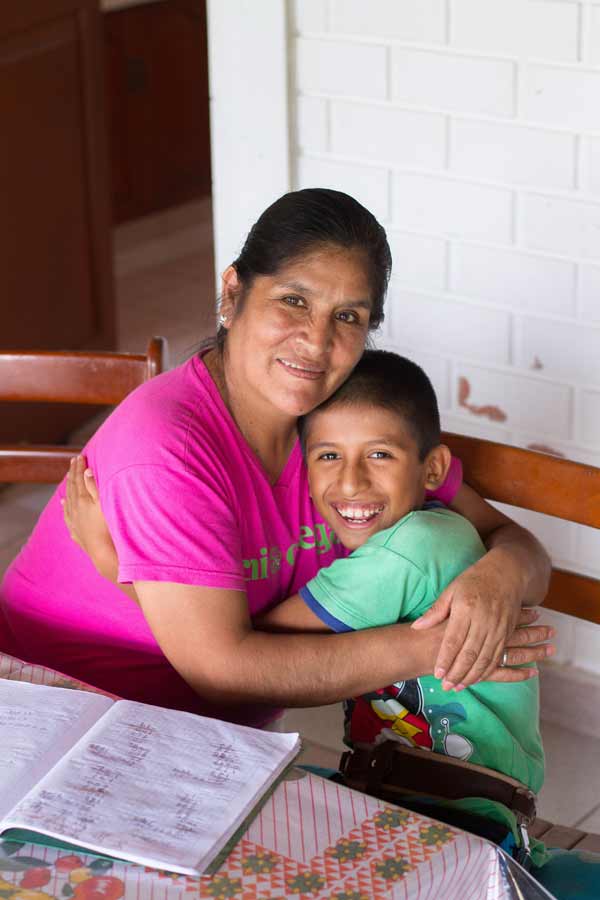 The bond between Gabriel and his SOS mother is strong.
A changed boy
Mamá Mercuria can speak to the progress her son has made since he arrived at the SOS Village. It is hard to believe this meeting him now, but she says that when Gabriel came to live with her family years ago, he had a bad temper. Disobedient and aggressive, he would often throw things and hurl insults.
It took Mamá Mercuria long talks and the help of a psychologist to help her son. "Then, little by little, he started to improve. He opened up to me and lost his anger. Now, I think he is a role model in the house. He has good grades and is very smart. It gives me great joy to see how much he evolved. Despite his hips condition, he is a happy kid now", she says.
Without support, Gabriel would have lost his ability to walk and go to school. Thanks to SOS Children's Villages and the generosity of our donors, children like Gabriel have the chance to receive the healthcare they need so they can follow their dreams, and have a future.
Help us make sure that children like Gabriel can keep dreaming of becoming police officers. Sponsor a child or make a donation today.