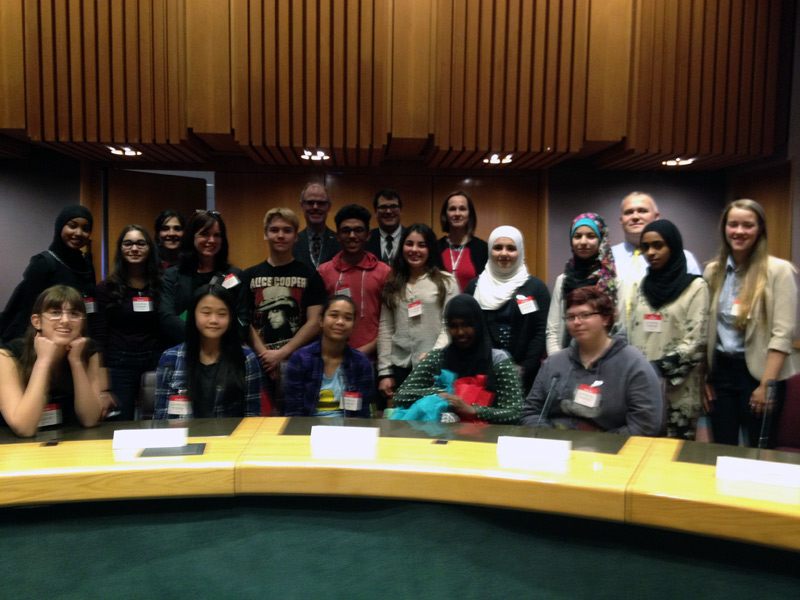 The voices of children and young people are crucial to implementing the strategy set out in the United Nations' (UN) agenda for action, Transforming our world: the 2030 Agenda for Sustainable Development. Children and young people have unique, fascinating ideas and insights, and their dedication to sparking change is infectious.
SOS Children's Villages is focused on children and young people, especially those who are most vulnerable and at risk – orphaned and abandoned, struggling to survive in the midst of destitution, conflict and corruption. The organization is committed to ensuring that all countries be mindful of the experiences and opinions of children worldwide. What children experience and the lives they live determine not only their own futures, but also ours. Their voices must be included in the process of meeting our global responsibilities and are indicators of what matters most and what success has to be.
To ensure youth participation in discussions on fulfilling this global agenda, Melanie Davis, Manager of Community Engagement for SOS Children's Villages Canada, collaborated with Senators Scott Tannas and Jim Munson as well as Global Affairs Canada (GAC) to create the Take Action 2015 project. Based on the belief that children are key allies and partners in global sustainable development, this youth-led project was aimed at helping Canadian youth learn about the SDGs and giving them a platform for sharing their opinions on how to contribute to the global agenda.
Over 500 young people from coast to coast participated in the project and on November 20, Universal Children's Day, students from Gloucester High School met with representatives from SOS Children's Villages and the Government of Canada to discuss the themes that emerged through the youth consultation. Ending poverty and hunger. Embracing diversity and inclusion. Realizing gender equality. Protecting the environment. Halting climate change. Ensuring global access to quality education. These are among the fundamental, interconnected steppingstones toward creating a world where all children will ultimately flourish.
Daunting goals indeed. With children included in the effort, though – their opinions heard and respected – hope shines.
Located in the impressive Robertson Room at GAC, the event was inspiring and engaging. 
"You have the energy, the passion, the creativity and the drive to help children around the world," said one GAC official, addressing the young panelists seated across the table.
The Honourable Jody Wilson-Raybould, Minister of Justice and Attorney General of Canada, congratulated SOS Children's Villages and its partners, GAC and the Senate of Canada, for their initiatives under Take Action 2015 to engage students in acquiring knowledge about and joining in the pursuit of global justice and equality.
By 2030, the end date of the UN plan of action for people, planet and prosperity, "we will be the ones holding down jobs… We will be the ones raising families, and we will be the leaders," said Mikka Zeisig, a high school student completing an internship with SOS Children's Villages Canada.
Ms. Zeisig attributed the charitable organization for igniting in her a desire to help those in the world who are alone, caught in the grip of poverty, violence and illness. Her simple, direct words captured the raison d'être for the day's discussion: "SDGs do matter to us." She was clear, however, that the onus of solving problems should be shared and not placed on future leaders – youth – or NGO's. Rather, current leaders, citizens and NGOs together must meet the challenge.
"What resource is most important for children to have, in order to be capable of breaking the cycle [of poverty]?" asked Nura Abuosba, opening the question-and-answer session.
"Education is critical," noted another GAC official. "A child whose mother can read is 50% more likely to live past the age of 5 than a child whose mother cannot read."
Eshe Ramadhan cited another example of education's correlation with other goals. "More than half the [world's] children that are not in school are residents of sub-Saharan Africa. Africa is in fact one of the poorest places in the world. See the connection?"
Boyd McBride, President and CEO of SOS Children's Villages Canada, agreed that it makes sense to acknowledge levels of poverty and need. Where the situation is most dire requires "a deeper commitment from government for funding and support… from wealthy countries and countries willing to do more to help their citizens".
Ms. Garcia-Garcia concluded that participation what is most needed for success: "Participation. Ours, yours – and everyone's. Everyone has something unique to offer."
"What are other parts of the world saying about climate change?" Livia Sala asked Sofia Garcia-Garcia directly. An advocacy advisor with SOS Children's Villages International, Ms. Garcia-Garcia is advising SOS Children's Villages on how to implement the Agenda 2030 in the different countries where the organizations work for and with young people and children.
"Together with employment, Climate change is a priority for youth in general," she began. "Young people recognize clearly they are responsible." She continued by providing examples demonstrating their willingness to reduce consumption and take other necessary steps for the environment.
Moujtabah Karim posed the next question. "How do you work with countries where there is corruption and mismanagement of donations?"
In response, GAC officials offered that measures are in place to track funds contributed by Canada and, in countries where there have been serious human rights abuses by the state, for example, donors have the option of giving resources to local NGOs or international organizations instead of directly to the Government. 
There were likewise questions for the young participants – for instance, "what do you consider the most crucial SDG?"
Access to education came up again and again. Other goals were identified too Gender Equality, Climate Change. Some participants were unwilling to identify a single goal as a priority, focusing more on the interdependence among them all.
Discussions were informed and balanced, with observations from one participant opening avenues to other related topics and observations.
They continued even as the next group that had booked the room began setting up at the table. This dynamic will certainly be recaptured at the next such opportunity – fueled by participants' collective sense of responsibility and a desire to learn and take action.
In the words of Mr. McBride of SOS Children's Villages: "We are poised for some exciting times."
- 30 -