The joys behind being an SOS uncle
Image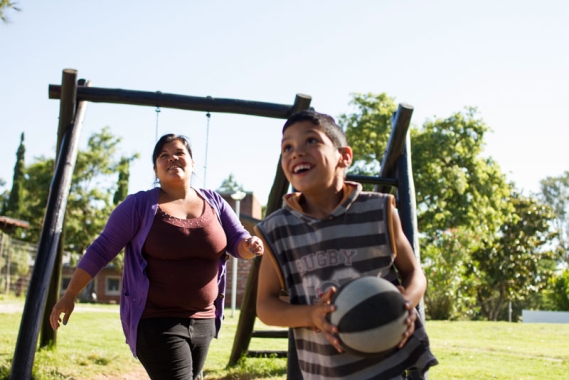 "Chacra" is the Spanish word for country house. In SOS Children's Villages Florida, Uruguay .
 "Chacra" is also the name of pilot project that houses 5 male youth between 12 and 14 years old, all of whom struggle with behavioural and social disabilities.
Beyond giving these boys a place to practice adult independence, the program is remarkable in one other way. It is where Latin America's only SOS uncle, Gustavo Novas, resides.
Especially in a project such as Chacra, a male role model for a teenage boy is fundamental. In Gustavo's opinion, at this stage of the boys' lives, they look at a father as a friend, someone on whom they can count.
"For me, being an SOS uncle is like being a father because you need to know the child's entire past in order to work with him. In each case, you must deeply know his past in order to improve his present life", explains Gustavo.
Gustavo Novas and a woman named Carmen are the two adults in charge of the boys 24 hours a day. They are also aided by a psychiatrist, a nurse, a therapist and a family advisor.
"They seek above all a family environment. When one is upset with me, he seeks Carmen. Whenever they are mad at her, they look for me", says Gustavo amused.
Dealing with the boys is not an easy task. There are times when they act out or become aggressive. However, since project Chacra began in October 2014, the boys "have improved tremendously. Arthur goes to the school alone, Manuel takes the bus by himself, I give them money and they go buy stuff in the grocery store… before they didn't know how to handle money", says Gustavo proudly.
The care of children, however, is nothing new in the life of this Uruguayan man. For years before, he was running social projects for children from different socio economic backgrounds and ages using dance as an expressive and therapeutic tool.
"Commitment, willpower and sacrifice" are the words Gustavo uses to define his work. "But above all: heart. In everything you do, you must have love. Love is what makes things possible".
Canadian's wishing to support SOS Children's Villages are encouraged to sponsor a child, sponsor a village or to make a direct donation. Your support ensures that SOS Children's Villages can continue to provide a safe and loving home to orphan and abandoned children worldwide.