Unleashing the Power of Community
Image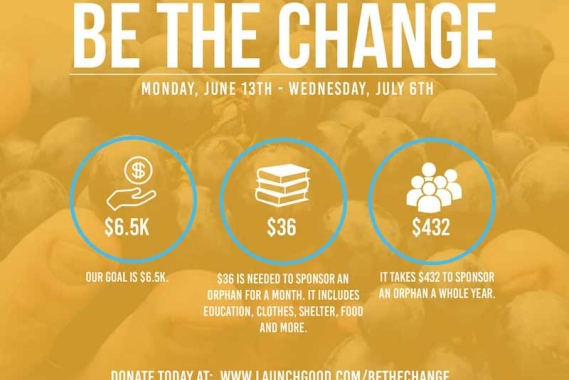 It's amazing how quickly and profoundly youth can come together to impact social change.
Just ask Fahim Khan, President of the Ryerson Orphan Sponsorship Program (OSP) at Ryerson University, a group that supports SOS Children's Villages in providing a second chance at childhood to vulnerable children around the world.
"We're a team of students that want to do whatever we can to make sure our presence, and what we can do to the best of our abilities, helps impact the lives of those in need," says Khan. "SOS Children's Villages gives an opportunity to everyone, even students, to make the change that they want to make in the world."
Since it was established 12 years ago by a small group of passionate Muslim students at Ryerson, the OSP has since made quite an impact, hosting a series of campus-wide competitions and events that have fostered a unified community of socially-conscious, global citizens at Ryerson – an accomplishment that members of the OSP hold with great pride. Over the last two years alone, the program has raised over $150,000 in support of orphaned and abandoned children around the world.
Through their inaugural 30 Days for 30 Orphans campaign in 2015, the OSP set out to prove to their peers how little it truly takes to provide the basic necessities (ie. shelter, food, education, and healthcare) to an orphan or abandoned child in need. The campaign response was unprecedented, with the team raising over $70,000.
This year, inspired by the power of community spirit witnessed among students and faculty at Ryerson, Khan and his team decided to challenge themselves over the sacred month of Ramadan to see how far they could get generosity to spread by launching the #BetheChange movement – a crowdfunding project that raises money to provide children around the world with education, health care, food, shelter and much more. 
"We want to spread that goodness to a broader population and benefit not just the Ryerson community, but people across the world," Khan says. "It's pretty clear to see the impact that [the program] has had on campus. It literally demonstrates that students, if given the opportunity, can do a lot for the benefit of the society."
Join the #BetheChange movement today, and follow the OSP on:
Instagram: @RyersonOSP
Twitter: @RyersonOSP
SnapChat: @RyersonOSP
Crowdfunding page: launchgood.com/bethechange
For more information about SOS Children's Villages, visit: www.soschildrensvillages.ca