Courage and commitment: 2015 SOS Children's Villages Helmut Kutin Award Winners
Image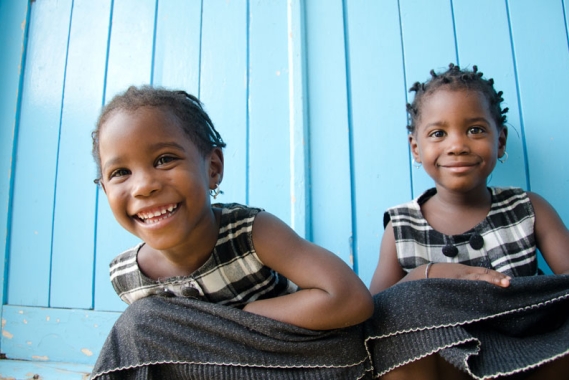 Every day, SOS mothers, aunts, youth leaders and social workers make an impact in the lives of the children and families around them.
The three co-workers whose stories are told here are the winners of the 2015 Helmut Kutin Award, a biannual award named for a former President of SOS Children's Villages International, which celebrates the achievements of some of our extraordinary caregivers. Finalists are selected by the Hermann Gmeiner Academy Board and then voted for by SOS Children's Villages employees around the world.
Maria Merlina Sabela: Protecting her children from a typhoon
Maria Merlina Sabela, also known as Nanay Merlina, an SOS mother from the Philippines, was recognised for her courage during Typhoon Yolanda. When the typhoon struck, Merlina made an escape hole in the ceiling. 
She and her nine children huddled on their roof while flood waters swirled below. She comforted her children and kept them calm while the typhoon raged around them, damaging their home and everything around it.
Once the danger passed, Merlina was the first to leave the safety of the roof, to check it was safe for her children to come down. 
After the typhoon, she strove to repair her house as soon as possible, so her children could come back home. Hers was the first house in the village to be ready for children to move back. 
When asked about the impact her mother has had on her life, Merlina's daughter Bianca turns to the words of Celine Dion: "The song 'Because you Love Me' best describes Nanay Merlina because you, Nanay, were my strength when I was weak... you gave me faith because you believed. I'm everything I am because you love me."
Abebech Kibret: A mother figure to young women
SOS aunt Abebech Kibret from Ethiopia was recognised for her unfailing support for the children and young people in her village. Abebech spent 16 years as a cook in the village, developing strong bonds with the children and young people there. Now an SOS aunt, she is a mother figure for many of the adults who grew up in the village, receiving regular phone calls and visits.
Lidiya and Helina were two young women who had grown up in the village. When they gave birth for the first time, Abebech took on the traditional grandmotherly role, showing them how to look after their new babies. 
Another young woman in the village, Hanna, fell in love and dropped out of school to get married.Abebech convinced her to continue her education and insisted Hanna be given a second chance so she could go back to school. Hanna is now a qualified kindergarten teacher. 
Bisrat is another young woman from the SOS Children's Village who was inspired by Abebech to become a kindergarten teacher. She says, "When I think about the good deeds of aunt Abebech, my eyes fill with tears of joy. I don't know where to start, but I can only say that I wouldn't be here if she were not by my side next to my SOS mother."
Isaac Adowk: A dangerous journey to keep children safe
Isaac Adowk, a youth leader from South Sudan, received a special distinction from the Hermann Gmeiner Academy Board for his outstanding courage in a dangerous situation. The European Commission featured Isaac and the children's story on World Humanitarian Day 2014, in the series 'Humanitarians at Risk'. When rebels entered the SOS Children's Village, he took the children to safety, facing armed soldiers, a crocodile infested river, and grenade fire during the 200 km journey. Find out more about Isaac's amazing story.
The trait that unites these three winners is courage: the courage to fight for the children in their care, keeping them safe and encouraging them to reach their full potential.