Thursday, February 26, 2015
Image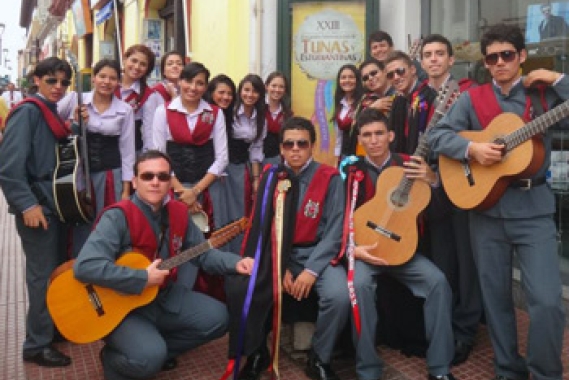 As his fingers slipped tenderly through the guitar strings, Jhon Freddy's soft voice sang the lyrics of a romantic melody. The song called "A Path" was one of his first songs he wrote while he was living in SOS Children's Village Bucaramanga in Columbia. The composition talks about first love encounters, teenage uncertainties and hardships.
Jhon was only nine when his father passed away. The boy and his two sisters moved into a new home and joined an SOS family. "It was a hard time because we had no extended family to go to. It was hard to adapt at first, but then things went well," he explains. Jhon found happiness in small daily pleasures such as his friends, games he played and a river that runs through the Village's entrance.
Music has also been a huge influence in his life.
"A friend who lived in the Village taught me how to play guitar. We used to spend hours playing and singing. My SOS aunt wouldn't say anything. But, my siblings seemed to be upset because they couldn't watch TV," he says with a laugh.
Back then, music was only a hobby. Jhon had plans to study Industrial Design Engineering but he soon realized his passion was music. When he was 17, he decided to join his younger sister's band called Mochila Cantora (Singing Backpack).
"It was when I joined Mochila Cantora that I knew music is what I really love. I then decided to study to be a musician. I did like other things, but music always caught my attention"  
Today, at age 23 Jhon shares an apartment with his two sisters and is a professional musician studying at Universidad Industrial de Santander (website in Spanish). He is a member of a folk group and a symphony band. He is also the director of a musical group call Penca e Fique, which plays at several international festivals.
"Music has given me many things, many resources to do what I love," says Jhon. "So far, I feel that I am achieving my dreams."
Watch Jhon perform with his group Penca e Fique

Canadian's wishing to support SOS Children's Villages are encouraged to sponsor a child, sponsor a village or to make a direct donation. Your support ensures that SOS Children's Villages can continue to provide a safe and loving home to orphan and abandoned children worldwide.