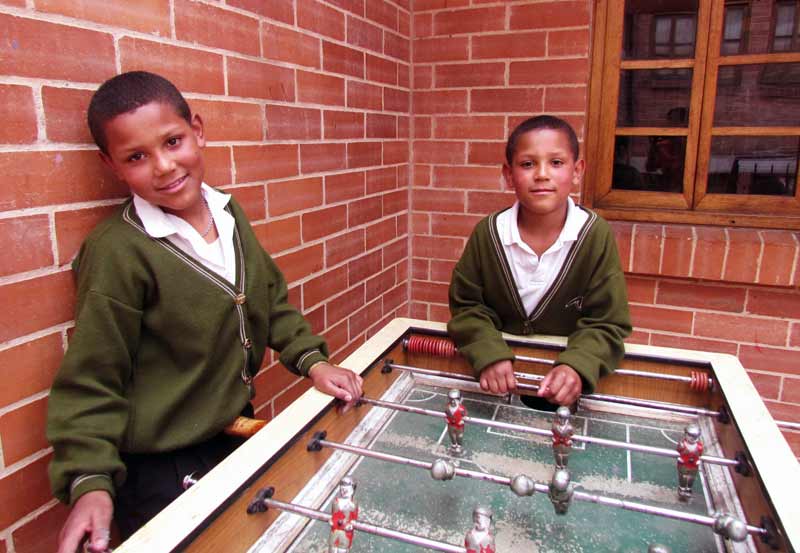 in Colombia
At present there are seven SOS Children's Villages, five SOS Youth Facilities, one SOS Hermann Gmeiner School, two SOS Vocational Training Centres and sixteen SOS Social Centres.
The activities of SOS Children's Villages in Colombia started in 1971. The first program was established in Bogota, the country's capital city. Currently SOS Children's Villages is supporting children both in SOS families and in their families of origin through seven programs in the country.
Sponsoring a Child in Colombia
SOS relies on the kindness and generosity of Canadians to be able to provide a home for the most vulnerable children of Colombia.
For just $36/month you can sponsor a child in Colombia and help provide an orphaned or abandoned child with:
A safe and nurturing home
A loving SOS mother
Quality education
Healthcare
Nutritious food
Clothing and toys
All the things necessary for a bright future
Please help us ensure a loving home for every Colombian child. Sponsor a child in Colombia.
| | Orphaned Children | Child Poverty Rate | Child Malnutrition | Child Marriage | Unemployment Rate |
| --- | --- | --- | --- | --- | --- |
| Colombia | 870,000 | 30.60% | 12.70% | 23% | 10.50% |
| Canada | 45,000 | 8.80% | #N/A | #N/A | 7.10% |
599
Orphaned and Abandoned Children
605
Youth and adult students
SOS Children's Villages in Colombia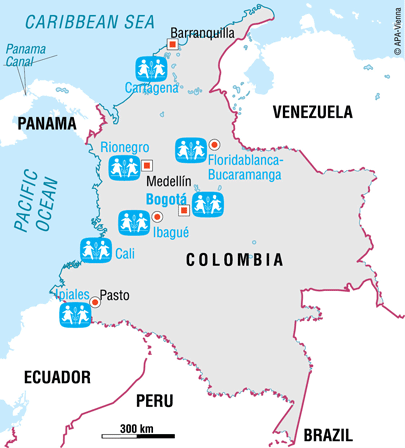 Thousands of Colombian children grow up in families who face difficulties. The country's civil war has arguably affected the country's youngest segment of population more than any other. SOS Children's Villages has responded to the needs of children, young people and families in Colombia.
The Colombian national SOS Children's Village association was founded in 1968. The first program was established in Bogota, the country's capital city, in 1971. At present, the organisation is supporting Colombian children and young people in seven different locations by providing day-care, education, medical services and vocational training. Children who can no longer live with their families are cared for by SOS mothers.
The 500th SOS Children's Village, located in Cali, was officially inaugurated in March 2010.
A country shattered by decades of conflict
The Republic of Colombia is a country in the north-west of South America.
Colombia is the only South American country that has both Caribbean and Pacific coasts. It has the Andes running down its western side, the "Llanos" to the east and the Amazon jungle to the south.
With roughly 47 million people, the country has the third largest Spanish-speaking population worldwide after Mexico and Spain.
Over the last fifty years, Colombia has been marked by an intractable and complex internal conflict that has consumed many lives and led to the displacement of millions of Colombians. The recurring patterns of violence include murder, torture, kidnappings of civilians and forced displacement. Unequal land distribution has been one of the root causes of conflict and displacement in Colombia. The country continues to be immersed in an internal conflict that affects all sectors of society.
In recent years, Colombia has launched a wide-ranging tourism campaign in order to improve the country's tainted reputation in the world and attract more foreign visitors.
Inequality between rich and poor in Colombia
The extent to which the phenomenon of internal displacement affects the Colombian people is unmatched in the Americas. Nearly 10 per cent of the Colombian population has been forced to migrate within their own country. In 2010 alone, 280,000 people were newly displaced. Internal displacement is one of the main reasons why poverty levels - particularly in rural areas - have been constantly high.
According to the United Nations Development Programme (UNDP), nearly half the Colombian population lives below the national poverty line. Furthermore, 35 per cent of Colombians are forced to live on less than two US dollars a day and around 16 per cent eke out an existence in shacks. Living conditions in rural and urban areas of the country differ significantly: in rural areas, almost half the people lack access to potable water and proper sanitation.
There is little access to medical services and education. In bigger cities, the situation is notably better. Nearly one in five Colombians is chronically malnourished. Although Colombia has seen significant economic growth in recent years, the income and wealth distribution remains highly unequal.
Colombian children at risk due to violence and poverty
Colombia's 18 million children make up for roughly 40 per cent of the country's total population. The armed conflict doesn't exclude Colombia's most vulnerable sections of society: young children and adolescents. At present, around 11,000 child soldiers are actively involved in Colombia's internal conflict. After being recruited, they frequently become victims of assassinations, land mines, mutilation, sexual abuse and kidnapping.
In Colombia, around 820,000 children under the age of seventeen are orphaned. Many of them grow up without a family. They are thus vulnerable to recruitment by street-gangs in which drug abuse and high levels of violence rapidly become part of their everyday lives.
At present, an estimated 30,000 Colombian children live on the street. They wash windshields at traffic lights, sell merchandise or collect reusable items on waste dumps.
Roughly 10 per cent of all children aged 5-14 - particularly young boys - are engaged in different types of labour activities. Many of these young children are forced to work to earn money for an entire family. The majority of them do not go to school.