Image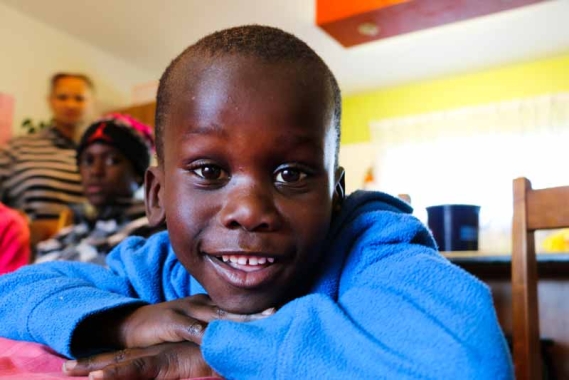 Alex runs away from his two karate-practising brothers and hides behind older SOS sister Bella. He whispers in isiXhosa to her. She laughs and rubs his little head affectionately. The four-year-old is a new family member to SOS mother Maria Phillips' house. He joined a month ago, but is already the darling of the family. Before Maria, there was no one in his whole world who wanted him.
Maria calls Alex for his morning bath. She speaks English to him and he responds in isiXhosa.
"He already understands me when I speak to him in English and he has even started to pick up some Afrikaans words. We speak three languages in the house and so he will speak them all in no time," says Maria.
Alex attaches himself to Maria's waist as she struggles to wrap a towel around him. He is a bundle of energy. The other children in the house are all old enough to get their own breakfast and get a taxi to take them to school; some, that are close enough, walk to school. Alex is the last one to wake up in the morning and the last to leave the house. Maria says she plans it in that way, otherwise she will find him playing with his siblings and delaying their departure. "He can be a handful, this one."
Maria places Alex's clothes in the play area by the kitchen so that she can see what he does, and make sure that he dresses properly on his own. This was one of the first things she had to teach him.
SOS social worker Luceen Searle says that Alex bonded remarkable quickly with Maria considering that he has never had such a figure in his life.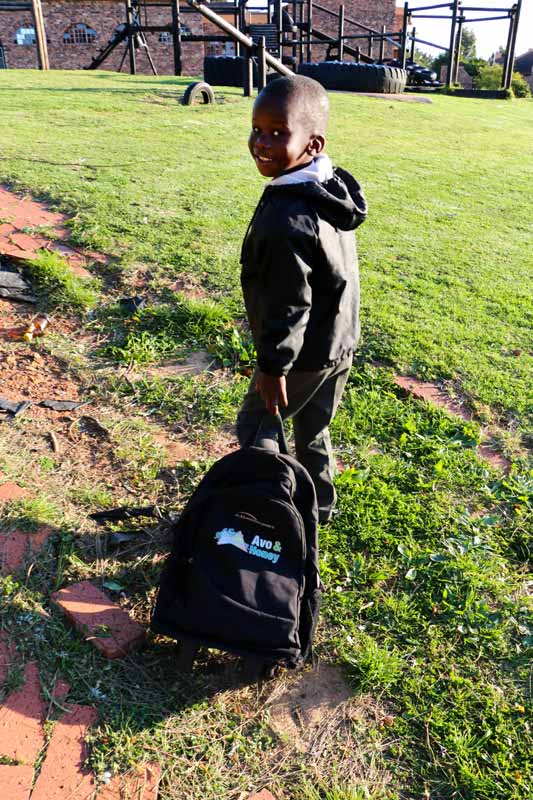 4-year-old Alex on his way to kindergarten.
Photo Credit: Sune Kitshoff
"This little boy was passed around so many times. Nobody wanted him. His mother did not want him at all."
To help him adjust, Maria has enrolled Alex in the kindergarten in the community, until the end of the school year, when he will join the other children at the kindergarten in the SOS Children's Village Port Elizabeth. Luceen is impressed with the progress that he has made already - he is proving to be a fast learner of languages. 
The one thing that concerns the social worker about Alex is the abandonment issues.  "When Maria has errands or takes a day off, the whole village and even perhaps our next-door neighbours in the community can hear Alex cry for her. He becomes desperately sad when she leaves, not even his older sisters in the house can make him feel better then. We all adore his happy face and don't like him to be so sad." says Luceen.
It has only been a month since Alex found his new home at the SOS Children's Village in Port Elizabeth, South Africa. There is still much work to be done to help him adjust to a normal childhood, but he has already made a mark in the hearts of those around him.