Each of Her 9 Children is a Gift
Tuesday, February 16, 2016
Image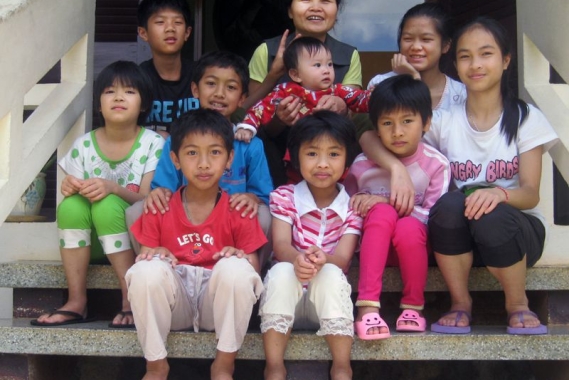 This story is told by mother Ha Thi Lan, the youngest mother in SOS Children's Village Da Lat, Vietnam.
One day I went to the market to buy the food for my children. The shop owner asked me 'Why do you buy so much food? Have you got many children?' I answered 'Yes, I have nine children.' Her eyes were wild opened and she took a very careful look at me, then she added 'Why do you have so many children? Poor you! It must be much hard work for you everyday.' I just smiled and didn't say anything. She will never know who I am, but you do. I am a mother in the SOS Village.

On the way back home, I kept on thinking about her words. If someone asks me about the feeling of being the mother of nine children, I may not be able to give an exact answer because it is really hard for me to express how I feel. Yes, as you know, it is sometimes really hard work when we have to prepare meals for and take care of nine children each day. Especially in this case, they are nine children with different backgrounds, with different needs, ideas and ways of behaving. But being their mother is the greatest experience in my life. Each child is a gift and I am such a happy person to have so many gifts. Day after day, I enjoy the untold joy of watching them grow up, even over grow their old clothes, of seeing them happy when having good marks at school, joining them in their play time to have fun with them.
The joy is doubled when our family welcomed the new member – a baby boy. He was only one and a half month then, but he soon became the pleasure not only for me but other children in the family as well. All of us enjoy being with him so much and we all remind to each other not to spoil him by carrying him around the house. It seems that holding the baby is a privilege and even the smallest child in the house can feel this.
The baby is now two years old and he has already talked some simple words and short sentences. But I still remember how wonderful my feeling was when I heard him call me "Mum". I still remember the light of happiness in his eyes when he said this wonderful word. All my gifts, I will cherish them for a lifetime.