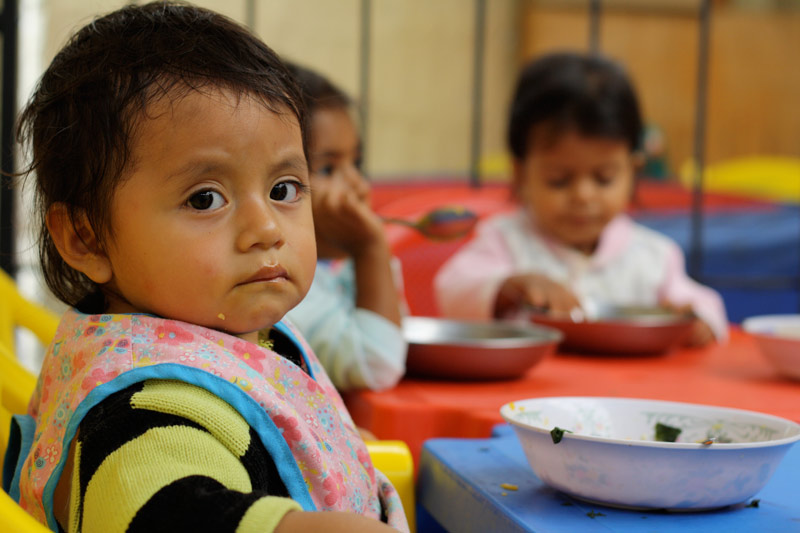 The Andean nation of Ecuador has many faces: lush green rainforests, volcanic islands and high mountain peaks shape Ecuador's varied landscape. Although the country has been experiencing progress in terms of human development, many Ecuadorians are still affected by high levels of poverty. At present there are six SOS Children's Villages, five SOS Youth Facilities, one SOS Vocational Training Centre, and 11 SOS Social Centres.

in Ecuador
(You will receive a Canadian charitable tax receipt)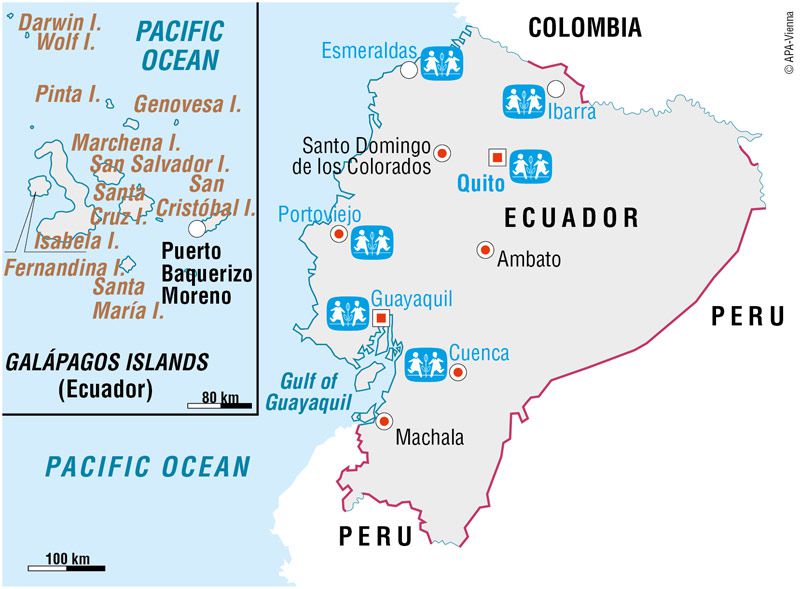 SOS Children's Villages in Ecuador
In 1963, we started working in the country's capital Quito. The eight-hectare site was donated by the municipality of Quito. In 1978, we started working in Esmeraldas. During a border controversy between Peru and Ecuador in 1995, SOS Children's Villages intensified its efforts on both sides of the border by starting a four-month-long SOS Emergency Relief Program.
Another SOS Emergency Relief Program was initiated in 1998 when "El Niño" caused dramatic flooding in the Manabí region. Many people were left destitute. SOS Children's Villages in Ecuador provided food, medicine, school equipment and seeds.
At present, the organisation is supporting Ecuadorian young people and children through six different programs by providing day care, education, vocational training and medical services. Children whose parents cannot take care of them will find a loving home in one of the SOS families.
| | Orphaned Children | Child Poverty Rate | Child Malnutrition | Child Marriage | Average Yearly Income | Below Poverty Line |
| --- | --- | --- | --- | --- | --- | --- |
| Ecuador | 230,000 | 22.50% | 25.20% | 22.20% | $5,510 | 10.59% |
| Canada | 45,000 | 8.80% | #N/A | #N/A | $52,200 | 9.40% |
476
Orphaned and Abandoned Children
Sponsoring a Child in Ecuador
SOS relies on the kindness and generosity of Canadians to be able to provide a home for the most vulnerable children of Ecuador.
By becoming a child sponsor you are making a commitment to helping an individual child in need. Your gift will help provide a child with food, clothing, education and a loving SOS mother.
Please help us ensure a loving home for every Ecuadorian child. Sponsor a child in Ecuador now.
Some facts about Ecuador
The Republic of Ecuador is bordered by Colombia in the north, Peru in the east and south and the Pacific Ocean in the west. The Galapagos Islands, located 965 km west of the mainland, also belong to Ecuador.
Ecuador, named for its location on the equator, is the smallest Andean state. It has a total population of roughly 14 million with around 1.6 million living in Quito, the country's capital and second largest city after Guayaquil.
The country is home to an enormous variety of species, many of them endemic, like those found on the Galapagos Islands. Despite of its size, Ecuador possesses one of the richest biodiversities in the world.
The country is characterized by a rich cultural and historical background. Present-day Ecuador used to play an important role during the Inca Empire from 1463 onwards. After Cuzco, Quito once represented the second most important Inca settlement. Today, the country is home to a patchwork of indigenous communities that also include Afro-Caribbean Ecuadorians, who are the descendants of African slaves.
Unequal wealth distribution and urbanisation of poverty
Over recent years, poverty reduction programs have noticeably taken effect: while in 2005 roughly 25 per cent of Ecuador's population faced a life on less than two US dollars a day, this number has dropped significantly to only 18 per cent in 2007. Other figures show that the number of people who live on less than only one US dollar has even more than halved during the same period. Ecuador's current Human Development Index (HDI) value has also improved slightly over the last years, positioning the country at 77 out of 169. The country's foreign debt has been reduced to one of its lowest levels on record.
Nonetheless, not all sections of Ecuador's population have been able to benefit from the country's economic progress. Structural and chronic poverty is particularly concentrated in rural areas. Many people lack even the most basic necessities such as proper sanitation, electricity and food.
One quarter of Ecuador's population live in shacks, most of them under precarious conditions. In the ghettos of larger cities, high levels of poverty can be noticed everywhere. The urbanization of poverty, which has taken place over the last decades, is a phenomenon which can primarily be attributed to internal economic migration. Poor Ecuadorians migrate to larger cities, in search of work opportunities and better infrastructure.
According to recent figures, income and wealth distribution in Ecuador is still highly unequal. Ecuador's indigenous and Afro-Ecuadorian communities are disproportionately poor and disadvantaged.
Situation of the children in Ecuador
Like in many other Latin American countries, thousands of Ecuadorian children are confronted with the effects of poverty on a daily basis. Often it's the children who have to go out, make money and bring home food for the entire family. Many urban children under twelve years of age work in family-owned businesses in the informal sector, including polishing shoes, recycling and reselling any kind of garbage or merchandise. Young girls are often forced to engage in commercial sex work. To survive and make a living on the street, a high number of children engage in begging, petty trade and petty theft.
In Ecuador, an estimated 210,000 children are orphans. Many more grow up in dysfunctional families. Abuse and neglect within their own family prompts many of these children to try their luck on the streets.
The reported HIV prevalence rate in Ecuador amounts to 0.4%. HIV prevalence among street children is roughly five to ten times the prevalence among the general population. The risk of street children to contract HIV is high, owing primarily to limited knowledge of risks regarding the disease, commercial sex work and drug abuse. Many young Ecuadorians living with HIV cannot afford anti-retroviral medication and are left untreated.