Finding Hope Amidst Turmoil in the Central African Republic: Marc's Story
Image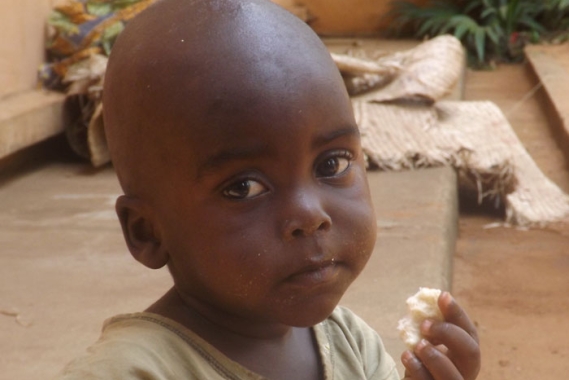 When Marc arrived at the SOS Children's Village Bangui  in the Central African Republic, he was startlingly small for his age of four, unhappy and undernourished. Workers in the village quickly learned his distressing story, which was not unlike those of many other children affected by the violence and conflict in CAR.
Amidst the chaos of factional fighting in CAR between Christian, Muslim and other militia, Marc had lost his parents and ended up at the camp for internally displaced persons (IDPs) Crammed with makeshift dwellings, and without proper sanitation, the camp houses a minimum of 100,000 people. Small children like Marc, lost and alone, are especially vulnerable. And, though Marc was taken in by another family at the camp, they mistreated him instead of offering him the security and care he needed.
Fortunately, Marc's circumstances were discovered and he was quickly referred to SOS Children's Villages Bangui by staff from Save the Children, where unaccompanied children in his situation are provided interim care with a family for a minimum of three months.
SOS Emergency Response In Central African Republic
SOS Children's Villages in Bangui has been operating emergency response services in the Central African Republic since December 2013, beginning with the conversion of the SOS primary school into a shelter for displaced persons. As a nondenominational space, and one secured by peacekeeping soldiers, SOS Children's Village quickly became a sanctuary while religious tensions and conflicts ran high throughout the rest of the nation. The village's ability to provide for up 4,500 displaced people was also reliant on the already stocked food, water and fuel supplies.
The initial phase of the emergency operation also concentrated on health, and the SOS Children's Village partnered with Medecins sans Frontieres (MSF) who brought their mobile clinic into the village. While MSF treated wounded people, the SOS medical staff focused on child & maternal health and malnutrition.
In this recovery stage, a psychologist has also been retained to offer group psychosocial support to all 163 SOS co-workers in the CAR and to equip them to support children so that they are dealt with appropriately.
While the situation in both Bangui and Bouar (where another SOS Children's Village is located) is still volatile, it has stabilised enough for both villages to reopen their schools. "Schools reopened on [February 17th]", says Benedetta Niederhauesern, Health and Emergency Advisor for SOS Children's Villages in Africa. "The morning is for those children already enrolled and the afternoon is for the displaced children, because other schools are still closed."
Meanwhile, little Marc has found not just a refuge but also a home with an SOS family. "Already," said Benedetta, "his health is improving - and he is beginning to interact with other children."
She added: "I am glad that SOS is giving a high standard of care to each single child instead of trying to reach high numbers, sacrificing the quality of care."
* Marc's name has been changed to protect his identity