The Central African Republic remains one of the poorest countries in Africa. Tens of thousands of vulnerable children are without access to basic services.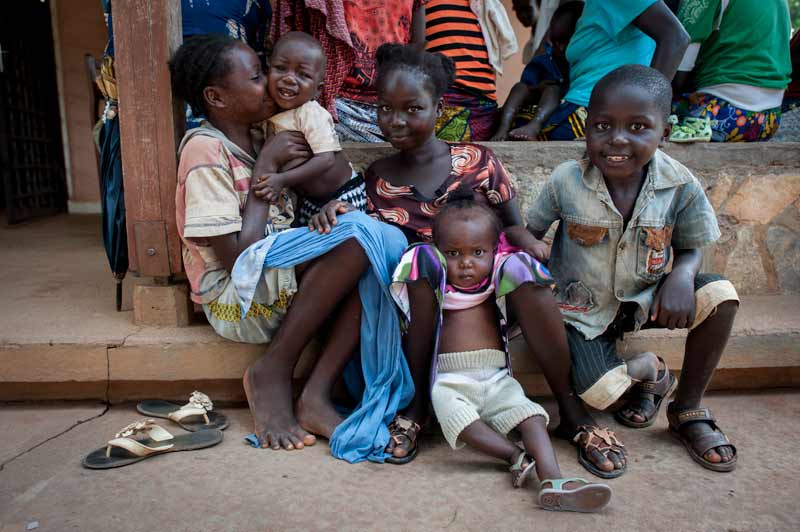 in the Central African Republic
Many of them have been orphaned by AIDS or civil war. SOS Children's Villages supports and protects the children of this country in two different locations.
At present there are two SOS Children's Villages in the Central African Republic, one SOS Youth Facility, two SOS Kindergarten, two SOS Hermann Gmeiner Schools, two SOS Medical Centres and two SOS Social Centres. A country facing many challenges
The Central African Republic has a total population of around five million. Home to more than 80 different ethnic groups, it is an ethnically diverse nation. Since gaining independence from France in 1960, the country has failed to achieve substantial economic development and has considerable foreign debt. Progress has been hampered by corruption, civil war and macroeconomic decisions such as the reduction of public expenditures in the past.
The country has seen numerous coup d'états, rebellions and brutal regimes since independence. In 1997, France decided to withdraw its troops. However, the French financed a peacekeeping mission organised by neighbouring African countries so as to prevent chaos resulting from a power vacuum. Tens of thousands of Central Africans have been displaced by armed conflict. Just recently, activities of the Lord's Resistance Army (LRA) rooted in neighbouring Uganda have started to spill over the border. Many have been forced to flee their hometowns to escape the violence.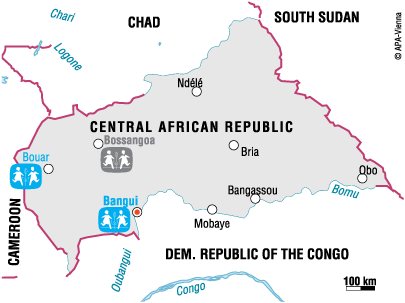 Economically, the country overwhelmingly depends on its agricultural sector, with the majority of its population engaged in subsistence farming. Although the country is considered a democracy, freedom of the press remains severely limited.
SOS Children's Villages in the Central African Republic
In a country so deeply affected by child poverty, a high infant mortality rate and dysfunctional family structures due to AIDS and civil war, the work of SOS Children's Villages is extremely important. We started working in the Central African Republic in the early 1990s.
SOS Children's Villages is supporting Central African children and young people by providing day care, education and medical services in two different locations. When children can no longer stay with their families they are cared for by SOS mothers.
Additionally, the organisation is running an SOS Family Strengthening Programme which works directly with families and communities to empower them to effectively care for their children and to prevent separation.
| | Orphaned Children | Infant Mortality | Child Poverty Rate | Child Malnutrition | Child Marriage | Average Lifespan |
| --- | --- | --- | --- | --- | --- | --- |
| Central African Republic | 350,000 | | 62% | 44.60% | 67.90% | 51 |
| Canada | 45,000 | | 8.80% | #N/A | #N/A | 82 |
260
Orphaned and Abandoned Children
611
Elementary and secondary students

Emergency relief recipients
Sponsor a Child in the Central African Republic (CAR)
SOS relies on the kindness and generosity of Canadians to be able to provide a home for the most vulnerable children of the Central African Republic.
By becoming a child sponsor you are making a commitment to helping an individual child in need. Your gift will help provide a child with food, clothing, education and a loving SOS mother.
Please help us ensure a loving home for every CAR child. Sponsor a child in the Central African Republic now. Your donation will help change an orphaned or abandoned child's life.
A land of gleaming diamonds and crippling poverty
The Central African Republic is one of the poorest countries in Africa with a per capita income of only 750 US dollars per year. It extensively relies on foreign donors and the help of NGOs. The country is ranked 179th (out of 187) in the United Nations Human Development Index, which assesses health, education, standard of living, child welfare, and other factors.
The average Central African adult had no more than 3.5 years of schooling. Tens of thousands of children never attend school at all. Five in ten Central Africans do not know how to read and write.
Roughly 90 per cent of the population live in crippling poverty, without access to food, sanitation and decent housing. In rural areas, clean water is often not available, which abets the spread of numerous diseases. Around 40 per cent of the population lack access to regular meals.
HIV/AIDS continues to be one of the country's major public health concerns. At 4.7 per cent, HIV prevalence remains high. However, more people than ever now have access to anti-retroviral therapy. Situation of the children in the Central African Republic
In the Central African Republic, children make up a vast part of the country's population as nearly half of all Central Africans are less than 14 years of age. 370,000 of these children are orphans and grow up without either one or both their parents.
Many years of armed conflict have profoundly affected children in the Central African Republic: thousands have lost their parents in the civil conflict, have found themselves recruited as child soldiers or traumatized by the levels of violence they had been exposed to. The recruitment of minors in the ranks of armed groups continues to be a common phenomenon in the Central African Republic. In some of the zones deeply affected by armed conflict, only 14 per cent of children are able to attend school.
Primary school enrollment rates continue to be alarmingly low in general: only 62 per cent for boys and 41 per cent for girls. Only around 22 per cent of all Central African children complete their primary school education.
In 2009, around 200 children who fought for the People's Army for the Restoration of Democracy (APRD) were released and could be re-united with their families. However, a high number of children are still being kidnapped and forcibly recruited to fight or fulfil other tasks for the armed groups.
Like in many other African nations, mother-to-child-transmission of HIV/AIDS is a striking public health problem: an estimated 11,000 women living with HIV are in need of anti-retroviral drugs in order to prevent infection of the foetus. Apart from HIV/AIDS, malaria continues to be one of the main causes of child death in the country. Although the government has recently intensified efforts to protect Central African families from getting infected, the situation remains alarming.
Food insecurity is yet another problem that needs to be tackled, as nearly four in ten children are stunted nationwide. In some areas, up to ten per cent of all children suffer from acute malnutrition.
The infant mortality rate continues to be extremely high at 112 per 1,000 live births. Sadly, it has not improved since the early 1990s. Furthermore, only five in ten births are attended by skilled medical staff.