SOS relies on the kindness and generosity of Canadians to be able to provide a home for the most vulnerable children of around the world.
By becoming a child sponsor you are helping an individual child in need.
(You will receive a Canadian charitable tax receipt)
SOS Children's Villages in Calais
SOS Children's Village Calais is located in the city of the same name with about 78,000 inhabitants in the department of Pas-de-Calais in northern France, about two and a half hour's drive from Paris. Calais is an important port and traffic junction being located at the continental end of the tunnel beyond the English Channel which is linking Great Britain to the rest of Europe.
The SOS Children's Village became operational in May 1965, when the first children moved into rented family houses. Between 1970 and 1975, the first family houses were built.
Media
Image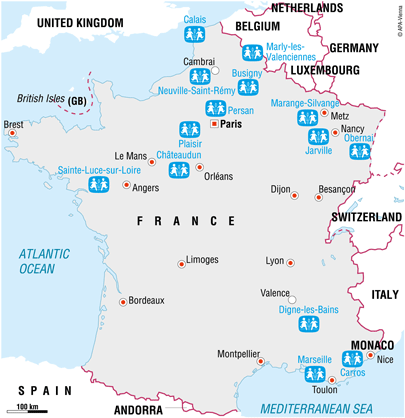 Today, SOS Children's Village Calais consists of ten family houses with a total capacity of 50 children, a transit home for young people who are staying at the village for a limited time, and a community house comprising office rooms and rooms for social activities, workshops etc.
The SOS Children's Village is situated in a residential area of the city, with primary schools, a secondary school and a high school nearby. The family houses - each of them equipped with a garden - are spread over five streets, which promotes the integration of the children into the neighbourhood.
Our Impact
Image

The SOS Children's Village in France provides loving homes to orphaned and abandoned children

1

VILLAGES

55

Orphaned and Abandoned Children
Our Impact

VILLAGES
The SOS Children's Village in France provides loving homes to orphaned and abandoned children
55
Orphaned and Abandoned Children