SOS relies on the kindness and generosity of Canadians to be able to provide a home for the most vulnerable children of around the world.
By becoming a child sponsor you are helping an individual child in need.
(You will receive a Canadian charitable tax receipt)
SOS Children's Villages in Neuville-Saint-Rémy
The SOS Children's Village Neuville-Saint-Rémy is situated in a suburb of Cambrai and was constructed in 1962. The SOS Children's Village comprises ten family houses and a community centre with rooms for festivities and other social activities, the houses being arranged around a vast playground for the approx. 60 SOS children. In addition to that, there are also small apartments where the adolescents of the SOS Children's Village can stay during their higher educational or vocational training in order to get used to live an independent life.
Media
Image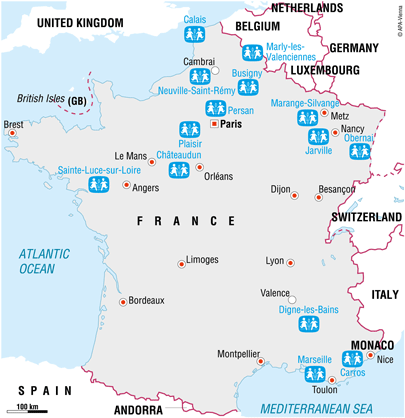 Our Impact
Image

The SOS Children's Village in France provides loving homes to orphaned and abandoned children

1

VILLAGES

52

Orphaned and Abandoned Children
Our Impact

VILLAGES
The SOS Children's Village in France provides loving homes to orphaned and abandoned children
52
Orphaned and Abandoned Children