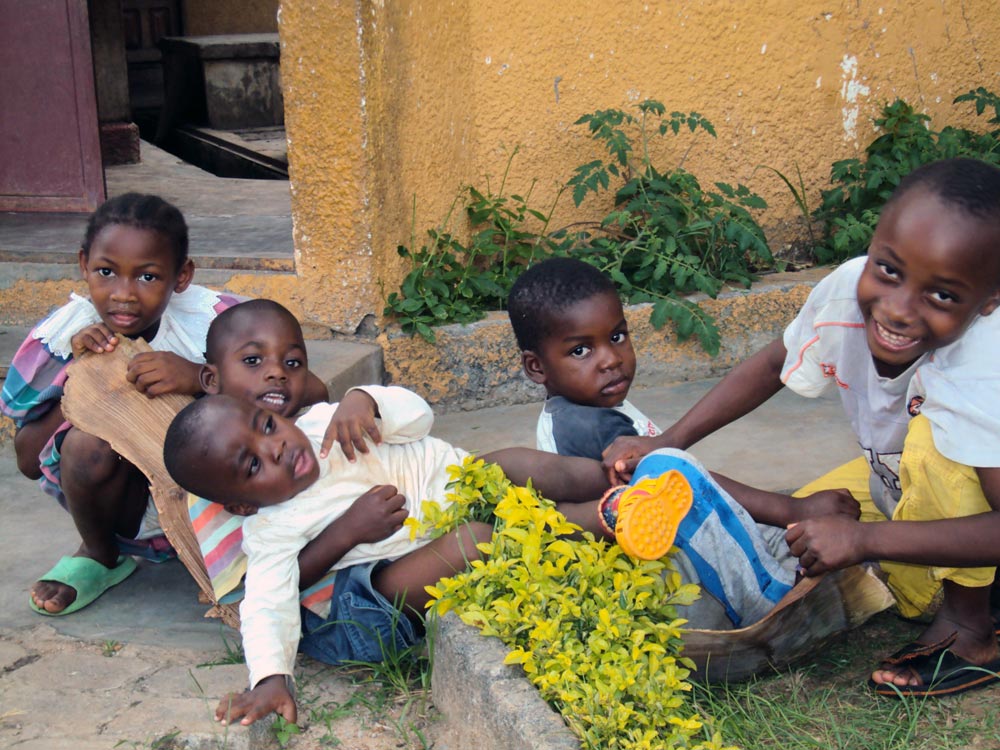 Stephen* was only three months old when his paralyzed mother's deteriorating health situation forced her to stop breastfeeding him. In February 2009, Stephen's 28-year-old mother died leaving the one-year-old without a mother.
Stephen is the last child in a family of four biological children who had only their old maternal great-grandmother to care for them. This caregiver was over 70 years old and had been chased out of her village of origin with the children by her brother, following a struggle for inheritance.
After taking refuge with other old couples, she ended up in a Roman Catholic mission in another village, Obout, where they were offered a temporary home and short-term care.
When the burden to care for the children became much on the old woman, the missionaries referred them to SOS Children's Villages and they were admitted into an SOS family in Mbalmayo, Cameroon.
What We Do

SOS Children's Villages provides orphaned and abandoned children with:
A home
A mother
Brothers and sisters
Education
Health care
Safety
---

Poor state of health
Stephen was admitted before his siblings because his physical condition required urgent attention. SOS mother, Aline who is giving proper care to this child now, personally took the child from his biological great-grandmother with tears in her eyes.
The day Stephen joined his SOS family in Mbalmayo, he was in a state of hunger and had not taken his bath, wearing a white dress that had completely turned brown because it was disgustingly dirty. He looked sickly with red hair and a loose dehydrated skin that portrayed the signs of severe malnutritiont.
"When the great-grandmother handed the child to me, the toddler groaned. I deduced that he groaned against a second separation [after the first with her biological mother]" explained his SOS mother, Aline.
On her part, the child's great-grandmother told her baby while crying: "I'm not rejecting you. It is because I do not have the means. I will always come to visit you."
The emotional touch was visible on the face of everyone present, including the SOS social worker and the director of the SOS family program in Mbalmayo, who, acting in the spirit of a loving father, quickly rushed to a nearby shop and bought biscuits for the 14-month-old baby who had not eaten anything for the day and it was already getting to midday.
The SOS coworkers took Stephen to a hospital in Metet, another town about 15km from Obout, where his health was examined by a medical doctor who had met this child before through the missionaries.

Warm reception
Upon arrival, little Stephen was warmly received by his new family and other SOS families in Mbalmayo. The other SOS children were cheerful, while the SOS mothers were crying as they saw the child in a deplorable situation.
The child was creeping, babbling and weighed 6kg when he was taken to the SOS Medical Centre the following day, and the SOS medical doctor discovered that he had developed malnutrition, was infected by worms and had other food deficiency complications.
The doctor recommended artificial feeding for the child, including vitamins to stimulate his appetite and an appropriate treatment for worms and amoebae.
Quick integration
One week later, Stephen began playing with the other SOS children in the family house. According to his SOS mother, two of his SOS sisters used to scramble every morning to bathe him.
"And I observed them, satisfied," she added.
Eventually, his countenance changed and he became the boy of another SOS child in family house No 6. After two months with his SOS family, he began to walk and three months later, he could call every member of his SOS family by their names.
He was fond of greeting everyone, including unfamiliar faces, and this contributed to his complete integration in the SOS family.
After 18 months, Stephen was registered in the SOS Kindergarten by the school's director who was attracted to the cute little boy, who did not attend school but could express himself well. He spent three years in the kindergarten with impressive performance and has maintained this performance since he was promoted to the primary school.
Intelligent boy
During the 2013/2014 academic year, Stephen was promoted to primary two, with an annual average of 17/20, and was awarded a prize for encouragement because he was among the best pupils in his class. The following academic year, he was again promoted to the next class with the same score and received two prizes; one as best student of the SOS Hermann Gmeiner Primary School and the second prize was for his outstanding performance in the classroom.
Stephen says he is happy to live in an SOS family because he plays football and races with his friends. He is inspired by his teacher and is already nursing a dream of becoming a teacher in future.
"She writes on the blackboard and explains lessons to children," said Stephen while talking about his admiration for his teacher.
His SOS mother said: "He helps his SOS sister in the evening to study, when she cannot read a word or text."
She added: "Moreover, Stephen is calm and does not like violence. He prefers to complain when he is victim to violence than fight back."
Stephen relates well with his biological siblings.
"I live well with Stephen. We like to play together and I tell him stories about animals. I help him do his homework and he makes me happy when he is among the best six pupils in his class," explained his 11-year-old biological brother, Ernest*
His biological sister, Irène*, aged 13, described her younger brother as handsome, wise and clean.
"He behaves and thinks like an elderly person. I love Stephen because he is very intelligent," she said.
According to his class teacher, Ms. Nice, Stephen is a very receptive child with a bright future.
Although Stephen's great-grandmother is very old now, she still fulfills her promise by visiting him whenever it is possible for her to do so.
Sponsor a child like Stephen and give a child in need a loving home today.
*Names changed for privacy reasons