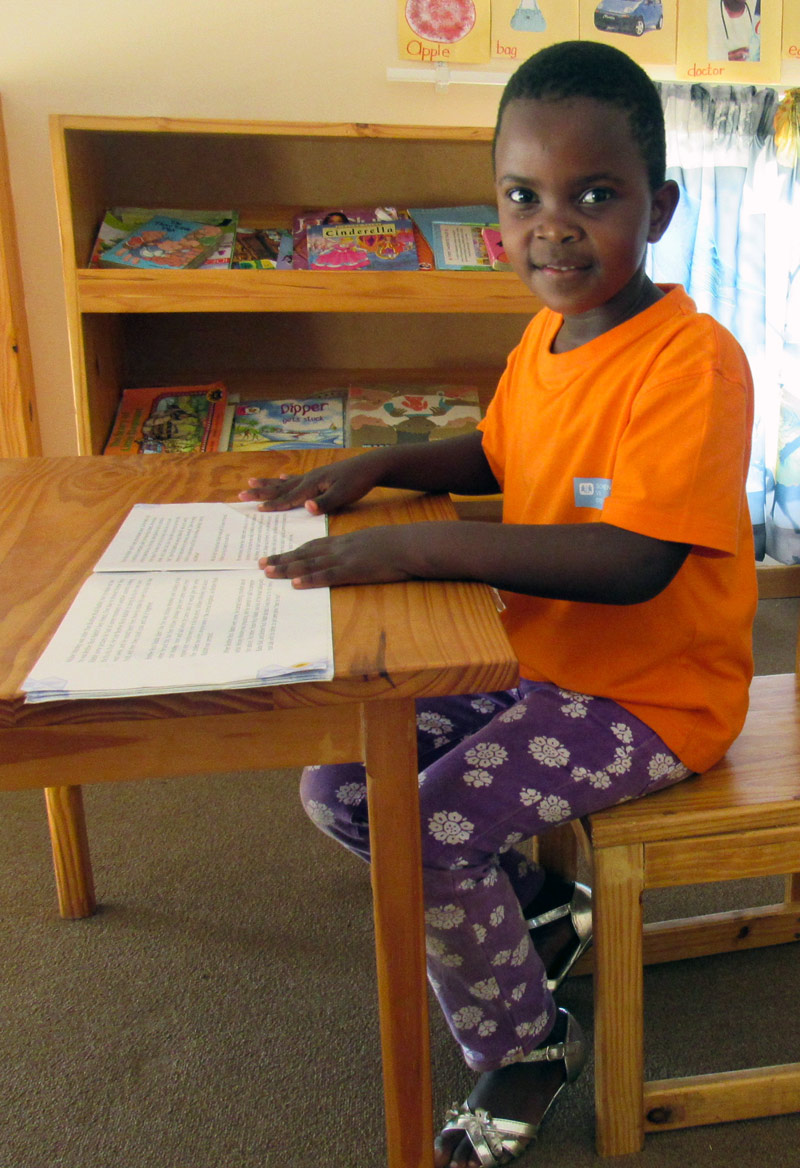 S'piwe*, who turned six years old in July (2015), has been with her SOS family in Nhlangano, Swaziland, from the time she was four months old.  She is the baby in her family. This "baby" will be graduating kindergarten in December and will start primary school in January. Nomsa, SOS mother and S'piwe's mom, hopes the little girl will be as enthusiastic about formal school as she is about kindergarten. "S'piwe always wants to go to the kindergarten, even when it is school vacation,"' says Nomsa.
S'piwe will be attending the Evelyn Baring Primary School in the neighbourhood. "I will be getting prizes like my brother Maseko," she says assuredly. Maseko also attends the same school that S'piwe will be attending next year.
When asked if she will miss going to kindergarten, S'piwe thinks about it a little bit. "I will continue visiting the kindergarten next year, after school," she declares. When asked why she likes kindergarten so much, S'piwe has a ready answer: "Kumnandzi phela echreshi." [Life in the kindergarten is interesting.]
At kindergarten, S'piwe takes part in Swazi dancing class and is a leader of her group. "I lead the group because I can dance very well. My teacher chose me to lead and teach the others how it is done," she explains. "I learned how to dance in the kindergarten," she says while displaying her dancing skills. "You see, I know how to dance."
S'piwe wants to become a doctor one day and she has very strong reasons why she wants to become a doctor. She got to like the profession when she had a fractured leg at the age of three. She spent more than six weeks in hospital and noticed how doctors took good care of her and other patients. "One would think she was too young to understand what doctors do, but listening to her explaining how doctors help people is just amazing!" beams Nomsa. "This also gets her in a little hot water, as she believes that she should always play the role of 'doctor' in school plays."
S'piwe is a clever girl who can already write all the letters of the alphabet and numbers one to twenty; something which suggests she is indeed ready for primary school, although she is quick to remind everyone that kindergarten is the most interesting place.
"Our kindergarten is certainly a happy place. It is always interesting to see how the children get excited when they prepare to go to the kindergarten every day.  The teachers also look forward to meeting, hugging and sharing life stories with the energetic children," says Buyaphi, Mahlalela, SOS programme director in Nhlangano.
*Name changed to protect the privacy of the children.