One in Every Four Venezuelan Children Suffers from Sight Problems
Image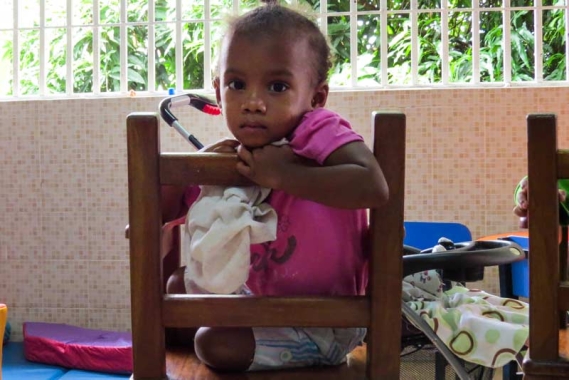 One in every four Venezuelan children suffers from sight problems. In a country that has seen its child mortality increase by 30% in the last year this may seem insignificant. However, Anabel's* case was a big deal.
She was not yet three years old, but Anabel already showed an aloof and very lonely character. In the Kindergarten she was easily irritated and had trouble to integrate herself into the group, something her teachers did not know how to solve. Besides that, she was not able to finish the activities in the class room and seemed distracted.
However, very little of what happened to her had to do with her character, the detail of which would be discovered in February 2016, when, as part of the pedagogical activities of the Family Strengthening Program for SOS Children's Villages Venezuela, the staff conducted a semi-annual psychosocial evaluation.
These studies measure the developmental stages of the child according to the child's age at the time of the evaluation. Anabel, 2 years and 11 months, was well below average in the fine motor function, in hearing and in language areas. However, there was another thing that immediately attracted the attention of the professionals: when she looked at an object she brought it extremely close to her face and looked at the Community Mother in a distant way, as if she did not understand when she was spoken to.
Anabel suffers sight problems – she is the one in every four Venezuelan children. These problems can affect their efficiency in the classroom, their relationships with others and their ability to learn, since they cannot concentrate on tasks, which sometimes leads to frustration and anguish. 
Anabel's mother is named Ana Karina, is 30 years old and has two more daughters, 14 and 11 years old. Ana Karina works as a domestic employee and travels from her home located in an upper sector of the community to the community centre where she drops her little girl, then travels eight kilometres in a public van to the subway station and from there another long stretch to get to work.
When Ana Karina first heard of her daughter's diagnosis, she realised that she had noticed that the little girl always sits very near to the television and that she often holds objects very close to her eyes.
In a country that has increased a 30% its child mortality in the last year according to the NGO ACAPS, a sight problem may seem insignificant. However, for Ana Karina this was terrifying to think how difficult life was for her little girl.
"The doctor told me that my daughter was born with a myopia that increases quickly and if the child would not receive care, she ran the risk of becoming blind," said Ana Karina.
However, that did not happen. The proper diagnosis of the SOS Children's Villages team allowed doctors to detect the problem early and prescribe her small round-shaped glasses in a deep-red colour that contrast with her brown skin.
Now, just after her fourth birthday, Anabel's life changed completely. She no longer finds it difficult to integrate into activities involving other children of her age, she has made important progress in learning processes and she showed averages above expectations in each area of development.
Anabel now has different concerns and is ready to show them to anyone who wants to listen: "I have to pay close attention and take care of my glasses, because they help me to do my homework and see my cartoons."
*Name and image changed to protect the privacy of the child