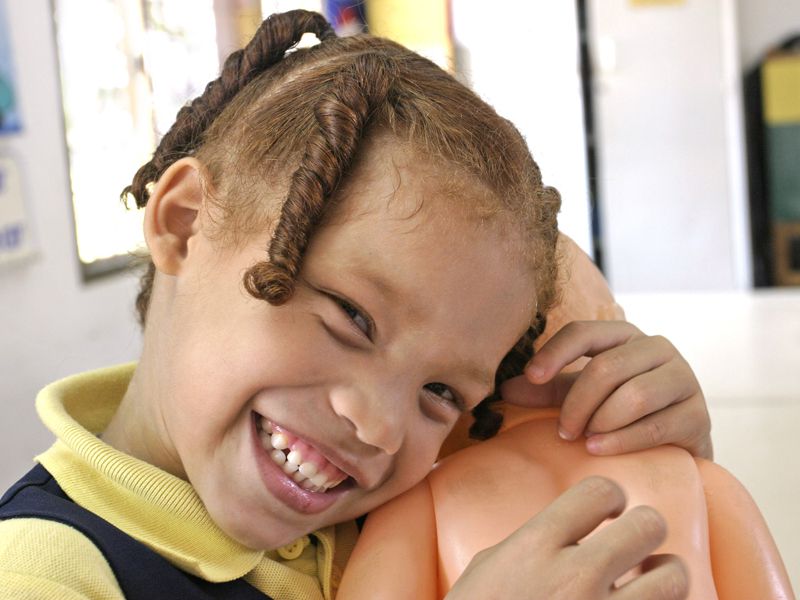 in Venezuela
Sponsoring a Child in Venezuela
SOS relies on the kindness and generosity of Canadians to be able to provide a home for the most vulnerable children of Venezuela.
For just $36/month you can sponsor a child in Venezuela and help provide an orphaned or abandoned child with:
A safe and nurturing home
A loving SOS mother
Quality education
Healthcare
Nutritious food
Clothing and toys
All the things necessary for a bright future
Please help us ensure a loving home for every Venezuelan child. Sponsor a child in Venezuela now.
| | Orphaned Children | Infant Mortality | Child Poverty Rate | Child Malnutrition | Average Lifespan |
| --- | --- | --- | --- | --- | --- |
| Venezuela | 480,000 | | 25.40% | 18.30% | 76 |
| Canada | 45,000 | | 8.80% | #N/A | 82 |
223
Orphaned and Abandoned Children
36
Youth and adult students
Hermann Gmeiner's children's charity idea reached Venezuela in the late 1970s. The first SOS Children's Village "La Cañada" went into operation in 1978 in the Maracaibo region. Since then, the organisation's activities in the country have constantly been widened. At present there are three SOS Children's Villages, SOS Youth Facilities at three locations, two SOS Kindergartens, one SOS Hermann Gmeiner School, one SOS Vocational Training Centre and SOS Social Centres at four locations.
SOS Children's Villages in Venezuela
At present, SOS Children's Villages is supporting children and young people in three different locations by providing day care, education, vocational training and medical assistance. SOS Children's Villages also started to operate SOS Family Strengthening Programs in 2002, which enable children who are at risk of losing the care of their family to grow up within a caring family environment. To achieve this, SOS Children's Villages works directly with families and communities to empower them to effectively protect and care for their children, in cooperation with local authorities and other service providers. Children whose parents cannot take care of them will find a loving home in one of the SOS families.
Some facts about Venezuela
Throughout the 19th century, Venezuela was marked by political turmoil and dictatorships. The discovery of massive oil deposits in Lake Maracaibo in the early 20th century transformed the country's economy and had a significant impact on Venezuela's weight in the global political arena.
The remodelled 26th constitution of the Bolivarian Republic of Venezuela was introduced in 1999 and is the very first Venezuelan constitution approved by popular referendum. It is one of the most participative constitutions in the world, significantly expanding the civil and political rights of all Venezuelan citizens, including the country's historically disadvantaged indigenous population.
Over recent years, the Venezuelan government has sought to strengthen cultural, political and economic ties in the region. By creating ALBA, the "Bolivarian Alliance for the Americas", Venezuela and Cuba introduced a less market-driven alternative to ALCA ("Free Trade Area of the Americas"), a free trade agreement proposed by the United States of America.
A drop in poverty
The share of people facing a life in poverty has dropped significantly from nearly 50 per cent in the year 2000 to around 27 per cent in 2009. Social spending noticeably increased over the same period of time. The Venezuelan government has launched a wide range of social welfare and anti-poverty programs, including the provision of free health care to the poor ("Misión barrio adentro") in addition to literacy, housing, environmental and educational initiatives. However, urban poverty is still fairly widespread and a large number of Venezuelans are forced to eke out an existence washing car windscreens at traffic lights or selling merchandise in the streets of Caracas.
Thousands of people are without permanent access to electricity and water in the hills of the country's capital, where the murder rate exceeds that of nearly any other city in Latin America. In spite of governmental efforts to address the crime in certain neighbourhoods of Caracas, crime rates are still soaring. The country's health and education programs have noticeably improved health and literacy indicators. While many other countries are still struggling to reach the UN Millennium Development Goals (MDGs), Venezuela has made much progress and a great majority of the goals have already been achieved five years before the deadline.
Situation of the children in Venezuela
Present-day Venezuela is home to an extremely young population: roughly 30 per cent of its citizens are under the age of 14. In Venezuela, an estimated 480,000 children are orphans. Many of them grow up in dysfunctional families or without a caring family environment at all.
Child labour - often a direct consequence of parental neglect and orphanhood - is still an issue in modern Venezuela. A high number of children between 10 and 15 years of age are engaged in child labour activities. Most of these children do not attend school. However, recent efforts to fight child and adolescent labour have noticeably reduced the number of working children in Venezuela. According to the Economic Commission for Latin America and UNICEF, the prevalence of child labour in Venezuela is now lower than in any other Latin American country.
A child who is forced to work and does not go to school is vulnerable to social exclusion and discrimination. Child labour is often the cause for poverty later in life: an early integration of a child into the labour market will result in a lower income once the child becomes an adult. As a result of Venezuela's remodelled constitution from 1999, a number of changes have shaped the legal and institutional framework of the country. The Venezuelan government has significantly increased social spending and child-related matters have become a governmental priority: various programs for the protection of children and adolescents, particularly focusing on children from indigenous communities, have been implemented.
Pre-Primary, primary and secondary school enrolment figures have noticeably increased over the past decade. Primary school enrolment in Venezuela is now at nearly 92 per cent compared to an astoundingly low 82 per cent in 1995. Infant mortality rates have also dropped in Venezuela but maternal mortality remains high. Notwithstanding governmental programs to protect the youngest segment of its population, roughly one in five Venezuelan children under the age of five still faces undernourishment.