Image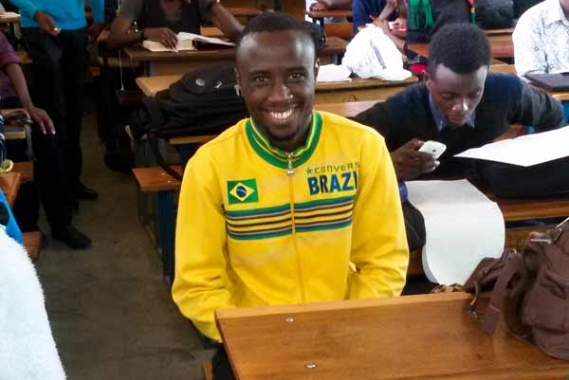 How your support is transforming young lives.
SOS Children's Villages believes that no child should grow up alone. Our first priority is to support families at risk to prevent family breakdown, so that children do not need alternative care. This is carried out through our Family Strengthening Program. In cases where a child cannot be cared for by their family of origin, we provide quality alternative family-based care in the form of Children's Villages, where children grow up as part of an SOS family.
Leon's* mother was supported through the SOS Family Strengthening Program, to make sure that he could go to school.
A Shining Example
The beaming smile on his face says it all. Leon was raised by his single mother who struggled to send her five children to school. For a long time, she relied on selling vegetables to feed her family. Barely making enough to put food on the table, education fell out of reach.
Today, she looks back on this time, as her fourthborn child is in college. "I never thought my children would ever make it past primary school. Leon is now proudly in college", she says. She is grateful to the team at SOS Children's Villages Kitwe for their support.
Neither of Leon's parents got a chance to go to school because they could not afford it. Without formal education, finding employment that offered stable income was a big challenge. This made looking after five children extremely difficult, harder still for his mother after the death of his father.
The SOS Family Strengthening Program ensured that Leon and his siblings had access to essential services such as school support and health care. "Even though I was young, I could tell that our lives were about to change and my mother would not have to struggle so much anymore," Leon recalls.
Leon is now pursuing a Diploma in Environmental Health at a local college. The SOS team helped to secure him a scholarship. Leon knows the value of the opportunity that he has been given,"my dream is to give back to my community in whichever way because I am no stranger to the poverty. I would like to be an example to other young people and encourage them to work hard in school."
Leon is focused on his education and will no doubt complete his last year in college succesfully.
*The name has been changed to protect the privacy of the child.