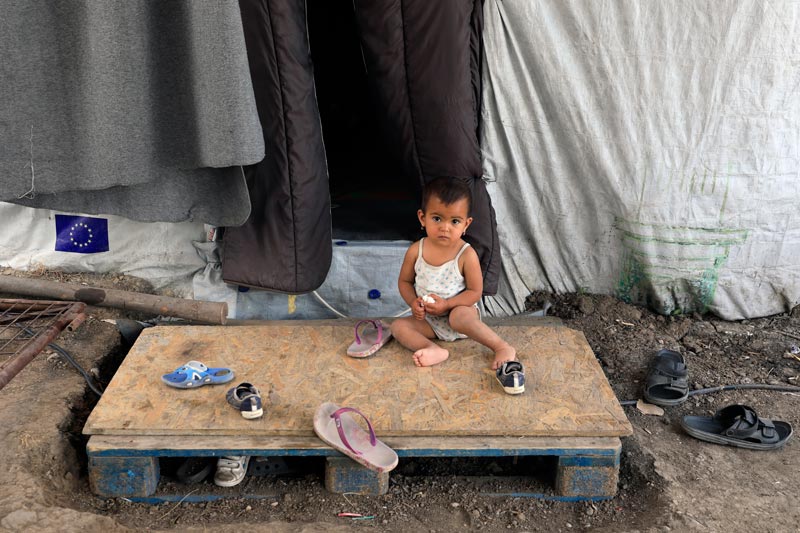 The need for help is overwhelming in Greece and in Athens, where one-third of the more than 50,000 refugees live. Local officials acknowledge they have not been able to provide adequate shelter for the more than 3,100 unaccompanied children in the country, leaving around 2,300 unaccompanied refugee children living in reception centres and in some cases on the street.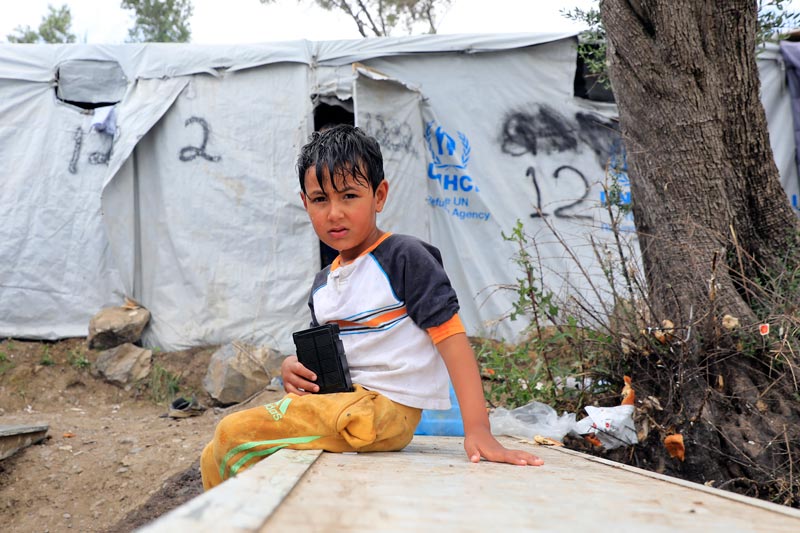 Boy sitting outside in a refugee camp in Moria, Greece
SOS Children's Villages has been working in Greece since 1975 and launched a refugee emergency response program in 2016 to address the growing needs of vulnerable unaccompanied children.
Our Emergency Response in Greece:
250 unaccompanied children in Greece have been provided with housing, care, educational activities and legal assistance so they can re-join relatives
We operate two children's shelters in Athens for 25 boys and 10 girls who are alone and in need of protection and support
At the Kara Tepe refugee reception centre which serves 1,200 refugees, at least half are children, our Child Friendly Space is providing educational, recreational and sports activities for children ages four to 14
As Greece struggles to meet the needs of thousands of unaccompanied refugee children, SOS has set up two children's shelters in Athens. "The main issue that makes a difference here compared to other shelters is that we draw on the expertise of SOS Children's Villages Greece which has nearly 50 years of experience in caring for children," says Mohammad Vahedi, program coordinator of the SOS Children's Villages shelter for unaccompanied boys in Athens. "We are not only caregivers. We offer holistic support to the children – psychological, social and educational support – to help them recover from the experiences and the difficulties they have faced."
"These children need safety – they want a safe environment," Mr Vahedi says. "We have the experts who help the children and they develop a relationship of trust. The psychologist works with each child, while social workers are working to address their other care needs on an individual basis."
The new children's shelter for girls, which opened in May 2018, builds on SOS Children's Villages Greece's more than two years of experience in caring for unaccompanied children. The homes – purposely located in family-oriented neighbourhoods with schools nearby – are designed to create a safe, welcoming and structured environment.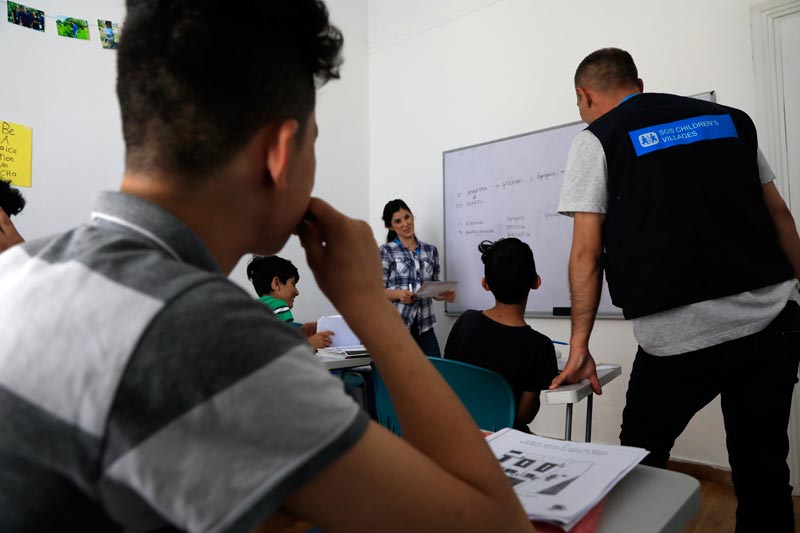 Boys sitting in a classroom in the boys refugee shelter in Athens, Greece
"All unaccompanied children are vulnerable, but for the girls the risk is one click higher," says Alexandros Antonatos, area coordinator for the SOS Greece refugee emergency program and head of the new children's shelter for unaccompanied girls. "There are more security and safety challenges and a bigger risk of human trafficking."
Through swift action, SOS Children's Villages was able to immediately shelter four sisters from Pakistan, aged eight to 15, to ensure siblings are able to stay together. "We don't separate children from their families, especially when they are this young," Mr Antonatos explains.
SOS Children's Villages is responding to humanitarian emergencies in Greece and across the globe. To help us continue to care for children who are in the direst of need, please consider a donation to our SOS MAYDAY Emergency Relief Fund.