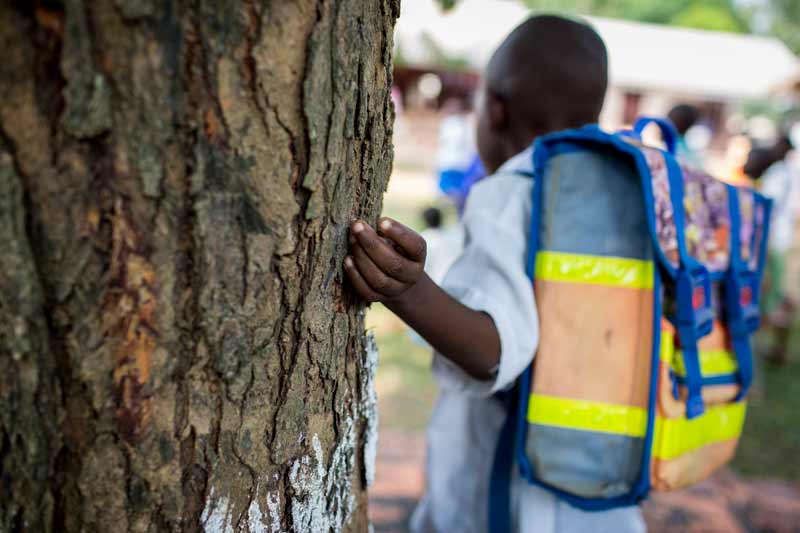 An estimated five million tourists travel to the Dominican Republic each year and contribute significantly to the country's economic growth. In spite of this thriving tourism industry, many Dominican children live in poverty. For thousands of these children, there will be no back-to-school this year.
Education is free in the Dominican Republic, but only approximately 85% of all Dominican children aged 5-14 attend school, compared to 99.46 % in Canada (Trading Economics). Many families simply can't afford the required school uniforms, supplies, and books. In some cases, children from these struggling families give up their education in order to find work and contribute to the household income.
While their friends spend the day in the safety of a classroom, learning and developing their skills, others are left out to roam the streets or look for work, often in precarious conditions. Too often, dropping out of school is the beginning of a life marked by a vicious cycle of drugs, crime, and violence. Within a few months in the streets, it is often too late for them to reintegrate into the school system and catch up with their peers.
For Dominican children who have lost their parents, the risks are even greater. This is why SOS Children's Villages operates three Children's Villages in the country. These Children's Villages provide orphaned and abandoned children with the safety of a home, a loving family, and access to healthcare and education.
SOS children come from difficult backgrounds, usually related to poverty, violence, or abuse. Some have never stepped into a classroom and have never been taught to write or read. As a result, SOS children can be years behind other children their age, a situation that affects their self-confidence and self-esteem. But within weeks of being welcomed into a Children's Village, things begin to change for the better – SOS children are registered in school and receive the books, school supplies, and uniforms they need to attend school, alongside their SOS brothers and sisters. For these children, the very first day in school is particularly meaningful.
Starting school years after the expected age is a challenge and some children have a hard time catching up. This is why SOS Children's Villages provides these vulnerable children enhanced learning support – such as one-on-one tutoring, psychological support, and extra classes – when needed. Everything is done to ensure that SOS children receive the high quality education they need to thrive in the future.
Since 2015, all of the school-aged children who find a loving home at the SOS Children's Villages Los Mina, near the Dominican Republic capitol of Santo Domingo, have received everything they needed to head back to school thanks to generous donations from tripcentral.ca. The Canadian travel agency supports SOS to ensure all children from this Village receive school uniforms and supplies, as well as extra tutoring when needed.
We thank tripcentral.ca for their commitment to help more Dominican children look forward to back-to-school. Together, we are helping children to overcome difficult backgrounds and look forward to a bright future.
Join tripcentral.ca and make a difference in the lives of Dominican children by providing them with the gift of education. Donate now and make back-to-school a reality for more children!