Faces of Social Circus - Peru
Tuesday, October 18, 2016
"I don't like to depend on anyone, it's better to rely on yourself.
I never ask the father of my three children for anything. We met in school when I was young and lived together after I got pregnant. But it was awful, probably one of the worst decisions I've made. We split up and now he lives with his parents. He doesn't even call the kids on Christmas. I'm both mother and father to them. It's hard. Being a single mother is always hard. I can only work part time so my siblings support me and my children the best they can.
My dream is to get a degree to become a schoolteacher. I know I can do it. I used to be really timid, but the social circus workshops have taught me to be confident. You might be on a trapeze thinking 'I can't do this,' but everyone encourages you and you discover you can do it! You just have to believe in yourself and persevere when you get frustrated.
Image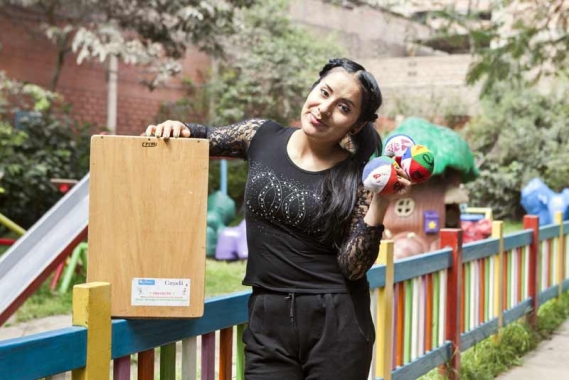 Thanks to the social circus, I also communicate better with my kids now. I'm more tolerant. I don't blurt out the wrong thing when I get stressed or tired. When I come home from the social circus workshops my kids always ask what I learned. So I'll juggle or we'll all play the cajón together. We have fun! I want to give them the best I can. I don't want them to make the same mistakes I made."
The SOS Social Circus program was developed by SOS Children's Villages in collaboration with Cirque du Soleil. In Peru, the program is implemented in collaboration with La Tarumba. Learn more about the Social Circus program here.