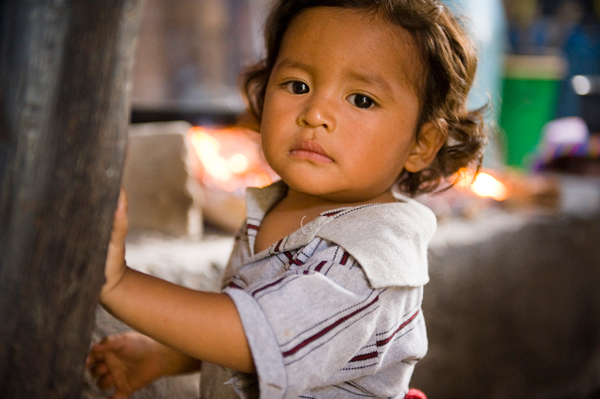 in Peru
In Peru, Hermann Gmeiner's idea was established in the year 1972. Since the inauguration of the first SOS Children's Village in 1975, the organisation has constantly expanded its activities in the country. After a massive earthquake in 2007, SOS Children's Villages launched a wide-ranging emergency relief programme, providing water, food and clothes to thousands of Peruvian children. At present there are eleven SOS Children's Villages in operation, one SOS Children's Village under construction, SOS Youth Facilities as well as SOS Social Centres at nine locations and an SOS Vocational Training Centre in Peru.
Sponsor a Child in Peru
SOS Children's Villages is in need of child sponsors for its Villages in Peru. SOS provides long-term family based care for children in need and the funds raised through child sponsorships helps provide each child in our care with all the necessities of a loving, safe and healthy childhood.
Canadian's wishing to help orphaned and abandoned children in Peru are encouraged to sponsor a child.
For just $36/month you can sponsor a child in Peru and help provide an orphaned or abandoned child with:
A safe and nurturing home
A loving SOS mother
Quality education
Healthcare
Nutritious food
Clothing and toys
All the things necessary for a bright future
Please sponsor a Peruvian child today. Child sponsors will receive a Canadian charitable tax receipt.
| | Orphaned Children | Child Poverty Rate | Child Malnutrition | Child Marriage | Below Poverty Line |
| --- | --- | --- | --- | --- | --- |
| Peru | 660,000 | 25.80% | 31.60% | 19.10% | 12.74% |
| Canada | 45,000 | 8.80% | #N/A | #N/A | 9.40% |
754
Orphaned and Abandoned Children
124
Youth and adult students
SOS Children's Villages in Peru
In Peru, the economic crisis of the 1980s caused many families to become destitute. The social deprivation of the weakest members of society, the children in need, kept increasing.

At present, SOS Children's Villages is supporting Peruvian children and young people by providing day care, education, vocational training and medical services in ten different locations. The organisation is also carrying out an SOS Family Strengthening Programme, enabling children who are at risk of losing parental care to grow up within a caring family environment.
Children whose parents cannot take care of them will find a loving home in one of the SOS families.
Some facts about Peru
The Republic of Peru is located in western South America. It is bounded by the Pacific Ocean in the west, Ecuador and Colombia in the north, Brazil and Bolivia in the east and Chile in the south.
Ancient Peru was the seat of various important Andean civilizations, most notably that of the Incas. Their empire was largely destroyed by the Spanish conquerors in the 16th century.
Peruvian independence was declared by Argentine general José de San Martín in 1821.
Today, the country's capital and largest city is Lima. With roughly nine million inhabitants, Lima is also one of the most populous and fastest growing cities in Latin America. Peru has a total population that amounts to roughly 30 million.
In the "War of the Pacific" in 1879, Peru and Bolivia were defeated by neighbouring Chile. The war left traumatic scars on Peruvian and Bolivian society as both countries had to cede vast parts of their territory to Chile.
After many years of military rule and internal guerrilla conflict, Peru has now become one of the most stable democracies in the region. The country's historic legacy, its stunning cultural and biological diversity and, of course, Machu Picchu draw thousands of tourists every year.
In 2007, Peru was hit by an earthquake measuring 7.9 on the Richter scale. Nearly 40,000 people lost their homes in what has been considered one of the worst natural disasters in Peruvian history.
Poverty despite economic acceleration
Social and economic inequality remains high in Peru. In a multi-ethnic country like Peru, aspects like racial heritage, skin colour and social background often have a great impact on a child's future. Peru's indigenous population is still largely excluded from wealth and political power, a major reason why they represent the largest population segment living in poverty.
Over the last years, Peru has seen steady economic growth. In fact, the Peruvian economy has recently been one of the fastest growing in South America and inflation has been comparatively low.
However, many Peruvians have not benefited from their country's economic progress. In spite of the fact that the economic boom has had a significant impact on national poverty figures, many Peruvians are still living in crippling poverty. A striking 25 per cent of Peruvians face a life on less than two US dollars a day, many of which are children.
In a country that is extremely rich in natural resources, roughly 15 per cent of the population remain below a minimum level of dietary consumption and are therefore considered undernourished.
Situation of the children in Peru
In Peru, roughly 40 per cent of the country's population is less than 18 years old. Children and adolescents therefore represent Peru's largest population segment.
Over the past few years, the situation of the children in Peru has noticeably improved. Child mortality and under-five-mortality rates have dropped drastically, primarily owing to improved medical infrastructure, pre-birth control methods and educational efforts which aim to reduce the number of adolescent pregnancies.
Nonetheless, a persisting problem of Peruvian society is the omnipresent phenomenon of child labour. The child labour rate in Peru remains high at roughly 19 per cent. In the capital city of Lima, 10-year-olds who shine shoes or sell merchandise in the streets are a common sight. Many of them originate from underprivileged families who moved to Lima from rural areas, in search of a better life.
One of the most obvious long-term effects of child labour is that it takes children out of school either temporarily or permanently. Hence, children lack a decent education, which makes it even harder for them to break the vicious cycle of poverty. The illiteracy rate in Peru has dropped significantly from 10.1 per cent in the year 2000 to 7 per cent in 2010. Still, in remote areas access to education is sometimes limited. Due to the geographical distance, it often takes a very long time to get to school and regular attendance is not always possible. Many primary school children in rural Peru do not know how to read and write after the second year in school.
In Peru, around 550,000 children grow up without parental care. They are either orphans or come from dysfunctional families who neglected them at an early age. It is not uncommon for children to abandon their families where they often experience severe physical abuse. Domestic violence is a growing problem in Peru. Many children suffer in silence as they are afraid of retaliation or punishment by family members.