How I Escaped Abuse and Learned What a Mother Means
Image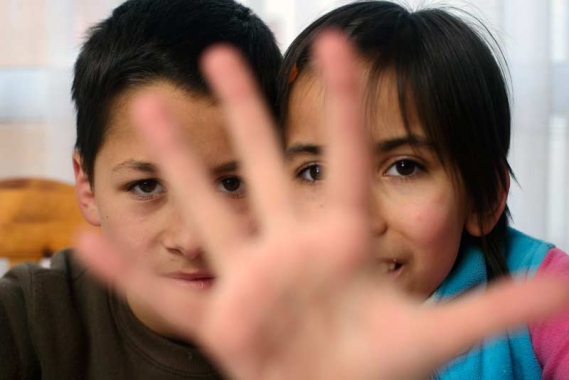 "Our life was hopeless. We had nothing. We moved from shelter to shelter. One day after school we went to the social services and begged them to take us away. We didn't want to live with our parents anymore. We knew that our mom wouldn't leave our abusive dad. We were tired of such life."
Children Stand Up For Their Rights
Anna* says that until she was nine years old, she was happy. She lived with her parents and four siblings in a big family house in modest conditions in Hungary. Then the problems started.
Anna's parents began fighting and her father became more and more aggressive. He started to beat his wife and children. After some months, Anna's parents divorced, and in the process lost their home.
The period of peace for Anna and her siblings was short-lived. Her mother and father got back together, only to continue fighting. They split again. The stormy on-off relationship continued for years while the children continued to take beatings.
The family kept moving from one rented home to another, even lived in several shelters.
Finally, the children decided enough is enough. Anna, 15 at the time, led her siblings to the local social services demanding their right to grow up in a safe and loving environment.
Staying Strong and Together
"SOS Children's Villages was our only chance to live a better life," Anna fondly remembers becoming part of the family of SOS mother Eszter. The siblings adapted quickly to the new life, relieved of stress and fear. "We had great time in the SOS Children's Village. We'd stay there forever."
Given one of the principles of the organization is for siblings to grow up together, Anna was particularly happy that all five children could live in the same SOS family.
Anna says life at the SOS Children's Village helped her and her siblings to continue to share their love, to rely on each other, to help and support each other. This continues still today: "If you need a babysitter, you can be sure one of us will step in."
"When I met Anna, she was teenager in age, but an adult in behaviour," remembers SOS mother Eszter. "We agreed that I would treat her as an adult and that she would act like one. She always had a strong personality. From the first moment we respect each other and we never had any major conflicts. She always listened to me and accepted my advice. She suffered a lot as a child. These five children will never forget the suffering they endured from an abusive father. Every time they'd meet, the children tried to avoid him."
Over the years, Anna agreed to rebuild the relation with her birth mother conditioned that her birth mother would leave her father for good. The two now enjoy a good relationship.
Figuring Out the Future
When Anna came to SOS Children's Villages, her biggest challenge was school. Due to her birth family's frequent moves she had to change half a dozen schools and lost a whole year of education. There was a lot to catch up, but the girl finally had the safety, peace and care needed to focus on her education.
"[Here] I started to love to learn. I became better at school. During high-school I excelled in math. I love math so much."
Anna finished primary school with excellent marks which allowed her entry in one of the best high-schools in Budapest. This meant another move: from her SOS family home to a students' dorm in the capital.
Anna stresses the support she got from her SOS mother and the professionals at the SOS Village: "Together, we had a lot of discussion about my future. I had ideas and worries, but everyone assured me I will get all the help I need."
During university, Anna studied and, in parallel, worked as a shop assistant. After graduation, she revisited her love of numbers and started to work in an accounting company as a payroll administrator.
Anna Today
Today, Anna is a happy young woman, a loving mother of a two-year-old son and a wife to the man of her dreams. "In the beginning, it was hard for me to integrate in this prosperous and educated family. I was frustrated whether I was good enough for to become part of this family. My husband knows about my past and it doesn't bother him where I come from. He knows and accepts me as I am, and so does his family."
Anna still has a strong bond with Eszter. "At one point in her life, Anna was in a very bad relationship. When she escaped it, she called me to get her. Anna has great trust in me and I have great trust in her," explains Eszter.
"The only person I cared deeply about was my SOS mother. I never had any secrets from her. Until today, we still talk about everything and call each other regularly. I still call her mom," Anna says.
Proud Mom, Happy Daughter
For Anna and her siblings SOS Children's Villages was a chance to have a loving family, a safe home and a chance to make happy childhood memories. "We grew up like a real family. My SOS mom is my second mom, and she has always supported me. Also, the SOS Children's Village employs many professionals, even a therapist. They were always there for me with any problem I had."
Anna has big plans for her future: she wants to continue her studies to get an advanced degree, she wants to take a language exam, and she plans to have a second child.
"She has so many plans, but for me it is most important that Anna is already living a very good life. She is a great mother, she loves her son and her husband, and together they make a wonderful couple. Anna always knew she wanted to give her children a better life than the one she had. I firmly believe she is making it," says proud SOS mom Eszter.

Canadians wishing to help orphaned, abandoned and other other vulnerable children in Hungary are encouraged to sponsor a child or make a one-time gift. With your help, we can ensure that no child is ever alone.
*Names and images changed to protect the privacy of the individuals