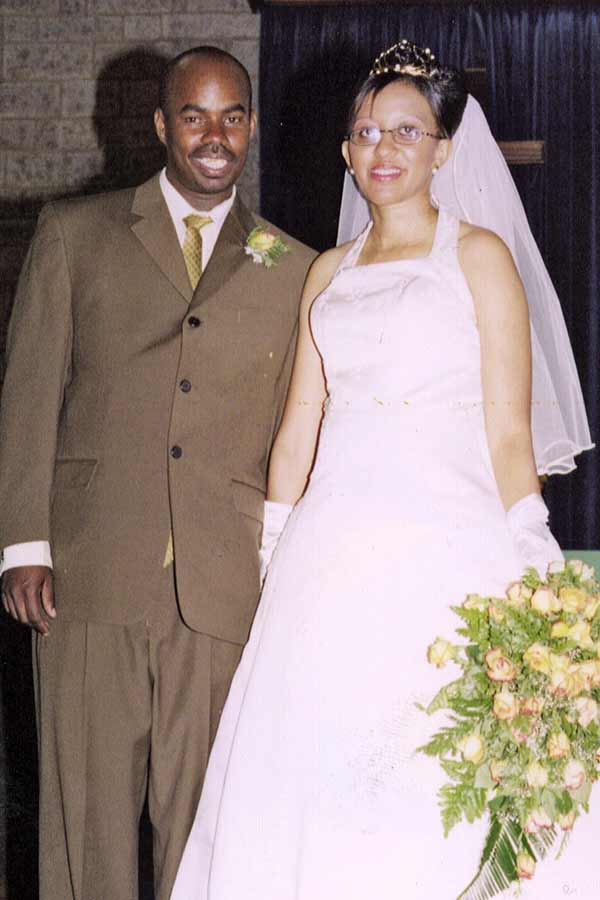 Isaac Irungu didn't have the best start in life. His mother, a well off businesswoman who never married, was imprisoned for poisoning two of her nine children. Both children died and Isaac's mother was sent to Kenya's most notorious prison. As her youngest child and still a baby, Isaac went with her. He spent the first four years of his life in the prison until a prominent Kenyan women's organization intervened. Isaac was released into their care before beginning a new life in 1975 at the SOS Children's Village Nairobi.
The sixth youngest in his large SOS family, Isaac was never particularly academically inclined. On leaving school he opted to attend the Limuru Boys' Centre, an agricultural institution just outside Nairobi, where he learnt about animals, flowers and landscape gardening. He left the centre after two years' training and went on to join the Irish Consulate in Nairobi, working on recycling projects.
Seizing opportunities as they come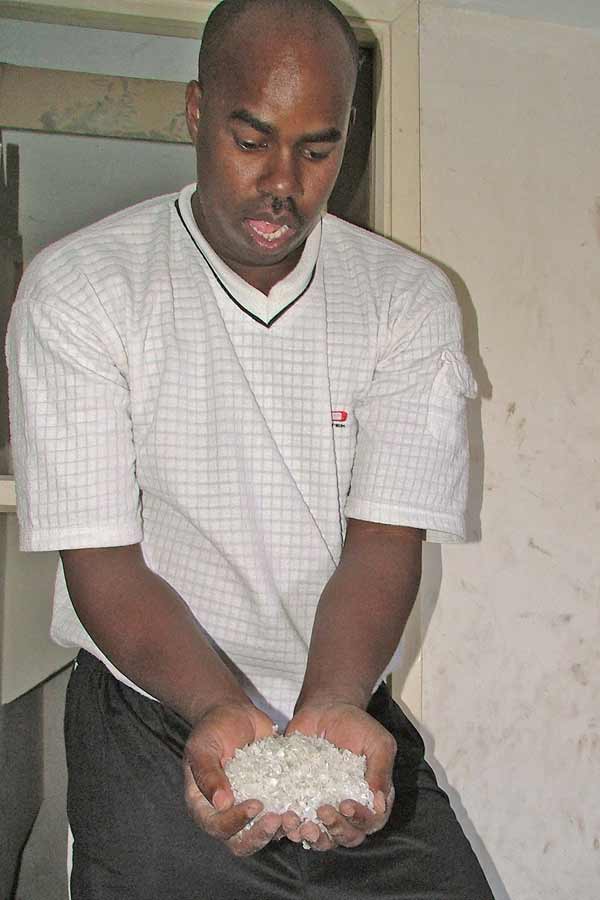 Isaac shows the finished product. Photo courtesy of Hilary Atkins
After a year and a half at the Consulate followed by a six month marketing course, Isaac set up his own garbage collection business. Although the Nairobi City Council is supposed to collect garbage on a regular basis, this rarely, if ever, happens. Thus Nairobi offers endless opportunities to those who are willing to get their hands dirty. Isaac recognized the opportunity and after small beginnings in 1993, he acquired a large customer base in the Buru Buru area of Nairobi. He began by using two hired dumper trucks, and collected the garbage twice a week.
With stiff competition in the area Isaac realized that he needed to offer more than just garbage collection. In order to create goodwill for his company, he began to take on jobs that are normally the council's responsibility, but which he noticed were rarely undertaken: fixing street lights, covering open drains and sweeping the courtyards that are a characteristic of the area. All this he did, and still does, for free.
Not all work and no play
As his business grew Isaac knew that he needed to invest in more equipment. Two years ago he applied for a loan from SOS Children's Villages Kenya and, once approved, Isaac used the money to buy a truck and the business that formerly owned it, another garbage collection firm. Now Isaac has three trucks, a pick up vehicle and 35 staff (eight of whom grew up in Kenyan SOS Children's Villages). He also increased his customer base, which now includes a prestigious five star hotel and the rental properties of several estate agents.
Now 35, Isaac has many friends, one of whom works for Coca Cola bottling in Nairobi. Being a giant multi-national that produces drinks in plastic bottles, including mineral water, Coca Cola is aware of the mammoth littering problem caused by plastic bottles. Isaac was approached to give proposals on how to consolidate all the empty plastic bottles so that they would not just be dumped and buried in the ground. Isaac proposed that the bottles be collected and shredded to be recycled as raw material. At the same time he made contact with some Dutch businessmen who wanted to buy shredded plastic for use as a raw material in fabrics. Isaac agreed to supply them with 100 tons (100,000 kgs) per month, which is shipped in three containers from the Kenyan port of Mombasa.
In order to collect the plastic bottles Isaac has designed a bin that will be placed in popular supermarkets, where customers can dump their empty bottles. He also collects the bottles from two major hotel groups and three Nairobi restaurants. And at Nairobi's largest rubbish dump he pays people to find the bottles for him. Once the bottles are collected they are placed in large gunny bags and taken to Isaac's warehouse, not far from Nairobi's international airport. Here the bottles are stripped of tops and labels before being crushed in the machine that Isaac recently purchased. From there the shredded plastic is taken by road to Mombasa and shipped to Holland.
Not one to miss out on the potentials of new markets, Isaac is arranging for plastic bottles to be collected in Mombasa and brought back to Nairobi in the empty containers that will be used to export the shredded product. Why not just start a new shredding plant down in Mombasa? "Because", says Isaac, "I want to keep an eye on everything and I cannot be in two places at once." It also makes sense to use the empty containers and to make use of the shredding machine in Nairobi.
Despite working six days a week from 5.00 a.m. in the morning until late at night it's not all work and no play for Isaac Irungu. He is an avid hiker, for which Kenya offers plenty of opportunities, including Mount Kenya, which he has climbed twice. And just an hour from Nairobi lies a dormant volcano, Mount Longonot, which Isaac climbs regularly. He also plays the piano, something he started in the SOS Children's Village and continued when he began to earn money, by taking piano lessons at Nairobi's prestigious Conservatoire. Isaac also chairs the three-year-old association for old boys and girls from Kenyan SOS Children's Villages, called 'SOS Clan' which acts as a welfare organization when bereavement strikes a family.