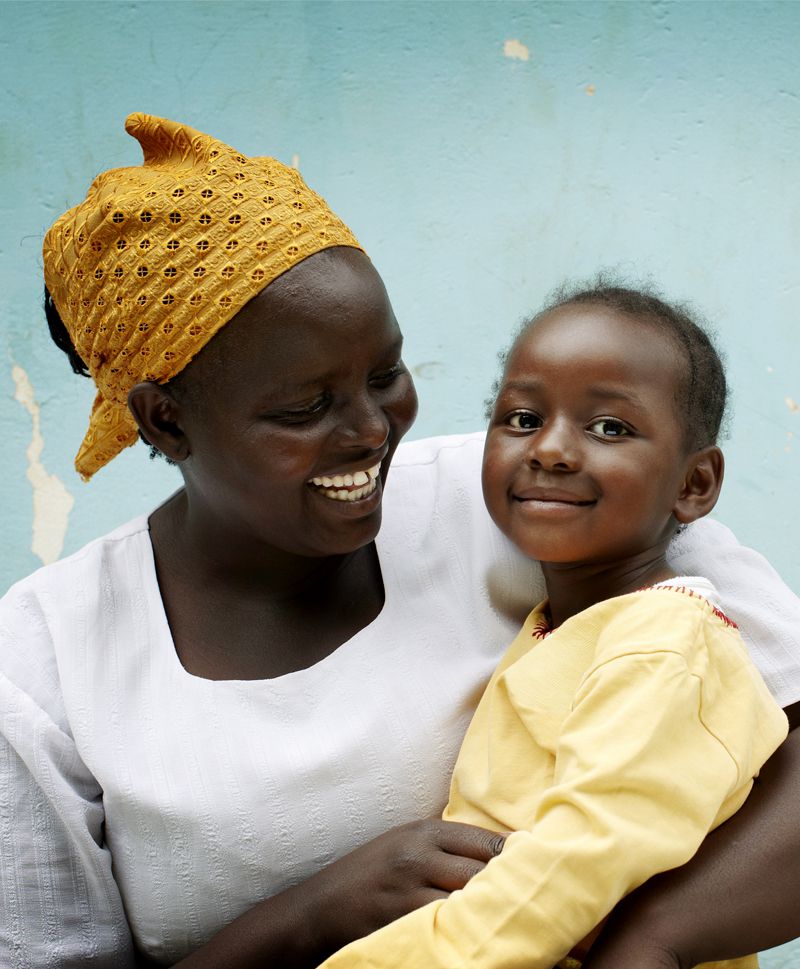 in Kenya
SOS Children's Villages in Kenya is supporting children within their community and in their familiar environment.
Apart from giving children a new home in our villages, SOS Family Strengthening Programmes enable children who are at the brink of losing family care to grow up in a caring family environment.
At present there are four SOS Children's Villages, three SOS Youth Facilities, four SOS Kindergartens, four SOS Hermann Gmeiner Schools, one SOS Training Centre, four SOS Social Centres and one SOS Medical Centre in Kenya. Some facts about Kenya The Republic of Kenya's population is 40.8 million and its capital is Nairobi.
Sponsor a Child in Kenya
SOS relies on the kindness and generosity of Canadians to be able to provide a home for the most vulnerable children of Kenya.
For just $36/month you can sponsor a child in Kenya and help provide an orphaned or abandoned child with:
A safe and nurturing home
A loving SOS mother
Quality education
Healthcare
Nutritious food
Clothing and toys
All the things necessary for a bright future
Please help us ensure a loving home for every Kenyan child. Sponsor a child in Kenya now.
| | Orphaned Children | Infant Mortality | Child Malnutrition | Girl Genital Mutilation | Average Yearly Income | Below Poverty Line |
| --- | --- | --- | --- | --- | --- | --- |
| Kenya | 2,500,000 | | 40.90% | 27.10% | $930 | 45.90% |
| Canada | 45,000 | | #N/A | #N/A | $52,200 | 9.40% |
675
Orphaned and Abandoned Children
1 166
Elementary and secondary students
2 118
Youth and adult students
SOS Children's Villages in Kenya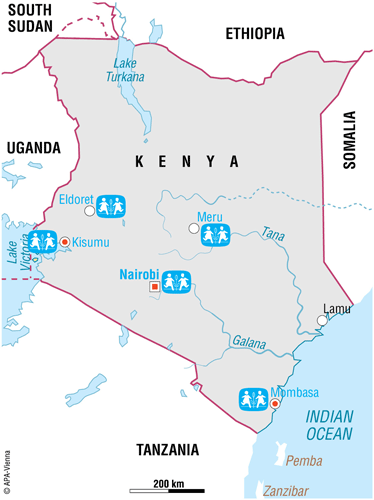 Kenya was one of the first African countries where SOS Children's Villages became active. The national Kenyan association was founded in 1971, primarily because of the ever-increasing number of orphaned and neglected children in Kenya.
SOS Children's Villages has been running SOS Family Strengthening Programmes in the country, which enable children who are at risk of losing family care to grow up within a caring family environment. To achieve this, the organisation works together with families and communities, empowering them to effectively protect and care for their children.
At present, we are supporting Kenyan children and young people by providing day-care, education, vocational training and medical services in five different locations. Children whose families cannot take care of them can find a loving home in one of the SOS families.
Kenyan Recent History
The country has been referred to as "the cradle of humanity" since scientists discovered some of the earliest evidence of man's ancestors on Kenyan soil.
Its impressive ethnic diversity is an important element of Kenyan culture, on one hand, and a source of conflict on the other. Violence between tribes has contributed to internal displacement in the country. The majority of Kenyans are bilingual in English and Swahili.
After independence from Britain was sealed in 1963, Kenyan politics were for many years dominated by the charismatic Jomo Kenyatta who led the country until his death in 1978. The country was a de facto one-party state from 1969 until 1982 when multiparty politics were successfully restored, mainly as a result of international pressure.
Pressing challenges in present-day Kenya include high unemployment, crippling poverty and high crime rates. The tourism industry has been an important source of income and has become the country's primary hard currency earner over recent years.
Abundant wildlife and scenic landscapes make Kenya a major safari destination that attracts thousands of foreign visitors every year. Kenya has also played a vital role in the Somali and Sudanese peace processes.
Frequent droughts drive millions into starvation
Although Kenya has recently seen economic growth, around 11 million people are still undernourished and a major part of the country's population is unable to meet their daily calorie requirements. Floods and droughts continue to have a severe impact on the availability of food, particularly in semi-nomadic zones.
In the drought-prone north, access to medical services is poor and many families cannot meet even the most basic needs such as running water, sewage systems and sanitation. Around 60 per cent of the Kenyan population face a life in poverty, with a substantial part living in conditions of extreme poverty.
In 2008, a wave of post-electoral violence hit Kenya. The crisis led to over 1,000 deaths and massive displacement. Hundreds of thousands were forced to flee their homes and 75,000 children had to take shelter in over 100 camps for internally displaced persons.
Life expectancy at birth is only 55 years. Apart from the HIV/AIDS pandemic that dramatically affects Kenya, widespread infectious diseases in the country include typhoid, hepatitis A and bacterial diarrhoea.
Situation of the children in Kenya
Kenya ratified the African Charter on the Rights and Welfare of the Child (ACRWC) and various conventions, but some issues remain unresolved, such as clear guidelines regarding corporal punishment or the minimum age for marriage and criminal responsibility.
Thousands of children in Kenya are deeply affected by persistently high levels of poverty. The well-being of young children is particularly at risk as undernourishment and child mortality have increased.
A growing number of children live without parental care or at the brink of losing it.
At 6.3 per cent, Kenya also has one of the highest HIV prevalence rates in the entire world. Nearly 1,200,000 children in Kenya aged 0 to 17 have been orphaned as a direct result of AIDS. In order to protect children from the virus, the Kenyan government has launched an ambitious initiative to completely eradicate mother-to-child-transmission of HIV and paediatric AIDS by 2015.
Another public health concern for young children in Kenya continues to be malaria, which kills around 26,000 children under the age of five every year. Child mortality is high at 84 per 1,000 live births.
An increasingly high number of households in Kenya are headed by children. It is a proven fact that female-headed households and child-headed households are more likely to experience high levels of poverty.
Young children are often obliged to work instead of being able to go to school as they have to put food on the table for an entire family.
In Kenya, an estimated 130,000 children live in the streets as a result of poverty, family neglect and social discrimination. Many of them are forced into exploitative child labour and eventually even commercial sex work. At present, an estimated 10,000 children have been caught up in the sex trade, particularly in the country's coastal regions. Many children resort to prostitution as a way to make a living.