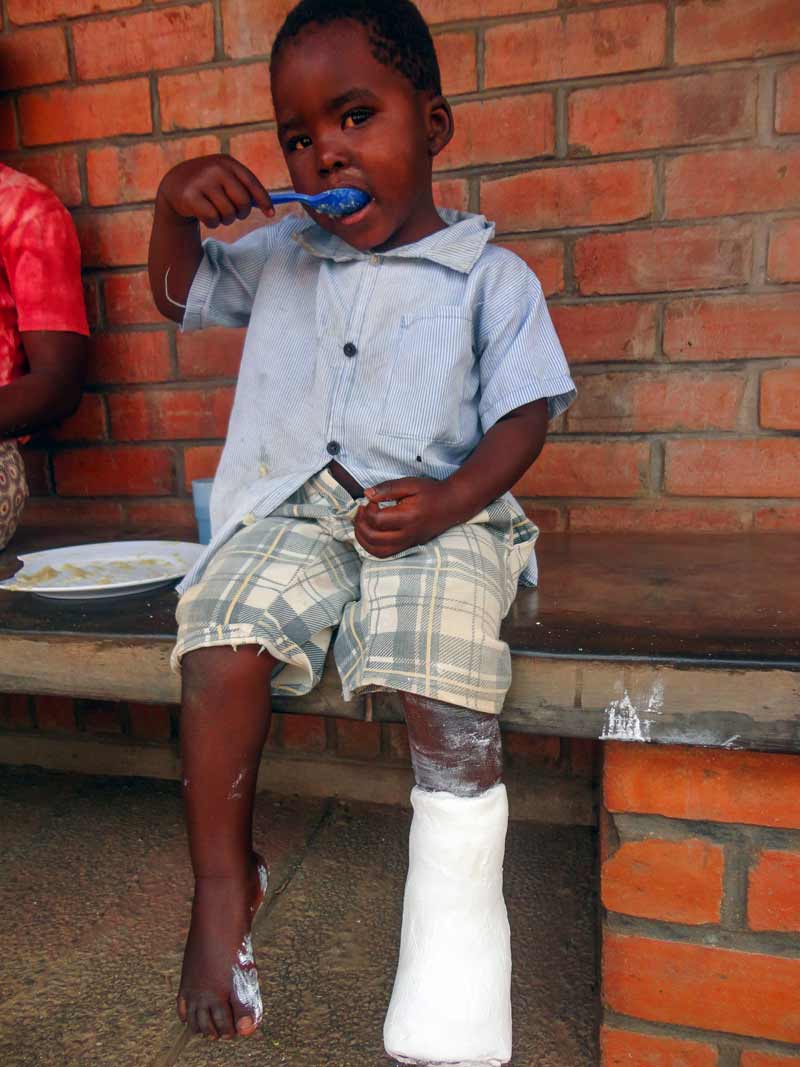 How your support is transforming young lives.
SOS Children's Villages believes that no child should grow up alone. Our first priority is to support families at risk to prevent family breakdown, so that children do not need alternative care. This is carried out through our Family Strengthening Program. In cases where a child cannot be cared for by their family of origin, we provide quality alternative family-based care in the form of Children's Villages, where children grow up as part of an SOS family.
Luciano's* family receives support through the Family Strengthening Program, to help with Luciano's medical care.
Little Luciano Can Walk
Luciano* is four years old and from the Mijoga village in Machinjiri on the outskirts of Blantyre in Malawi.
On the day of his birth, his heavily pregnant mother had to travel a distance of 25 km on foot to reach the nearest health centre. Luciano ended up being born along the way, when the contractions become too much for his mother to bear. In the middle of nowhere, with the help of his grandmother, his mother brought the beautiful baby boy into the world.
A few days after his birth, Luciano's family members began to notice that he had been born with what is referred to in medical terms as a bilateral clubfoot [an abnormal bending of the foot]. His family decided to seek medical help, and they were referred to the general hospital in the area, approximately 40 km from their village. Luciano was admitted for rehabilitation and therapy for his foot. He was later placed on a routine program at a different health facility where he was required to pay a visit to the hospital twice a week.
Though this was necessary for little Luciano's development, it was extremely hard for his family to manage. They lived a good distance away from the facility and earned very little income as small-scale farmers. They could not afford to travel the 40km distance back and forth, twice a week. As a result, Luciano's treatment was suspended.
"It was so difficult for us to travel all the way. We needed to be on the way so early in the morning to reach there in time, and had no money to pay for public transport to take us there, let alone buy food for Luciano to eat on the way. It was a painful decision for me to make since my child was improving, but I had no choice," said Luciano's mother.
On an outreach visit to the Mijoga village in 2015, members of the SOS team met Luciano's family, and enrolled them in the SOS Family Strengthening Program (FSP). One of the very first interventions of the FSP was to provide the family with access to medical care at the medical centre at the SOS Children's Village Blantyre. For little Luciano this was fortuitous, because the medical centre is also a renowned Children Rehabilitation Centre. The boy almost immediately resumed treatment.
The leading technician at the rehabilitation centre conducted assessments and started giving Luciano physiotherapy exercises to correct the twisted foot. He put a cast on the foot for the boy to start walking properly on his own. Every time the little foot corrected in some way, a new cast was made."When he joined the program, Luciano was not able to walk. We have been doing physiotherapy exercises with him and used a lot of casts on the foot until he started walking normally," explained the technician.
Luciano is always all smiles when he sees the rehabilitation team. He realizes that they have helped to correct his foot and make walking easier for him. With his plaster of Paris cast, he is able to show off his walking skills a bit and even plays at the centre's playground with other children, whenever he comes for sessions.
*The name has been changed to protect the privacy of the child.