Preventing Child Labour and Empowering Girls in Côte d'Ivoire
Wednesday, March 13, 2019
Image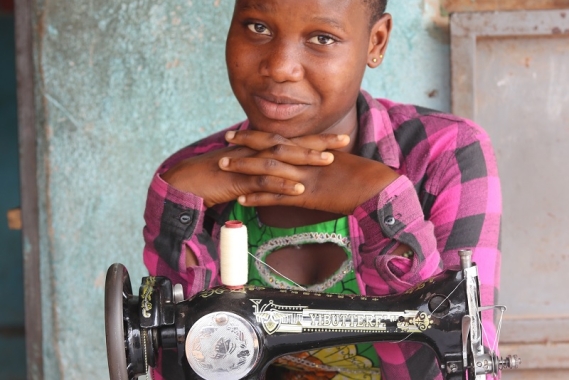 Sitting in the shade of a tin-roofed sewing shop in Yamoussoukro, Côte d'Ivoire, Khalifa Traore loads a bobbin of thread into one of his sewing machines. Five young people work with him, including his daughter and two former tantie bagage who traded a life of heavy lifting at the market for literacy, vocational training, and the prospect of decent employment.
Tantie bagage is a widespread child labour practice in Côte d'Ivoire and involves mostly young girls, aged six to 18 years old, who carry heavy loads for other people to earn some money to support their families or help pay for school.
"I started working as a tantie bagage when I was ten years old, helping customers carry their groceries, with loads sometimes more than 50 kilograms for a 100 francs [CAD $0.23]," says 17-year-old Mimi*. "I was working six days a week and on a lucky day, I could earn up to 1,500 francs [CAD $3.46]," she says.
Like Mimi, most young girls who work as a tantie bagage come from low-income families with little to no education. Unable to make ends meet and without seeing the direct benefits of education, parents often pull their children out of school and send them to work from a very young age.
In other cases, motivation to work can be quite different. Adjoua*, a 16-year-old mother and a former tantie bagage, works a few streets away from Mimi at another sewing workshop. She was forced by her father to pack her bags and leave home after finding out she was pregnant.
"One of the greatest challenges to addressing child labour in Côte d'Ivoire is the complex web of reasons why children work and the inextricable link to poverty. Causes may vary from community, and even from family, and are often not due to one specific factor," says Mamadou Diakite, who heads the SOS Family Strengthening Program in Yamoussoukro.

Tackling the Problem
"The first step in tackling the problem is to identify young girls working as tantie bagage and to convince their families to abandon that practice, and let them join the Institut de Formation et d'Education Féminine [Women's Training and Education Institute]," says Diakite. The institute focuses exclusively on women's empowerment and welcomes victims of domestic violence and neglect, tantie bagage, and school dropouts.
Depending on their level of education, students remain in the institute for three to five years. Here they divide their time between literacy classes and life skills and vocational training, both at the institute and at a partnering business such as Traore's sewing workshop.
In the meantime, families are encouraged to join a Village Savings and Loan Association (VSLA), made up of 15 to 25 community members who save money together and then take small loans from the collection. The VSLA provides a simple way of saving and accessing credit in a community that does not have easy access to formal financial services.
A Better Future for Girls and Families
"Not being a tantie bagage anymore was difficult, but now I feel more confident for the future and for my family. In a few years, I hope to start my own business," says Mimi, looking at a poster showing dozens of clothing combinations she is determined to master one day. Her twin sister, Nafissatou*, is also part of the program and is learning hairdressing.
There are no easy solutions to a problem as complex as tantie bagage. Putting an end to this practice requires action on many fronts: advocacy, a willingness to challenge the status quo and an integrated approach in order to make sustainable, lasting gains for children and communities. SOS Children's Villages Côte d'Ivoire works to help families stay together through its family strengthening initiatives, taking direct action to strengthen families and communities so they can adequately care for their children.
*Names have been changed to protect the privacy of program participants
Canadians wishing to help young people realize their full potential are encouraged to sponsor a child, sponsor a Village or make a one-time donation. Your support will help transform the lives of the most vulnerable.