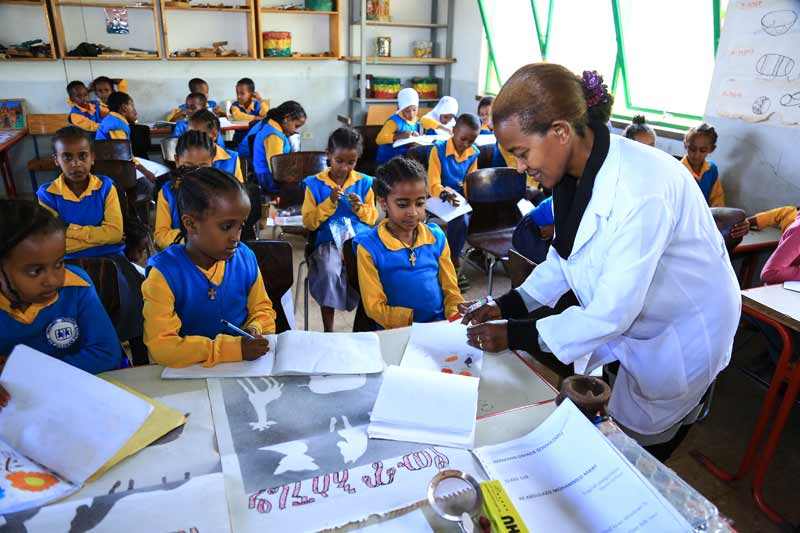 Alemnesh Betru, 45, drew so many pictures for her sponsors when she lived in SOS Children's Village Harar in Ethiopia, that she developed a love for art. Now she has made a career out of it. Alemnesh is an arts teacher at the Hermann Gmeiner Primary School in Harar. She has been teaching for the last 25 years.
"I have decided to stay this long because I consider myself a mother to these children. I am also their elder sister and a role model," says Alemnesh. "I want to serve the children from SOS families, they are my family. I am serving my family. I have never thought of leaving because I have a stake in shaping my SOS brothers and sisters. I feel a responsibility towards them," she says.
"I let the children express themselves through art. Sometimes they draw what I bring to class, sometimes they draw what they want. But I try to show them different aspects of life. I mentor the students, I help them get better. Those with outstanding talent are celebrated," she adds.
As an SOS alumna, Alemnesh compares the care system in SOS Children's Villages during her time and now.
"Life was different when I grew up in my SOS family 37 years ago. Now the children joining the village can only be 0 - 6 years old. I joined when I was older, I was eight, my brother was 12, and my sister was 10 years old. We joined after my mother died. Being eight, I knew my mother very well, so it was hard to acknowledge that my SOS mother was my new mother. But after some years, I was able to call her 'mum'. She is retired now and I have a good relationship with her. I visit her during the summer together with my three children. I have told my children that she is their grandmother."
Tears well-up in her eyes when she talks about her experience in her SOS family. It is an emotional topic for her.
"When I was a child, the SOS Children's Village did not have a school, so I was enrolled in a private facility. I was expelled one day due to disciplinary issues. Those were hard times but my SOS mother stuck with me, she struggled with me, she made sure I returned and stayed in school. Then as a young person, after I finished 10th grade, I refused to join grade 11 because I did not want to lose my friends. And even after several interventions from my SOS mother, I refused to change my mind. Eventually she made a decision and forced me to go to school. I thank her for that firmness. She is the reason I have a good life."
"The most important take out for me are life skills – I was allowed to do house chores, I learnt sewing, cooking, I even volunteered in humanitarian interventions. These experiences have shaped who I am today. I can proudly say that I am privileged to be part of my SOS family. I am a brand ambassador. I advocate everywhere I go. I grew up here and I identify with SOS Children's Villages. My children are now students in the Hermann Gmeiner Primary School, and they have become a part of this inspiring story."
Canadian's wishing to support SOS Children's Villages are encouraged to sponsor a child, sponsor a village or to make a direct donation. Your support ensures that SOS Children's Villages can continue to provide a safe and loving home to orphan and abandoned children worldwide.