The Twins are Four: Adventures with Hilda and Rhoda Continue
Image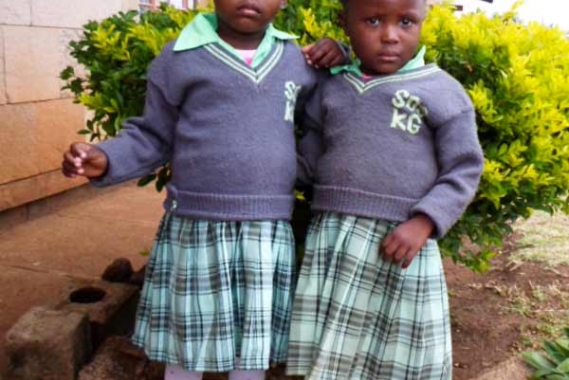 It seems like yesterday when there was a lot of excitement in SOS mother Mary's house over the arrival of twin girls, Rhoda* and Hilda. That was in October 2013 and the two bundles of joy were only five days old.
"It was a delightful day," Mother Mary remarks, "and the rest of the children were very excited when they saw the twins."
The girls are a marvel today. They seemed identical when they were babies, but as it turns out, they are remarkably different now. Rhoda is taller than her sister and is more outgoing. Hilda always wants to be by her mother's side and will only eat her food when her mom sits right next to her, encouraging the four-year-old to clear the plate given to her. She is also very selective of which food she eats. Her preference is meaty meals! Vegetables don't really tickle her fancy.
Both girls are still with their SOS family at SOS Children's Villages in Chipata, in eastern Zambia. They enjoy making mud pies with their friend, Sonile, who lives across the street. She is slightly older than they are but it seems the little age gap is not a factor for them. Hilda is bold enough to wander further down the road, but Rhoda usually hangs around at home. The Chipata village looks like an everyday neighbourhood with a few roads of houses, all with their own unique garden and even a pedestrian gate.
The twins' biological family is part of their life. Their father occasionally visits them and so does their paternal grandmother. The girls spent the last Christmas back home with their father. This bond is encouraged by all involved.
The twins are thriving at school and attend the middle class at SOS Kindergarten Chipata. They are in the same class, but they do not really look out for each other once there. They go their separate ways and play independently. According to teacher Chileshe, both are very active and 'chatty'. They are able to count from 1 to 10. "Their colouring and tracing is also good," she says.
A typical school day starts with an early morning, but gentle wake-up call, which is often met with great resistance as the girls always want to sleep 'for a little bit longer'. After their bath it is breakfast time, which comes with its own challenge of slow eating. Rhoda is always keen to go to school and encourages her sister to speed up so that they are not late for school - again.
Sunday is a special day for both Rhoda and Hilda. They are keen to attend Sunday school at the Community Hall. This is quite the tradition in Chipata and neighbours and friends tend to run to the Hall, not walk. "It is a joy to hear them sing some hymns after they return from church," says Mother Mary, "but of course some of the words are not near to exactly what is in the hymn," she giggles. "But Hilda does try, and actually always insists on saying a prayer before having any meal," adds Mary
SOS Children's Villages is able to keep siblings together and provide them with a loving home through the generosity of Canadians and others around the world.  Please help us continue to provide loving homes to children in need.  Sponsor a child today.
*Names changed to protect the privacy of the children.