Worsening crises in Haiti and impacts on mental health
Haiti is in chaos as gang-related violence reaches a level not seen in decades.  
Without a functioning government, ruthless armed gangs violently exploit the power vacuum to expand their control of the capital, Port-au-Prince. They terrorize the population through attacks, kidnappings, rapes, and killings. The ongoing violence is causing trauma, hunger and malnutrition, and the closure of schools and hospitals while a cholera outbreak re-emerges.  
The gangs control many roads and block access to a critical fuel terminal, causing difficulty getting fuel to different cities. Subsequently, food, drinking water and other essential goods are in short supply forcing thousands of children and families to flee their homes.  
"Many families are struggling and depend on our assistance to survive," says Faimy Carmelle Loiseau, National Director of SOS Children's Villages in Haiti. "There is a great need for basic supplies, but also to support the mental health needs of children, some of whom have experienced violence directly."  
Fortunately, the hundreds of children and young people cared for in the SOS Children's Villages in the country are safe. SOS schools remain open and provide hundreds of children from the community with a daily meal. Another bright spot is that SOS Children's Villages has been spared from attacks and gang demands to pay for security.  
Image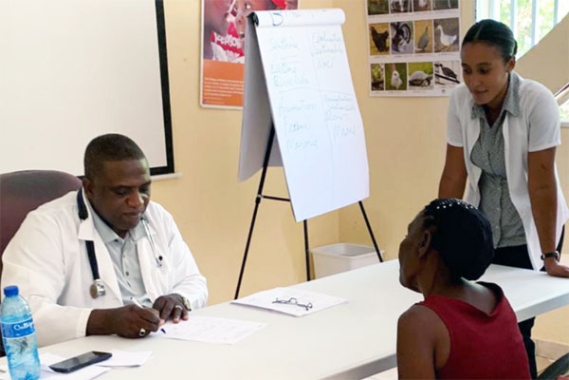 Undernourished children 
According to the World Bank, while eight out of ten Haitians have less to spend on food, Haiti is among the top ten countries most affected by food price inflation.  
The World Food Programme reports that almost half the Haitian population faces food insecurity and hunger. Around one in five children is not growing properly due to poor nutrition. The staff in the SOS Children's Villages Family Strengthening Program sees this regularly, Ms. Loiseau says.  
"Life is tough, especially for families facing hardship even before this latest crisis," she says. "Families with single parents, many of whom have no chance to find work in the current crisis, are struggling. They have no money to buy food or other necessities."
 
 
SOS Children's Villages' community centres and schools provide children with a daily meal. 
"Some children come to school merely to get food," says Ms. Loiseau. "One child was spotted not finishing his provided lunch. When asked, he said that he was saving it to take home to his older sisters. His family didn't have enough to eat. Providing food is a parent's responsibility, and children shouldn't have to worry about that. Yet we see a lot of that these days." 
Children are not spared 
The ongoing violence and widespread impunity have led to people in several communities taking things into their own hands. By the end of April, many vigilante brigades emerged to keep neighbourhoods safe, as the police had no control.  

 "This has calmed the situation some, but we don't know for how long. And these brigades also retaliate violently," Ms. Loiseau says. 
 
Many children have witnessed family members being killed or raped, or they have been subjected to violence themselves. Some have lost their entire family.  
 
"There's an increasing demand for foster families. We are receiving a lot more requests to take children into our care, but getting the approval from the authorities is a lengthy process. Last year we took 20 more children into our care, although some of them have been reunited with their families," Ms. Loiseau says.
Fear and trauma  
The United Nations reports that more than 160,000 people have been displaced due to attacks from violent gangs rampaging through neighbourhoods. 
"We have a large number of internally displaced people, children and families forced to leave their homes because they were not safe," says Ms. Loiseau. "We see PTSD in both children and parents. There's something about not knowing what will happen today. When you go to bed, you don't know if you'll be able to leave your house the next day. People here are afraid of tomorrow. The impact on mental health is severe."
"Our co-workers are still conducting follow-ups on their families in the local community, even though the security situation is was it is. Families in our Family Strengthening Program give us a heads-up when they know something is going down and warn us not to come that day. We have to do our best to keep up the support to the families in need."
The National Director stresses the importance of mental health support. SOS Children's Villages uses all available resources to provide psychosocial support for children and parents. Psychologists are in its schools, villages, and mobile health clinics.