SOS Families From Malakal Arrive In Juba After Successful Evacuation
Image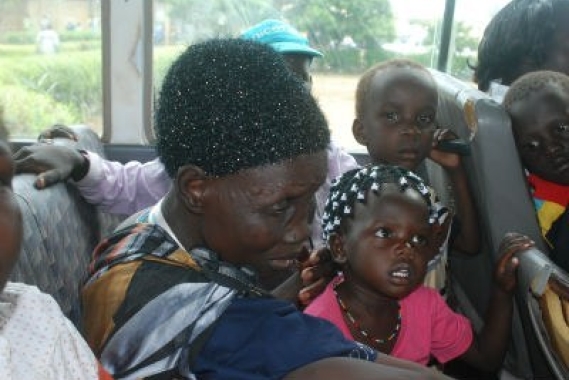 JUBA, South Sudan, 14 March 2014 – After being holed up in the UNMISS compound in Malakal, South Sudan, for close to a month, SOS children and their mothers have been airlifted to safety.
The first group arrived in Juba yesterday (13 March) at about 4:00 pm local time. Fifty-two SOS children, five SOS mothers and one SOS 'aunt' were airlifted out of Malakal by a United Nations Humanitarian Air Service (UNHAS) plane.
A second group comprising 48 children and 13 staff members arrived in Juba today (14 March) at about 11:30 am local time
Emotions ran high. Everyone was overjoyed, and the children seemed surprised that it had all ended.
Olyek Odhong, an SOS youth leader taken by insurgents towards Nasir, a small town 30 km from the Ethiopian border, said:  "I was taken for eight days by rebels; I am very happy to be in Juba right now. I am happy to see the mothers and children are safe. I was very lucky that I was taken back to UNMISS. Because of being taken back to the UN base, now I am in Juba, and I am very grateful and very happy." Odhong was rescued by the brother of one of the SOS mothers who escorted him back to the UNMISS base.
SOS South Sudan Project Manager Kiros Aregawi sounded extremely relieved, happy and emotional. He said: "This is one of the happiest moments of my life. This is a crucial moment for us."
The families moved into a 21-room house where new mattresses, bed sheets, blankets, towels, water, and cleaning materials have been provided. The property is wall-fenced for enhanced security.
The two-month conflict triggered by a power struggle between President Salva Kiir and Riek Machar, his former deputy, has left about 2,000 people dead, and more than 800,000 have fled their homes. 
The SOS families sought protection at the UN base from the ongoing fighting between government forces and the rebels; the warring factions have been battling for control of Malakal, capital of the main oil-producing Upper Nile region.
The only SOS Children's Village in the country is located in the embattled town, and is now in the hands of the rebels, who have taken control of the strategic town. Reports say the centre has been stripped bare, shops have been looted and houses burnt; young girls are being raped and boys are forcefully taken to join the opposition forces.
About 650 km away from the mayhem, at around 4:00pm local time yesterday, the UNHAS airplane touched down at Juba airport. The children expressed disbelief as many had never imagined they would get out of what Omojok Amin, a 15-year-old boy, described as "Malakal Kap" meaning "Malakal - region of death".
After settling into their new home, the children and their mothers were treated to a sumptuous meal after which they were left to get some much-deserved rest.
Meanwhile, 31 children and young people remain in the north of the country under the care of Isaac James, a youth leader. They found refuge in Paloich, about 2,000 kilometers from Juba. Plans to relocate them are underway.
In addition, two children – who got lost during the confusion when the crisis began – are unaccounted for.  Partners UNMISS, UNICEF and the government have committed to helping find them at the request of SOS Children's Villages South Sudan.
To give the families in Juba more stability, negotiations to move all the children from SOS Children's Village Malakal to SOS Children's Villages Gulu in Uganda are currently ongoing.
"It has been a very emotional moment for all of us, seeing our children and their mothers brought home ('so to speak') - and into a much safer and protected environment," said Wilhelm Huber, the Regional Director for East Africa.