Supporting Children and Families Facing Ebola
Thursday, October 9, 2014
Image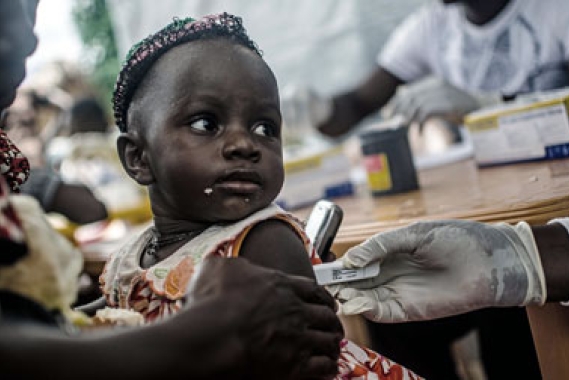 Related Stories:
With a death toll of the Ebola virus disease rising, SOS Children's Villages continues to do everything it can to keep children safe.
More than 3,000 people have died from Ebola in West Africa, according to a recent World Health Organization report. The disease has spread to more than ten countries in western Africa and the three hardest hit countries ­­– Liberia, Sierra Leone and Guinea — are in desperate need of supplies. The report warns that without increasing efforts to fight Ebola, there could be more than 20,000 cases in West Africa by early November, with half of them in Liberia. 
In response, SOS Children's Villages has increased its precautionary measures to prevent infection, including fumigation of the SOS Family Homes. While SOS has shut down its community programs for the time being in all three countries, immediate support is currently being provided.
All of the SOS children, mothers, youth and co-workers remain safe and infection free.
To receive the latest SOS news:
According to the World Bank, the economic impact of the outbreak could grow eight-fold in Liberia, Sierra Leone and Guinea. More people are staying home, avoiding interaction with others. As a result, trade, labour participation and employment rates have reduced. In Sierra Leone, the prices of basic supplies have increased over 100 per cent. With flights into the country being cancelled and borders closed, the limited resources available are becoming expensive. The government has put hundreds of thousands of people under quarantine, sealing off more than a quarter of the country. The City of Makeni, where the country's third SOS Children's Village is located, is one of the newly quarantined districts.
The closing of all borders of Sierra Leone, Guinea and Liberia has restricted the marketing and free flow of goods. SOS Children's Villages is doing everything it can to ensure basic medical supplies and food is reaching its villages. Bags of rice are being distributed to SOS staff in all programs, including SOS family homes and youth homes.
There have been three casualties so far for SOS: an SOS mother in Liberia; a nurse at the SOS Medical Clinic; and a teacher at an SOS School in Guinea. All of these happened while these people visited their families – there is no danger to any children.     
The SOS Medical Clinic is the only major health facility in Monrovia that is still operating 24-hours a day. During a recent shutdown, the medical centre was fumigated. To further guard-off the disease, a three-month supply of protective materials such as disposable suits, boots and gloves, are being provided to staff.
The SOS Medical Clinic is treating non-Ebola cases to ensure that other medical centres in Monrovia are not overcrowded.
Though there are no suspected cases inside any SOS Village, movement in and out is extremely limited. SOS Schools in all three countries are closed for the moment, and SOS Youth Homes in Liberia and Sierra Leone are under quarantine until it is deemed safe to leave.
SOS Children's Villages is currently assessing its capacity to help more children and families in the affected regions.

Canadian's wishing to support SOS Children's Villages are encouraged to sponsor a child, sponsor a village or to make a direct donation. Your support ensures that SOS Children's Villages can continue to provide a safe and loving home to orphan and abandoned children worldwide.