SOS Children's Villages has been present in Taiwan, China since the early 1970s, on the initiative of the president of the local "Child welfare league of Taiwan, China". Over the recent decades, the population has experienced many social changes as a result of the rapid economic growth and political transformation. SOS Children's Villages has adapted its work to meet the needs of local children, young people and families. Currently there is one SOS Children's Village in Taiwan.
SOS Children's Villages in Taiwan, China:

In the northern town of Chungli, SOS Children's Villages works closely with the local community and provides family-based care for children who have lost parental care.
Ethnicities
Taiwanese, Chinese
Religions
Buddhism and Taoism
Some facts about Taiwan, China:

Taiwan is an island in the western Pacific Ocean in East Asia, and forms part of the Republic of China. It is located 160 kilometres off the mainland People's Republic of China. 
The population is estimated to be around 23 million, and the capital city of Taipei is home to 2.6 million. The island has one of the highest population densities in the world, with 623 people per square kilometre.
In the early 1990s, Taiwan, China made the transition to democracy, and now has one of the most competitive and freest media in Asia.
Media
Image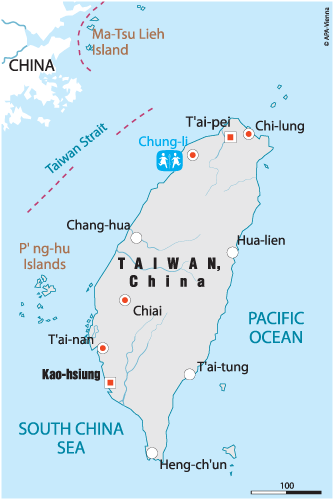 Our Impact
Image

The SOS Children's Village in Taiwan, China provides loving homes to orphaned and abandoned children

1

VILLAGES

45

Orphaned and Abandoned Children
Our Impact

VILLAGES
The SOS Children's Village in Taiwan, China provides loving homes to orphaned and abandoned children
45
Orphaned and Abandoned Children
A strong economy and political changes bring new challenges:

Since 1945, Taiwan, China has experienced a rapid economic growth; it is one of the four so-called "Asian Dragons". Taiwan, China has a dynamic economy; gross domestic product averaged about eight per cent during the past three decades. About 58.8 per cent of the population works in services, 35.9 per cent works in industry, the exportation of electronics and machinery creates about 70 per cent of gross domestic product. Around 5.2 per cent works in agriculture: rice and fish remain important products, but in recent years the production of speciality fruits and high mountain tea has become more central. The unemployment rate is 5.2 per cent (2010 est.), and the poverty rate is extremely low, with only 1.2 per cent of the population living below the nationally defined poverty line (2010 est.).

The arrival of democracy brought many social changes - new goods were imported into the island, the population was able to travel abroad and more information became available. The changing lifestyle led to new health-care challenges: chronic cardiovascular diseases are now the main serious illnesses in adults. The Taiwanese health services place a special emphasis on the prevention, early detection and treatment of diseases. There has been a decline in neo-natal deaths and in infant mortality, and an increase in life expectancy, which now stands at 73 years for men and 79 for women.

In March 2009, the country ratified the U.N.'s International Covenant on Civil and Political Rights and International Covenant on Economic, Social and Cultural Rights. It has also passed a Human Trafficking Prevention Act, which protects men, women and children who have been illegally trafficked into Taiwan, China.

Situation of the children in Taiwan, China:
There are around 4.75 million children under the age of 18 in Taiwan, China. The size of this age group is shrinking as the country has one of the lowest fertility rates in the world at 1.15 children per woman (2011 est.).
Great value is placed on education. Many small children attend pre-school so that they can have a head start when they begin compulsory education at the age of six. Children receive nine years of schooling, after which they can decide whether to go down an academic or vocational route.
Children's rights and welfare are protected by the governmental Child Welfare Bureau, which works with other relevant departments and agencies. Families with low incomes have access to cash and non-cash benefits. Children who are particularly at risk of losing parental care are those who live in single-parent households, or where the main earner is made redundant or suffers from a severe illness or injury.