The happiness of my children is all that matters
Image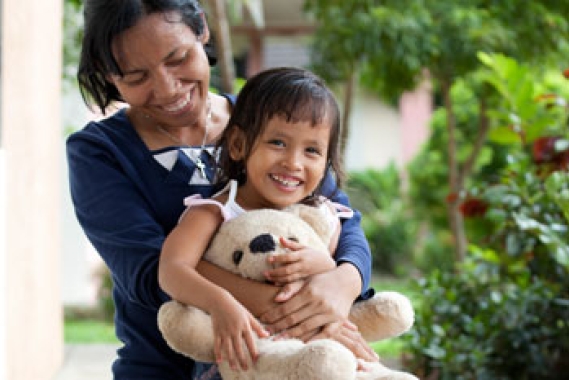 Arista Saragih is one of the SOS mothers at the Jakarta SOS Village in Indonesia. For nearly 20 years she has dedicated her life to raise children in her care. She is currently raising nine children who come from different backgrounds.
 "I never thought that I would be as happy as I am today, even more so for I am a grandmother of fourteen grandchildren. I am so proud of all of my children," exclaimes Arista.
She explains that her most heartbreaking memory was when she could not provide Christo, one of her sons, with music lessons. Christo dreamed of becoming a church organist but, due to expensive course fees he could not enroll in a piano course. And yet, with a donated keyboard Christo learned how to play piano by himself and occasionally took free course at the church. After five years of practice, Christo became the youngest organist at his church. 
Arista explains she always nurtures independence among all her children and lets them decide what they want to do in life. Despite her being strict, her children regard her as their best friend. Every day, during dinner she asks her children about their day, their school activities and other stories they might want to share.
"The children talk to me about everything. The house is very lively when all the children are gathered together and exchange stories. I truly have the best job," Arista says with a smile.

Canadian's wishing to support SOS Children's Villages are encouraged to sponsor a child, sponsor a village or to make a direct donation. Your support ensures that SOS Children's Villages can continue to provide a safe and loving home to orphan and abandoned children worldwide.