An Interview with Olympian Mavis Chirandu
Image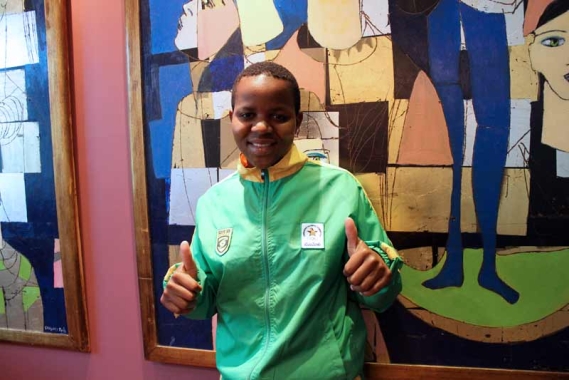 On Wednesday night (3 Aug 2016) Mavis Chirandu represented both her national soccer team and SOS Children's Villages at the Rio 2016 Olympics, sporting the No. 10 jersey in a game against Germany. The next morning, she told Zvik Zimunya, Fund Development and Communications Manager at SOS Zimbabwe via telephone that her childhood dreams were becoming a reality.
Q: How did the SOS Children's Villages encourage you to follow your dream of becoming an athlete?
A: I was encouraged by Eddie Magosvongwe (youth leader at SOS Children's Village in Bindura). He always told me to do my best as I had great talent. He's the one who runs the SOS Oaklands Queens Club at our Village in Bindura. His encouragement led me to join the Weerams Club in Harare.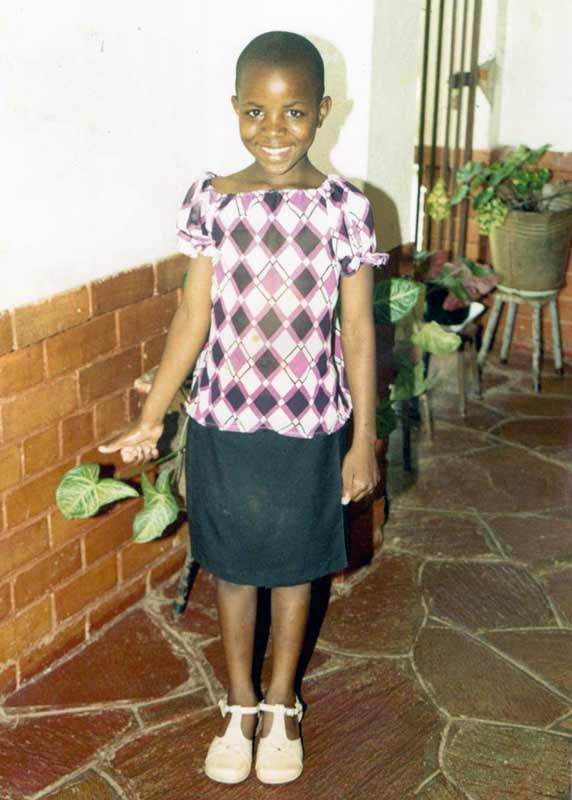 Mavis grew up in an SOS Children's Village in Zimbabwe. This picture shows her on her 8th birthday.
Q : Do you remember any particular event or athlete who impressed you early on?  
A: I remember the match I enjoyed the most – this was Zimbabwe vs. South Africa in Johannesburg. Though we were beaten 1-0, I remember playing so passionately it made me feel like I was Christiano Ronaldo. [Mavis gives an excited giggle.]
Q: What was the best advice you were ever given?
A: 'Be focused on your career. Don't get carried away or be distracted by boys' – this was Eddie. He gave me some big brother advice.
Q:    Have you experienced a breakthrough, and if so, what led to it?
A: My first breakthrough was when I went to Uruguay as part of the national team. I said to myself, yes, this is it. I am in a different league now.
Q:   What was the atmosphere like at the Olympics?
A: When I got to São Paulo, I asked myself: is this really me in Brazil?! Everyone here is excited to see us. People are waving at us and shooting videos in the street. It's like a party.
Q: What did you do in Rio with your free time?
A: When we are not in practice, most of the time we rest – we will be so tired in the end; just like when we played Germany in the first match. We were so tired afterwards. All I wanted to do was sleep.
Q:   Do you focus on anything in particular during your warm up?
A: I really enjoy running hard. It makes me relax, it warms up my body before playing.
Q:  Did you ever feel like giving up while you were training?
A: Never, not once. I knew that if I gave up, I would be losing that which I was most passionate about.
Q: What one or two things do you currently do in your training that are key to your success?
A: I am serious about my training. When I am not training with the team, I am training on my own; I go to the gym, and sometimes I play soccer with some of the guys in my neighbourhood.
Q: What are some stand-out memories for you over the course of your journey?
A: I remember scoring in a game against Lesotho, and also in a game against Zambia. As midfielder, I often don't get that chance and it made me feel awesome.
Q: Do you have a message for your supporters?
A: Though we lost against Germany, we are happy that we didn't concede too many goals as compared to some other teams who have lost by over 10 goals. The game on Saturday is against Canada. We want to win so bad. Please support us. Sometimes it's hard so we really need your support.
Q: What do I want to do with my life?
A: I want to join the Airforce of Zimbabwe soon and do computer-related work there. The Airforce also has a soccer team that I can play for. If possible, I would love to have the opportunity to play abroad.
Q: Do you have advice for children?
A: My advice to other kids – use your talent; you never know where it will take you. To all the SOS kids, remember that you have so many talents. Don't just sit on them, but use them.