SOS Children's Villages has been working in China since the mid-1980s. Our work developed rapidly all over the country and we have been present in Chengdu since 1997. China has undergone many changes in the decades since, and yet the need to support vulnerable children and families is as pressing today as it was thirty years ago.
What we do in Chengdu
In addition to advocating the rights of children at a national level, SOS Children's Villages is active in protecting children at a local level in Chengdu.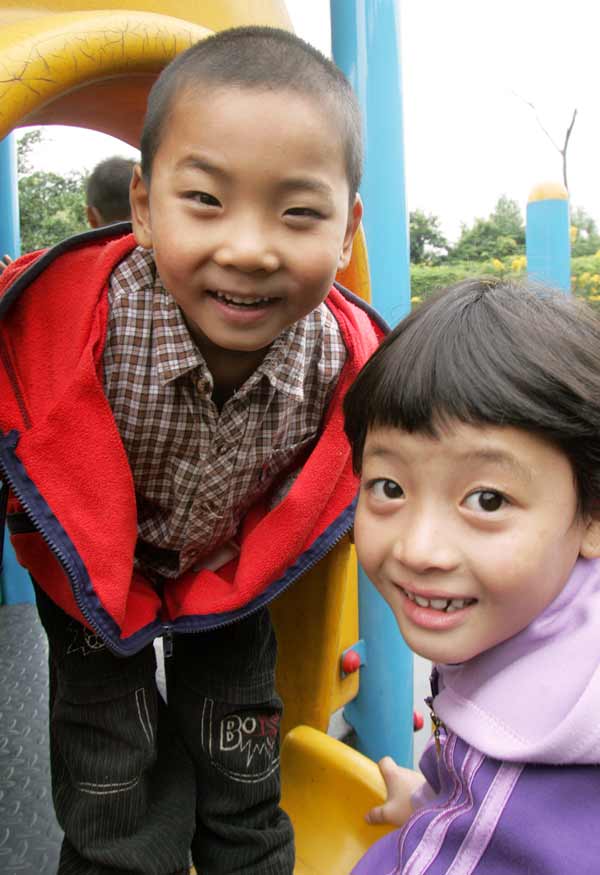 Children who can no longer live with their families can find a loving home in one of the 15 SOS families. The children grow up with their sisters and brothers in a familial environment full of love, respect and security.
The children from the SOS families attend the local kindergarten and schools. Most primary school children go to the nearby Huazhao School, where the teachers have developed a very good understanding of the needs of the children in our care. As for secondary school pupils, the local authorities have agreed to a reduction in school fees for students from the SOS Children's Village. In their free time, the children can participate in a number of activities, for example in sports, language lessons, dancing, music and traditional Chinese painting.
As the children grow older they can move into the SOS Youth Programme. With the support of qualified professionals, the young people develop perspectives for their future, learn to shoulder responsibility and increasingly make their own decisions. They are encouraged to develop team spirit and build up contacts with relatives and friends, as well as with the relevant authorities and potential employers.
2001 saw the opening of an SOS Vocational Training Centre in Chengdu, where training courses for SOS mothers and co-workers take place.
84
Orphaned and Abandoned Children
120
Youth and adult students
A growing rate of urban poverty
Chengdu, one of China's biggest cities, is the capital of Sichuan province in the heart of China. It is the economic, political and educational centre of this area. Over the past few years, the economy of the city has grown spectacularly. 
This growth has attracted many people, mostly from rural areas to come to live in the city; they come looking for a better life for their loved ones. However, the reality in the urban sprawl is very different and life is full of hardship. 
In recent years the rate of urban poverty in Chengdu has risen. 
Many migrants end up living in precarious homes with no access to basic infrastructure. They are known as the "floating population" and because they are not registered they have no right to access services such as health care and education. Many struggle to find a job and end up earning very little, as they work as street vendors or manual labourers.  
Children from low-income migrating groups who are living in poverty have a high incidence of sickness and malnutrition. Many are at risk of losing parental care. Some of these children can be found on the streets during the day, trying to scrape together some money to contribute to the family income. Others have been forced to leave their family homes permanently and now live on the streets. All of these children are very vulnerable as they struggle to keep safe, healthy and well-nourished.
Protecting the rights of children
In 1991, China signed the UN Convention on the Rights of the Child, and has launched several programmes to improve the lives of children. With China's economy opening up to the West and more and more people migrating to the Chengdu area, the need to support struggling families in the area became increasingly evident. SOS Children's Village Chengdu is located in a residential area about seven kilometres from the city centre on a piece of land provided by the city government free of charge.