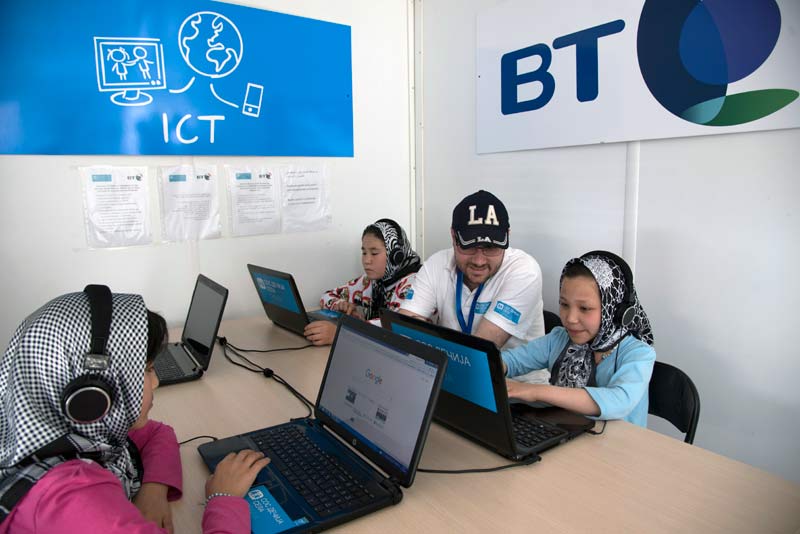 When the number of refugees who were trying to reach Western Europe on the Balkan route increased dramatically in 2015, SOS Children's Villages saw that many refugees needed help to meet one of their most urgent needs – communication.
For the youth population particularly, visiting the ICT Corner in the refugee centre in Preševo, Serbia, has become a daily routine. "I come here to chat with my brother on Facebook," says 16-year-old Rifat from Syria. His younger brother reached Germany earlier this year. Uncertain when they'll see each other again, the brothers keep in touch online. For many refugees, free Information and Communications Technology (ICT) services are the only way to stay connected with their families and friends on their difficult journeys to Europe.
 "We came across interesting statistical information," says Mr Zoran Murgoski, SOS Children's Villages' ICT Advisor in Eastern Europe and the Balkans (CEE/CIS). "The number one question the refugees asked when they arrived at the refugee camps was 'Where can I find free internet access?' The number two question was 'Where can I get food and water?' And number three was 'Where can I get more information about how I can continue my trip further?' So, out of these three most important questions, two are directly related to ICT services: it's free internet access and more info on the refugee path."
To help children and families connect, SOS Children's Villages set up four ICT Corners in Macedonia and Serbia, as part of its emergency response to help refugees arriving in Europe in 2015.
What is an ICT Corner?
An ICT Corner is a mobile container unit equipped to offer the following services:
Free WiFi
Computers
Printing/scanning/copying services​
Charging stations for phones and other devices
From November 2015 until the end of February 2016, the four ICT Corners provided services to over 150,000 users. The most popular service was the free WiFi. "We had days when we had approximately 1,500 to 2,000 users per day, per location, connecting to the free wireless network," says Mr Murgoski.
While most of the users are refugees, SOS ICT Corners also provide an important service for other humanitarian actors on the ground. In emergency situations, other aid organisations and even government agencies that do not have their own infrastructure set up, use the SOS ICT Corners for their urgent communications.
The human connection
As vital as the technology is, the people are even more important. ICT Corners not only help individuals connect to the Internet, they also help them meet and connect with each other.
Milan Jankovic works as technician at the ICT Corner in Preševo. After the Balkan transit route was closed in early March, he took on an additional role. "The children and teenagers who are stranded at the moment come here daily. We became friends. With my other colleague, we started teaching the children to speak Serbian. They're fast learners," says Milan.
"There are many emotional moments here," Milan continues. "Once, a boy who had nothing came in. I helped him with the computer and he had fun. While he surfed, I called my co-workers, who got him clothes and food. The boy split his chocolate bar with me. I will never forget this precious moment."
"During the long, arduous journeys which refugees must undertake, loneliness and isolation are a big issue. The ICT Corners are a true lifeline of communication which helps them to stay connected with their families and friends. Children and young people also have the chance to engage in playful and educational activities, which are central to their development and well-being. Finally, the refugees have an urgent and constant need for information regarding travel connections and updates on topics like the immigration policies of countries on their routes. The SOS ICT Corners provide the free WiFi connections that enable gathering this information. Their value is immeasurable." - Siddhartha Kaul, President SOS Children's Villages International
Want to help connect refugees with their loved ones?  Donate now to the Refugee Crisis Fund.