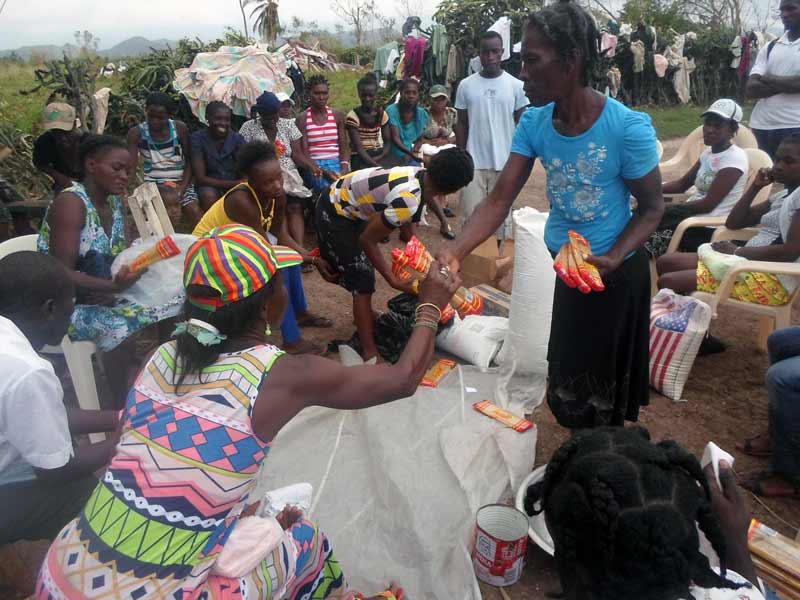 Distribution of SOS Children's Villages food assistance at the community centre of Bourjolly, Haiti
Hurricane Matthew, a Category 4 Hurricane, struck the southwest coast of Haiti at 7:00AM local time, on October 4th. Wind speeds of 230km/h were recorded, which, coupled with profuse rainfall caused widespread damage, flooding and displacement.
The number of lives lost as a result of Hurricane Matthew has reportedly risen to over 550 as of October 7th. More than 21,000 people have been moved into shelters nationwide. The U.N. estimates that more than 1.1 million people across the country were affected, and at least 350,000 are in dire need of assistance.
HOW WE ARE HELPING
Provision of Food & Non-Food Items
SOS CV Haiti intends to provide vulnerable families with access to clean water and food. Considering the majority of families affected are farmers, it will be essential to ensure sustained food support until they are able to benefit from their next harvest.
In addition to food items, sanitation and hygiene kits are being distributed to prevent the spread of water-born diseases.
Child Friendly Spaces
Latest News:
Hurricane Matthew
Based on local needs, the SOS day-care centres will provide non-formal education, psychosocial support and food, in order to restore a sense of normality and continuity. The centres are designed and operated in a participatory manner, expanding on existing SOS Family Strengthening Programmes and Social Centres.
Reconstruction & Repairs
In order to re-enable access to education, repairs will be made to the damaged roof of the SOS school in Les Cayes.
The roofs of the SOS community centres that have been ripped off will also be replaced, to allow support programing for the community to resume.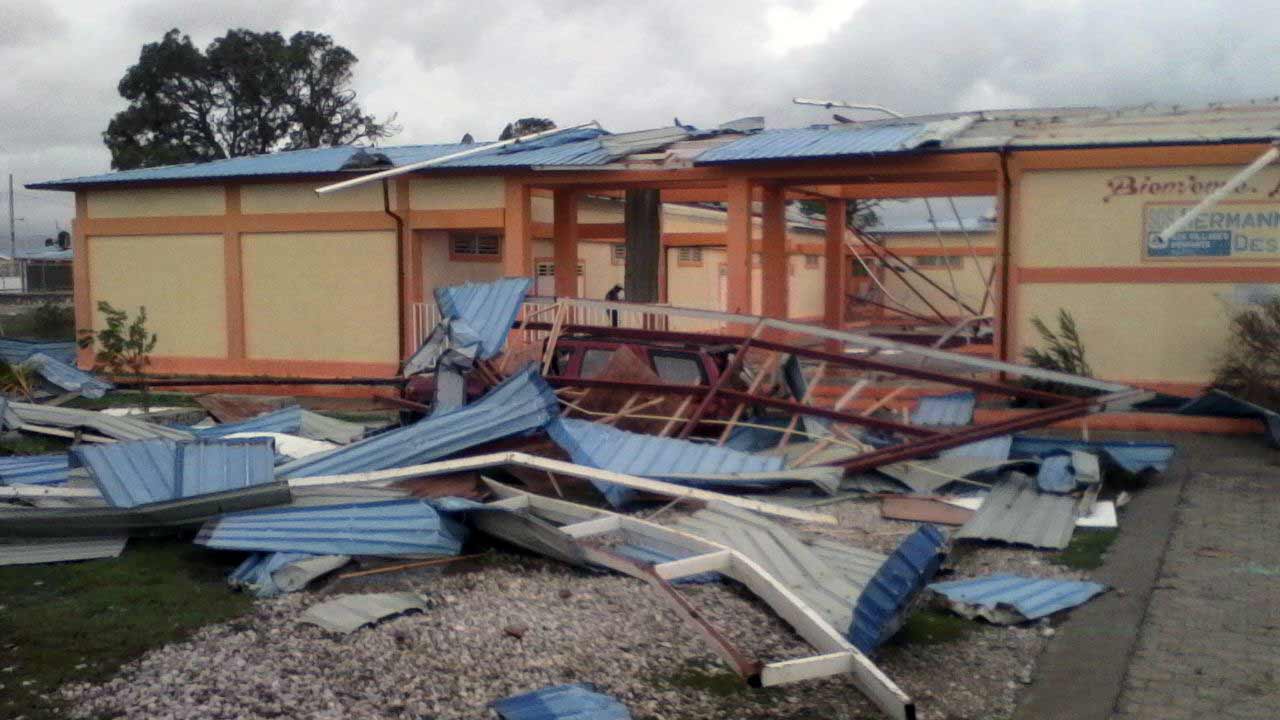 SOS school in Les Cayes which had its roof damaged by Hurricane Matthew
Collaboration & Coordination
Due to its long-standing presence, SOS Children's Villages Haiti is participating in national humanitarian coordination platforms and the UN cluster system to meet the most immediate needs.
HOW YOU CAN HELP
If you would like to support our teams in helping communities to recover and start the process of rebuilding, you can make a contribution to the SOS MAYDAY Emergency Relief Fund.
Donate now, and help us to care for children and families in Haiti and around the world.

HUMANITARIAN NEEDS
The humanitarian needs in Haiti were already high before the Crisis, with displacement, food insecurity, and malnutrition exacerbated by an extremely fragile political and economic state.
Hurricane Matthew has intensified the nation's vulnerability:
Health
Existing disease in the region, particularly cholera, is likely to spread further, as infrastructure damage and contamination of water sources by rainfall and flooding facilitate transmission.
Zika and dengue are also prevalent in hurricane-affected areas, and likely to be exacerbated by the hurricane and associated flooding.

Shelter
An estimated 14,530 in total have been displaced so far, some voluntarily. Reports claim that 1,885 houses have been flooded.
Food Insecurity
Before the crisis, an estimated 3.2 million people lacked reliable access to proper nutrition across Haiti, including 456,000 who experienced severe food insecurity (UNOCHA).
The WFP has reported that 80 per cent of the harvest has been lost in some Southern areas.
OUR FOCUS
Children affected by the emergency who are at risk of losing parental care, as well as their care-givers