SOS relies on the kindness and generosity of Canadians to be able to provide a home for the most vulnerable children of around the world.
By becoming a child sponsor you are helping an individual child in need.
(You will receive a Canadian charitable tax receipt)
SOS Children's Villages in Keila
The small town of Keila is situated approximately thirty kilometres southwest of Tallinn. The three hectares plot of land lies about three kilometres from the city centre of Keila and is very well integrated into the public supply systems. The family houses were built in the traditional local style, with the ground floor consisting of brickwork and the upper part made of wood. A friendly residential area is neighbouring the SOS Children's Village, while schools, shops and a hospital are situated in the city centre of Keila.
SOS Children's Village Keila comprises twelve family houses, one house for the SOS aunts (who support the SOS mothers and take care of the children when the mothers are on leave), one co-workers' house, one village director's house and an administration and service area. Up to 72 children who lost their parents or cannot stay with them for different reasons can find a new home there.
Media
Image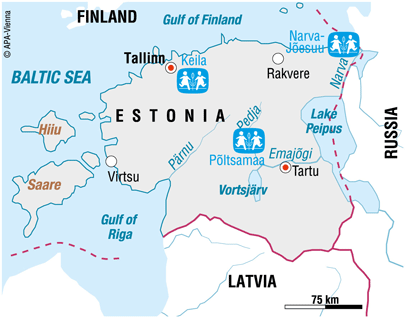 Our Impact
Image

The SOS Children's Village in Estonia provides loving homes to orphaned and abandoned children

1

VILLAGES

53

Orphaned and Abandoned Children

Image

The SOS Youth Facilities in Estonia provides youth with a loving environment where they learn to transition into independent living and to expand their education

4

YOUTH FACILITIES

47

Youths in our Care
Our Impact

VILLAGES
The SOS Children's Village in Estonia provides loving homes to orphaned and abandoned children
53
Orphaned and Abandoned Children

YOUTH FACILITIES
The SOS Youth Facilities in Estonia provides youth with a loving environment where they learn to transition into independent living and to expand their education