Hope provided to orphaned children in the Philippines
Wednesday, November 12, 2014
Image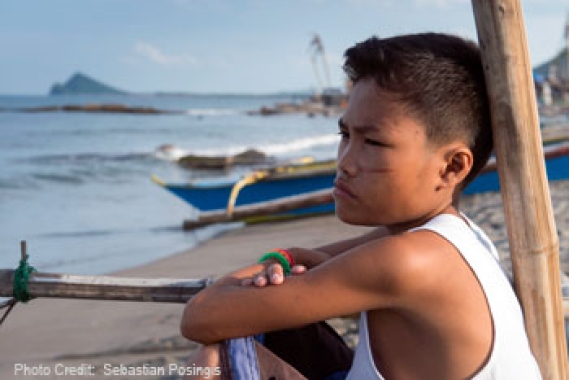 After his parents and older brother were swept away by Typhoon Haiyan, Nico Melo has been living as an orphan under his grandmother's care.
"I call her 'Mama' because she is my mother now," said Nico.
His grandmother, Asela Villegas, lost three of her children after the typhoon struck the Philippines in November 2013; yet almost a year after the tragedy she is a survivor in the truest sense of the word.
"It's all about finding a reason to laugh," Asela explained. "It's easier to give up and just be sad … but this is what fate gave me.  At 65, I have to be a mother again. And I choose to see that as a blessing; something that I can laugh and smile about."
Asela is now the legal guardian of her five orphaned grandchildren. One of them is 14-year-old Nico.
"I asked them to call me 'Mama' and I'm lucky because somehow it feels very natural … and coming from the children... it feels extra special," said Asela.
She admitted that while she can support her family emotionally, it is an enormous challenge financially.
"I am a senior citizen who didn't get to finish high school; of course no one would hire me. My husband does the odd bit of carpentry work and he helps out in the market … but this isn't enough to support five children, all of whom who are going to school," explained Asela.
This is where the unique assistance from SOS Children's Villages comes in. Nico and the rest of Asela's 'now-children' are under the SOS Kinship Program.
Oscar Garol, Village Director of SOS Children's Village Tacloban explained that the initiative is primarily for children who have lost both parents and are now living with their relatives or guardians.
The program started last January with three children in its pilot phase. Now, the SOS Kinship Program supports 124 children. SOS recognises the importance of giving support to caregivers and has designed personal training and other activities for them.
"More than anything else, we want the children to realize that there is a future waiting for them – they may have lost their parents and their loved ones; but there are people willing to help. They have their relatives and organisations like SOS," said Garol.
Asela described the SOS Kinship Program as a "godsend" and admitted that taking on the care of five children would have been a lot more challenging without it. "It's the kind of help that we need. And we are more than thankful to SOS for it."
Meanwhile, children like Nico can look to the future again: "One day, I want to become a soldier. I want to help the country. I want to protect the Filipino people."
Discover how SOS Children's Village is helping children and families affected by the typhoon

Canadian's wishing to support SOS Children's Villages are encouraged to sponsor a child, sponsor a village or to make a direct donation. Your support ensures that SOS Children's Villages can continue to provide a safe and loving home to orphan and abandoned children worldwide.