SOS Children's Villages has been present in the Philippines since the 1960s. Our organisation has been responding to the challenging conditions by providing day care, essential services such as health care, assistance to families in need, and loving homes for children and young people. When Typhoon Haiyan hit the Philippines, SOS Children's Villages responded swiftly to families in need.
Sponsor a Child in the Philippines

in the Philippines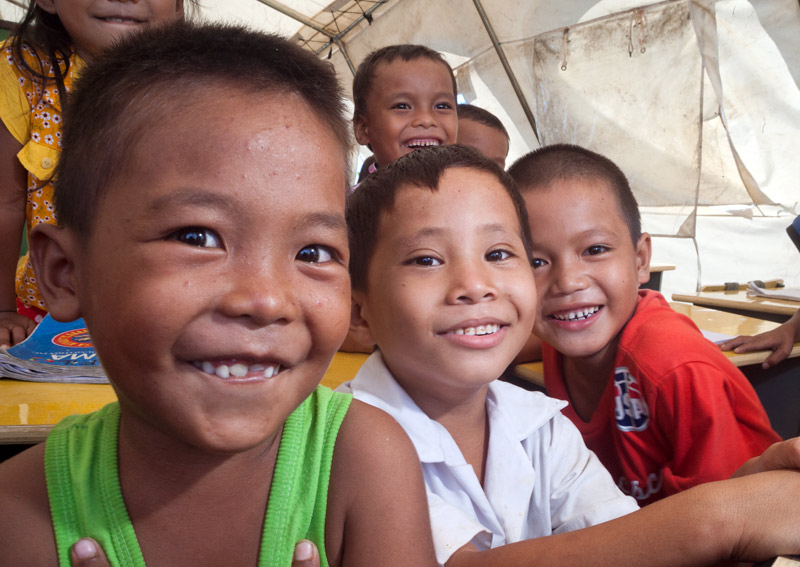 SOS relies on the kindness and generosity of Canadians to be able to provide a home for the most vulnerable children of the Philippines.
For just $36/month you can sponsor a child in the Philippines and help provide an orphaned or abandoned child with:
A safe and nurturing home
A loving SOS mother
Quality education
Healthcare
Nutritious food
Clothing and toys
All the things necessary for a bright future
Please help us ensure a loving home for every Filipino child. Sponsor a child in the Philippines now.
| | Orphaned Children | Child Poverty Rate | Child Malnutrition | Average Yearly Income | Below Poverty Line |
| --- | --- | --- | --- | --- | --- |
| Philippines | 2,000,000 | 25.20% | 32.30% | $3,270 | 41.72% |
| Canada | 45,000 | 8.80% | #N/A | $52,200 | 9.40% |
752
Orphaned and Abandoned Children
127
Youth and adult students

Emergency relief recipients

in the Philippines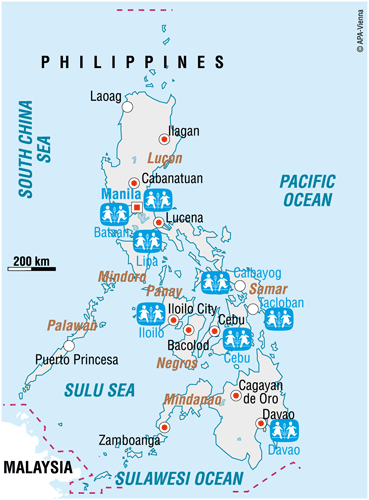 SOS Children's Villages in the Philippines
We currently work in eight locations throughout the Philippines. Orphaned and abandoned children in need of protection and care can move into one of SOS Children's Villages; here they find a loving home in one of the SOS families.
As the children grow old enough to leave their SOS families, they join our youth program where they are supported by care professionals while they continue their education, receive further training or find their first job. This program started in 1979 and has helped many young Filipino men and women on their way to independence.
Schooling is often a luxury which many families cannot afford. That's why, SOS Children's Villages opened schools in Davao, Calbayog and Tacloban. The schools, which are now run by the state, provide children with a good education and improve their chances of finding a job later on.
Since 1984, SOS Children's Villages has increasingly worked with local partners and directly with families and communities to empower them to effectively protect and care for their children through family strengthening programs.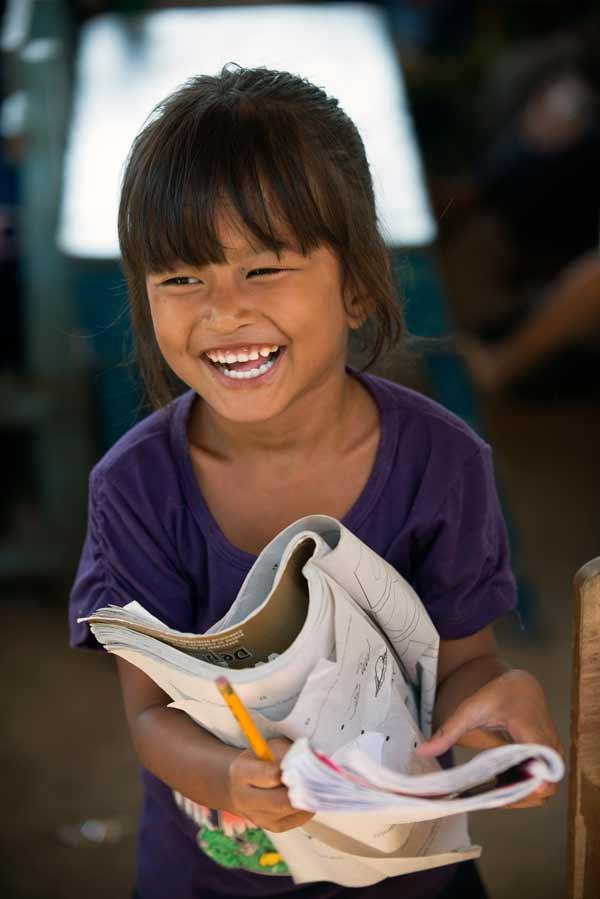 We provide services such as counselling and health advice. In some cases, we may also offer financial support to cover basic needs such as food, clothing or school expenses. In addition, we work with parents or carers to help them build skills that will improve their chances of supporting their family.
The natural disasters, armed conflicts and political instability which the people of the Philippines have endured have led to an increase in the work of SOS Children's Villages over the past decades. We have responded to the needs of the local children, young people and families. For example, it has become increasingly clear that we need to support families and communities so that children do not lose parental care. Through the family-strengthening programmes, we have provided support to many households in the community. When children can no longer stay with their families, they are cared for by their SOS mothers in one of the SOS families. Young adults are given care and guidance by professionals so that they can learn to live a successful independent life.
In November 2013, Typhoon Haiyan caused great damage to SOS Children's Village Tacloban. The SOS families survived; they moved in with families in other SOS Children's Villages in the Philippines and slowly returned to Tacloban when their homes were rebuilt. We also provided urgent assistance to the local population. We provided temporary shelter and help rebuilt homes. We also provided nutritional and medical support. We created child-friendly spaces where local children could play and receive psychological support from our trained and experienced staff. We also worked hard to reunite families.
A growing population
The Republic of the Philippines is a group of more than 7,100 islands that are part of the Malay Archipelago in the western Pacific Ocean. The Philippines are in the region which sees the most cyclonic activity in the world, the country is also prone to earthquakes and there are around 20 active volcanoes on the islands. In November 2013, Typhoon Haiyan caused devastation in many areas of the central Philippines. Early reports suggested that over 12.9 million people were affected, and 1.8 million children are displaced (November 2013 est).
The Philippines has a population of over 105 million people (2013 est.). The capital city of Manila is home to 11.4 million. The country has one of the highest birth rates in Asia, and the population is growing fast.
An increasing number of people live in poverty
The people of the Philippines have experienced many social, political and economic changes in recent decades. Armed conflicts have also marked the lives of many; decades of fighting, much of which was against separatist groups and guerrillas, have claimed thousands of lives, displaced many more and curtailed opportunities for development.
In spite of the positive economic developments, the changes have not reduced poverty, and over 26 per cent of the population continues to live under the nationally established poverty line. Given that the population is increasing, there has actually been a rise in the number of people living in poverty. In addition, the wealth created has been unequally distributed. The lack of opportunities means that many people are forced to move overseas: around ten million Filipinos work abroad. The money they send home makes an important contribution to the national economy; it is estimated that it accounts for at least ten per cent of gross domestic product.
The current hardships and grim prospects make people vulnerable to the false promises of human traffickers. The Philippines is a recognised source, transit and destination country for the cross-border trafficking of women and children for the purpose of commercial sexual exploitation and forced labour.
Children's rights need to be protected
Over 37 million children are under the age of 18 in the Philippines. Government policies have improved the lives of children; the child mortality rate has fallen significantly.
However, overall, Filipino children continue to face many difficulties. Tens of thousands of children are displaced by armed conflict and affected by natural disasters every year. In addition, the stresses of poverty have often led to a loss of parental care. About 11 per cent of children between the ages of five and 14 are forced to work. With one in every four children reporting to work through the night, it is no surprise that they struggle to keep up with their schooling.
The migration of parents in search of work has also affected children's lives. Children, who move with their parents to the cities, often end up living in informal settlements where they lack decent housing, food, sanitation facilities and potable water. UNICEF estimates that around 1.7 million children live in these poor conditions in Metro Manila alone.