She is one of the greatest opera singers of our times. Her impressive soprano voice thrills music lovers across the world. And since the beginning of 2007 she has also been ensuring that children across the world are listened to, with her global commitment to SOS Children's Villages and her sponsorship of SOS Children's Village Tomilino in Russia.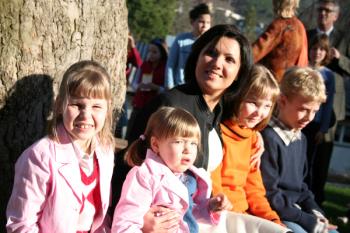 "I was really lucky, I had fantastic parents and in our family we have always been very closed. Until today I talk to my father everyday on the phone", tells us Anna Netrebko about the relation to her family. "It is so important for a child to have a family! Because if, as a child, you receive a lot of love, you can pass this on when you are grown up."
"I have decided to support SOS Children's Villages because I think that an organisation such as that, which is so focused on supporting children in need, deserves all out support. I am very moved to see that children from difficult backgrounds across the world are offered a good home and a family. I also think that this wonderful alternative to orphanages gives children the opportunity not just to receive material support, but also to receive emotional support and an education, which is immensely important for their prospects for the future", said Anna Netrebko on her involvement. She added: "I am very proud to be part of the family of SOS Children's Villages."