SOS relies on the kindness and generosity of Canadians to be able to provide a home for the most vulnerable children around the world.
By becoming a child sponsor you are helping an individual child in need.
(You will receive a Canadian charitable tax receipt)
For just $36/month you can sponsor a child and help provide an orphaned or abandoned child with:
A safe and nurturing home
 
A loving SOS mother
 
Quality education
 
Healthcare
 
Nutritious food
 
Clothing and toys
 
All the things necessary for a bright future
Ethnicities
Austrians, Yugoslavs
SOS Children's Villages in Austria
SOS Children's Villages is very active in Austria, adapting its work to the needs of children and families. In addition to the SOS Children's villages, where children who have lost parental care can be looked after by the SOS mothers, there are a number of programmes working with families and young people in the community. Young children can attend the SOS Kindergartens while their parents go to work or receive training.
Media
Image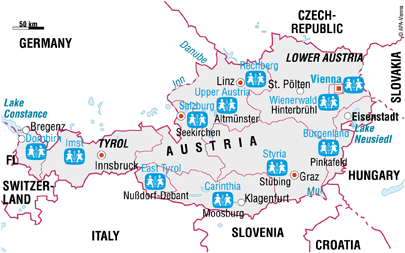 Family strengthening programmes are an important component of the work carried out: in cooperation with local agencies, SOS Children's Villages works directly with families and communities to empower them to effectively care for their children. These activities can include: counselling and workshops for parents and young people, therapy for children with special psychological problems, and accommodation for refugees. Young adults can live in special houses and flats where they are guided on their path to an independent life with the help of professionals. 
Innsbruck and Vienna are also home to the umbrella organisation "SOS Children's Villages International". SOS Children's Village co-workers from all over the world are trained at the SOS Hermann Gmeiner Academy in Innsbruck.
Some facts about Austria
The Republic of Austria is a landlocked country in Central Europe. It is surrounded by Germany, the Czech Republic, Slovakia, Hungary, Slovenia, Italy, Liechtenstein and Switzerland. There are 8.2 million people living in Austria (July 2011 est.), with the capital city of Vienna being home to 1.7 million.
Around 91 per cent of the population is of Austrian origin, minorities include citizens from the former Yugoslavia (accounting for four per cent), Turks (1.6 per cent) and Germans (0.9 per cent).
A country with a high quality of life
The people of Austria enjoy a high standard of living; they have access to quality health care and good social services. In 2009, Austria invested about 11 per cent of its gross domestic product in health services, an important share of which is directed towards the prevention of illnesses. The life expectancy rate is high: 78 years for men and 83 years for women.
The Austrian economy is closely integrated with that of the other member states of the European Union, business with the EU countries accounts for almost 72 per cent of its trade. Austria has a large service sector, which employs about 67 per cent of the population. Around 27.5 per cent work in industry and 5.5 per cent in agriculture.
Austria's challenges for the future include a growing unemployment rate, an aging population and a low fertility rate. In the last quarter of 2010 the unemployment rate was 4.1 per cent. The population is aging: 18.2 per cent are over the age of 65 and this figure is expected to increase. Finally, Austria's fertility rate is amongst the lowest in the world, at 1.4 children born to every woman.
In spite of the general high quality of life, around 12 per cent of the population can be considered to be at risk of poverty, because their earnings are less than 60 per cent of the Austrian median income. Around six per cent live in manifest poverty. Poverty in Austria especially affects single-parent households, single retired women, families with more than three children and persons with non EU/EFTA citizenship.
Situation of the children in Austria 
Around 15 per cent of the Austrian population is under the age of 15. In the decades since Herman Gmeiner founded SOS Children's Villages, the lives of children have generally improved. Most children have benefited from the economic growth, which has allowed for an investment in services, such as health, education and welfare.
It is, however, estimated that 6.2 per cent of children live in relative poverty and about 14 per cent of children and young people live in households which are at risk of poverty. About a third of them live with at least one person who has migrated to Austria.
In spite of the fact that all children have access to good-quality, free education, those from families with lower incomes are less likely to succeed educationally. This inequality is reflected in the type of school they attend: about 80 per cent of children living at risk of poverty go to a general secondary school and only 20 per cent to a more academic secondary school. In addition, according to the OECD, there are significant differences between the performance of children with a migrant background and that of native students. Poor educational achievement affects their chances of finding future employment.