According to the U.N. Human Development Index, Burkina Faso is one of the least developed countries in Africa.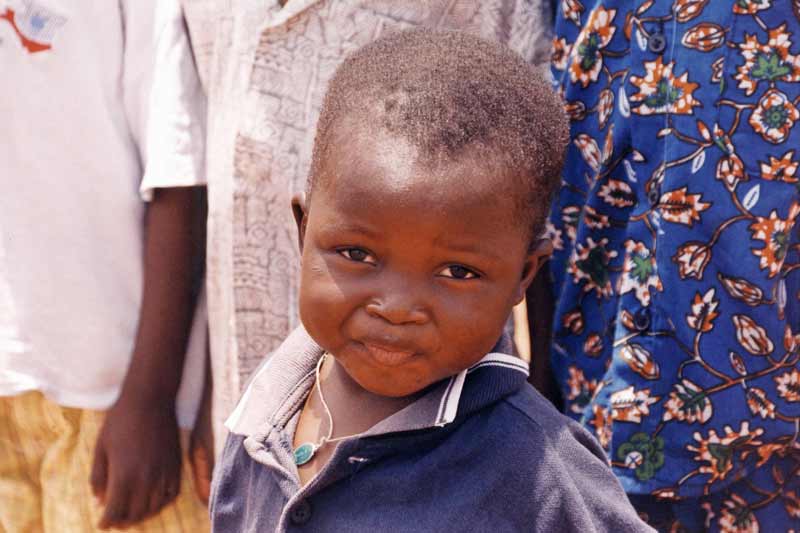 in Burkina Faso
Like in so many other African nations, children are the most vulnerable members of society. SOS Children's Villages supports and protects young people and children who have lost their parents or who are at risk of losing parental care. At present there are two SOS Children's Villages in Burkina Faso, one SOS Youth Facility, two SOS Kindergartens, two SOS Hermann Gmeiner Schools and two SOS Social Centres. Some facts about Burkina Faso
Burkina Faso is home to an estimated 16 million, who predominantly belong to the Mossi, Fulani, Lobi or Bobo groups. The country is frequently hit by droughts which have a strong impact on the living conditions of tens of thousands of Burkinabe.
| | Orphaned Children | Infant Mortality | Child Poverty Rate | Child Marriage | Girl Genital Mutilation | Below Poverty Line |
| --- | --- | --- | --- | --- | --- | --- |
| Burkina Faso | 990,000 | | 46.70% | 51.60% | 75.80% | 46.70% |
| Canada | 45,000 | | 8.80% | #N/A | #N/A | 9.40% |
232
Orphaned and Abandoned Children
1 242
Elementary and secondary students
Sponsor a Child in Burkina Faso
SOS relies on the kindness and generosity of Canadians to be able to provide a home for the most vulnerable children of Burkina Faso.
By becoming a child sponsor you are making a commitment to helping an individual child in need. Your gift will help provide a child with food, clothing, education and a loving SOS mother.
Please help us ensure a loving home for every Burkinabé child. Sponsor a child in Burkina Faso now. Your donation will help change an orphaned or abandoned child's life.
Situation of Children in Burkina Faso
In August 1960, the country gained complete independence from France, but a number of military coups followed. It is now a semi-presidential Republic and a member of the African Union (AU). The country was known as "Republic of Upper Volta" until 1984.

Burkina Faso is an extremely poor country characterised by one of the lowest per capita GDPs in the world. Although the country is rich in gold, cotton production is the main pillar of the economy. Compared to other African nations, its industrial base is rather weak and natural resources are scarce. 90 per cent of the country's labour force work in the agricultural sector.
In 2011, widespread popular protests over police brutality, autocracy and rising food prices triggered international media attention. The protests were soon quieted by the authorities, who promised to make changes to the current constitution in order to make Burkina Faso a more democratic state.
Increasing poverty in spite of economic growth Like most other Sub-Saharan countries, Burkina Faso continues to experience very difficult economic conditions. Around 60 per cent of the population live in poverty and nearly 80 per cent are without a job. In spite of economic growth, high levels of poverty have in fact intensified in some areas of the country.
Rural areas are more affected by extreme poverty than Burkina Faso's urban centres. The so-called "rural poor" amount to six million. Employment is often limited to the informal sector, which accounts for a vast proportion of jobs available.

In 2009, massive flooding forced thousands of Burkinabe to leave their homes. More than 50,000 people lost everything in the floods were living in tents and shacks across the capital. Hundreds of schools and a number of hospitals were destroyed by the floods. Aid organisations provided tents, medical equipment and water purification tablets in order to prevent the outbreak of waterborne diseases.

In rural areas, only six per cent of the population have access to proper sanitation facilities. This partially explains the high rate of major infectious diseases such as bacterial diarrhoea, hepatitis A and typhoid fever.
At a national prevalence rate of 1.2 per cent, HIV is also a major public health concern. Although the government has included the problem in its general development plan and poverty reduction strategy, thousands of people affected by the virus remain without access to anti-retroviral therapy. However, HIV testing and counselling facilities do exist and efforts to fight the epidemic have been increased.
As for now, 17,000 children aged 0 to 14 are HIV-positive. At 53.7 years, life expectancy is very low. Situation of the children in Burkina Faso 770,000 children in Burkina Faso are growing up without parental care. Thousands are orphaned by AIDS, and many more have been abandoned by their parents due to their precarious economic situation.
Public health facilities do not exist or are in a terrible condition. At 90.8 per 1,000 live births, Burkina Faso's infant mortality rate is high and a large number of births are not attended by medical personnel. The high prevalence of HIV/AIDS also exacerbates child labour.
As households lose their most productive members, the family income declines, much of it is spent on medical assistance and medication, so children are made to contribute financially. This often involves hazardous activities and sometimes even commercial sex work.
Thousands of young girls in Burkina Faso continue to suffer female genital mutilation (FGM). The operation is commonly carried out by traditional practitioners, mostly without anaesthetics or antiseptics. These women are significantly more likely to have problems during childbirth.
Access to schooling remains difficult in Burkina Faso, particularly in rural areas where the primary school attendance rate is low at only 25 per cent. Only a little more than a quarter of the population knows how to read and write. SOS Children's Villages in Burkina Faso SOS Children's Villages arrived in Burkina Faso in the 1990s.
In 1997, SOS Children's Villages started its work ten kilometres north of the country's capital. Since 2004, the organisation has also been running SOS Family Strengthening Programmes aiming to protect and support children who are at risk of losing the care of their family so that they can continue to grow up in their families of origin. At present, SOS Children's Villages is supporting Burkinabe children and young people in two different locations by providing day care, education and medical assistance.
Children whose families can no longer take care of them can find a loving home in one of the SOS families. During the 2009 flooding, SOS Children's Villages initiated an SOS Emergency Relief Programme in order to help the victims.
Villages d'Enfants SOS du Burkina Faso
B.P. 1468
1 - Ouagadougou
Burkina Faso
Tel +226-50 34 61 31
Fax +226-50 34 61 33