Image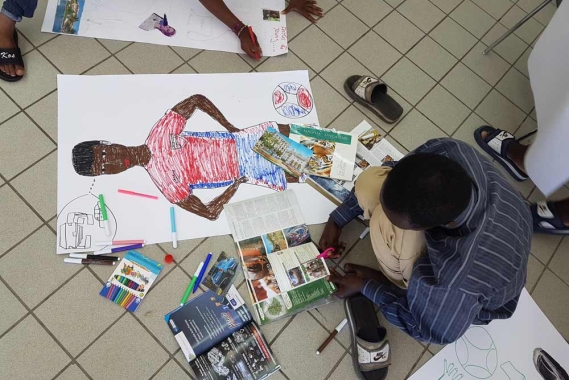 Over 100,000 refugee and migrant children, of whom more than 33,800 were unaccompanied by parents arrived in Europe in 2016. The vast majority of these children entered Europe through Italy and Greece.
The closure of legal migration channels through the Western Balkans route in March 2016 left thousands stranded in transit in Greece and the Western Balkans.  Since September 2017, 68,377 refugees and other migrants have been trapped in limbo in Greece, Serbia, FYR Macedonia, Hungary and Bulgaria.  At the same time, the agreement between Turkey and the EU to prevent people from reaching Greece has led to an increase in arrivals in Italy.
The dangers of limbo
Deteriorating reception conditions, the lack of integration prospects in these countries, and limited opportunities to move forward in a legal and safe manner is creating a growing sense of hopelessness and despair for these families and children that are all alone. 
This desperate state of mind is splitting families trapped in this limbo and pushing people to rely on smugglers, putting themselves at risk of abuse and exploitation in the hope of reaching a place where children can grow up safely and where parents can again care for their families.
Without appropriate support, people lose trust in their future and the possibility of rebuilding their lives, with devastating consequences for themselves and the broad community.
Ensuring that no child is left behind
This is Europe's most pressing challenge in terms of child protection and SOS Children's Villages is firmly rooted in these countries struggling with their response.
In order to live up to our promise to ensure that no child grows up alone, SOS Children's Villages remains committed to the most vulnerable amongst the vulnerable: children who have lost or are at risk of losing parental care and who cannot rely on the protection of their home countries.
In 2016 and 2017, thanks the support from generous donors, SOS Children's Villages established a key role in humanitarian response, addressing the needs of refugee and migrant children in the region:
Over 100 unaccompanied children in Greece have been able to leave unsafe refugee camps or migration detention to find a home where they are cared for by SOS Children's Villages. Learn more.
In Serbia, SOS Children's Villages supports over 1,200 refugee children, around 70% of all refugee children in the country, and in four refugee centres, we are the only service provider supporting children and families. Learn more.
In Italy, SOS Children's Villages is providing psycho-social support to over 200 young people living in reception centres and dealing with toxic stress related to their journeys, their daily life in displacement and the difficult transition to a new society and new roles. Learn more.
In Hungary, SOS Children's Villages is the only child-focused organization supporting unaccompanied children in alternative care and supporting families to build a future in the country.
In FYR Macedonia, SOS Children's Villages is the only organization supporting refugee children in the two official transit centres in the country. Learn more.
The need is urgent; and the reality is unchanged
The needs of these children are real, and critical.  International attention has largely moved on to other seemingly more pressing matters, but the reality for these children and families stuck in limbo hasn't changed.
Without help, these vulnerable families and unaccompanied children risk not being able to hold on to basic human rights for shelter, nutrition, health, and education. And the most vulnerable children – those that have lost parental care – risk losing alternative care, and being left utterly alone. 
This situation won't change without your support.
In order to continue to ensure the safety and welfare of these children, we need your help. Donate to the European Migrant Crisis Fund.
No child should be left behind.