SOS Children's Villages has been working in India since 1963, our work has developed rapidly all over the country and we have been present in Bhuj since 2001. The activities in Bhuj started as an emergency response program to the earthquake which hit the city and after that we started supporting the local community on a more permanent basis.
144
Orphaned and Abandoned Children
349
Elementary and secondary students
What we do in Bhuj

A central part of the work that SOS Children's Villages carries out in Bhuj is related to supporting children and families who live nearby. Working with local authorities and other service providers, our family strengthening programs provide support for families and children in need. We offer a comprehensive package of services to enable families to stay together and take good care of their children. We aim to raise awareness of hygiene, children's rights and positive parenting skills. We provide families with food, as well as educational support and with medical treatment. In order for parents to generate income, we offer them vocational training, career counselling and advice on how to look for a job.
When children can no longer stay with their birth families, they can find a loving home with one of the fourteen SOS families, where they grow up with their sisters and brothers. The SOS Kindergarten provides day care for younger children from the SOS families and from the neighbourhood. The provision of day care is particularly valued by those parents who go to work or receive training - they know their children are being cared for by professionals. As the children grow older they can attend the SOS Hermann Gmeiner Primary school. Given the high drop-out rate of girls, special attention is given to their education, and we run a special hostel for girls attending school.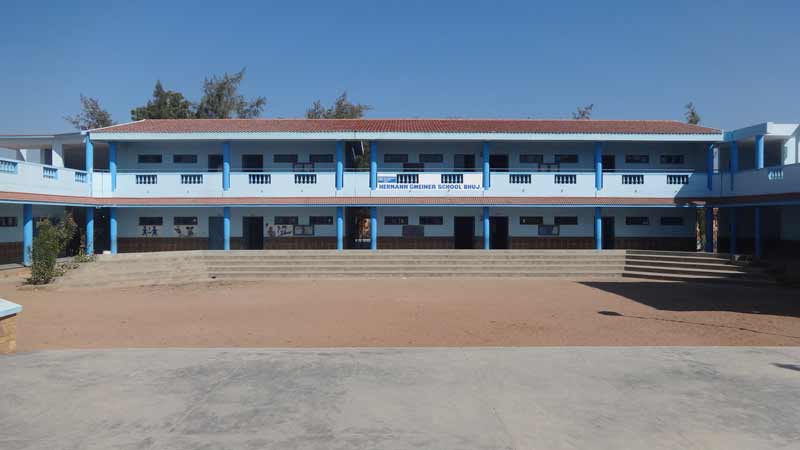 Hermann Gmeiner School in Bhuj, India
When the young adults are ready to leave their SOS families they can join our SOS Youth Programs. With the support of qualified professionals they are guided through this new stage of their lives, as they start vocational training courses, attend higher education and look for work. The young people are encouraged to develop perspectives for their future, learn to shoulder responsibility and increasingly make their own decisions.
Parallel societies in the city of Bhuj
Bhuj, located in the north-western state of Gujurat, is home to around 300,000 people. The state has one of the fastest growing economies in the country.
On 26 January 2001, when the whole of India was celebrating Republic Day, an earthquake struck Gujurat. An estimated 20,000 people died as a result of the earthquake. The death toll was high in Bhuj and homes, schools, hospitals and basic infrastructure were destroyed. Over the past decade, the town has been rebuilt with the help of national and international subsidies.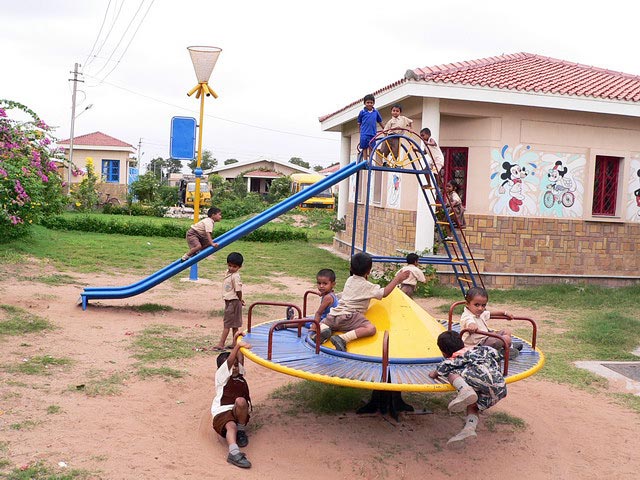 Although some sectors of the economy of Bhuj are flourishing, the positive changes have not reached all and many continue to live in urban poverty. People with low levels of education, those who work in construction or as casual labourers are most likely to be poor. It is estimated that there are dozens of urban slums in the city, where the population has no right to the land they live on, and no chance of securing the basic infrastructure that they need. In addition they can be evicted without any notice or any compensation.
The children who grow up in such slums are at risk of losing parental care. Parents, struggling to scrape together a living, often find it difficult to meet the material and emotional needs of their children. Many are not sent to school because parents cannot afford it. Furthermore they are often forced to work in order to raise the family income.
Women and girls are particularly disadvantaged. A large number of those living in poverty are in female-headed households. Girls often drop out of school at an early age, and are therefore unable to secure a good education which would allow them to break out of the cycle of poverty as they grow up.
From emergency relief to permanent support
When the area was hit by an earthquake in 2001, SOS Children's Villages swiftly provided emergency relief. Within weeks, 25 child-relief centres had been set up. Over two thousand children were provided with day care, medicines and food. The SOS Child-Relief Centres operated for six months, until families had been able to re-organise and schools and medical centres had been set up in tents. By then, it had become clear that many children had lost one or both parents, with the surviving one often being unable to care for the children alone.